Welcome to my anime figure preorder roundup.
You are reading The NekoFigs Blog preorder roundup where I take a look at the new bishoujo scale figures going up for preorder. Ultimately, I try to assess which ones are worth preordering. Before you proceed, do take note that this is written from the point of view of someone who likes to make informed purchases. Anime figures are quite expensive so I believe it is important for many collectors that they buy only the best of the best to get the best value for their money. Essentially, I hope the content of these roundups can help everyone else to make informed decisions on their figure purchases.
Please consider using my affiliate links when making your preorders. These preorder roundups take tens of hours to create it's almost like a full-time job so any small amount I can earn from affiliate commissions will help towards sustaining this blog. I am an affiliate partner of Solaris Japan, Hobby Link Japan, CD Japan and Amazon JP and these are my affiliate links. You can also find my affiliate links throughout this post. If you've used my affiliate links today or have used them in the past, please have my most heartfelt thanks.
As a disclaimer, my opinion on these figures that I review is my opinion only. I am not always correct with my predictions but I know I usually am. You may disagree with my recommendations and that's fine. After all, this hobby is all about the joy that comes with collecting anime figures. As long as you are happy with your purchase, then that is money well spent.
I'd also like to remind everyone to avoid any figures made by Pulchra, FOTS Japan, Insight B'Full, Apricot Blossom, and any other companies affiliated with them. I'm putting this here as a reminder since I won't be featuring these figures in my blog as they are of very poor quality and a waste of space.
Azur Lane – New Jersey – 1/7 – Snow Bride Love Ver. (Apex Innovation)
Azur Lane is on a roll. The recent summer event which included new extremely lewd skins for Taihou and New Jersey was lit! And then we also get two new top-tier figures for Taihou (below) and New Jersey.
To note, this is only the second scale figure of New Jersey. Her first one is a 1/4 scale bunny figure from FREEing based on her bunny girl skin in the game. New Jersey is also one of, if not the most popular character in Azur Lane so you can definitely expect the prices of her figures to balloon. This figure in particular looks very promising. This is a wedding theme figure and right off the bat, this comes with, not one, not two, but three facial expressions. All of them look good mind you. And then you see her partly exposed butt with a wedgie. Yes, that exists even in the game.
One issue however is that this is mighty pricey. It's in the price range of some 1/4 scale figures from FREEing. Also, you need a lot of space to display her given that massive base. In terms of quality, you can trust APEX to do a good job.
Should you preorder this? If you can afford her, then go for it.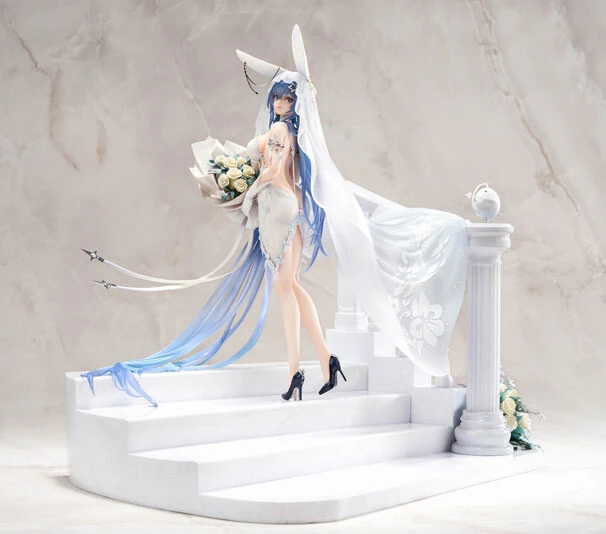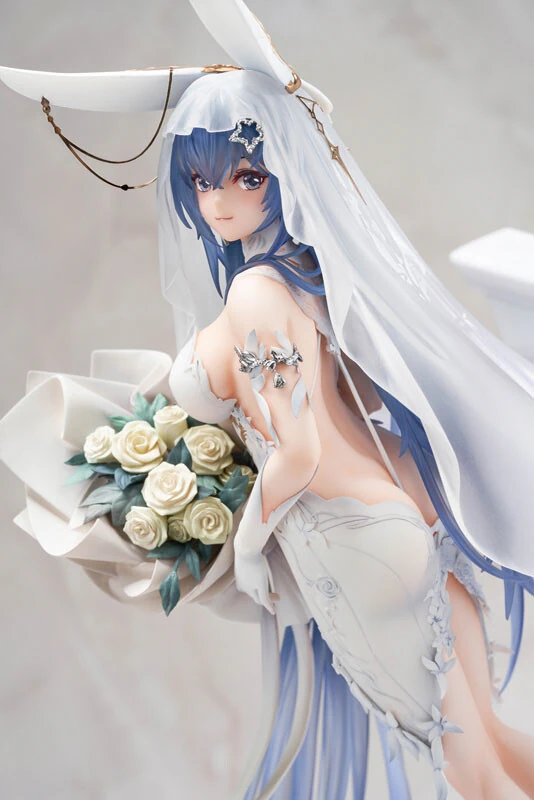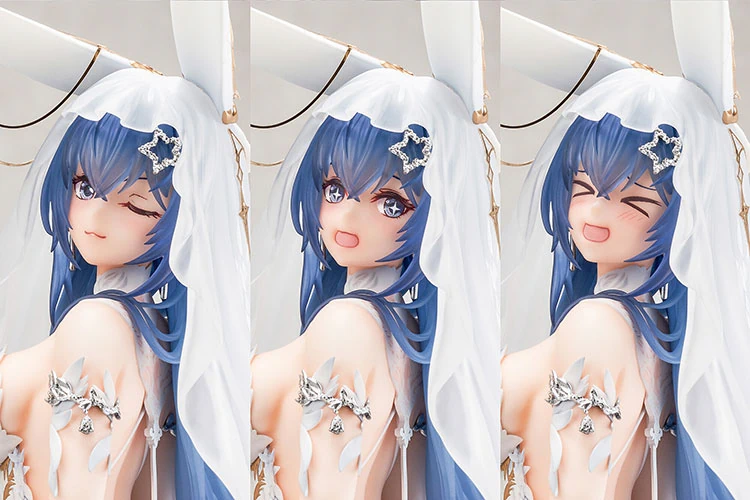 Azur Lane – Taihou – 1/6 – Temptation on the Sea Breeze Ver. (AniGame)
I've been looking forward to a good figure of Taihou that isn't a 1/4 scale and I think this is it. This was a bit confusing when it was announced because there were several options. But to sum it up, it has 4 versions that you can purchase:
Personally, I went for the deluxe edition with the extra torso part. I don't really need two figures so the bundle was a no-go.
Should you preorder this? If you're an Azur Lane fan, then you shouldn't miss this.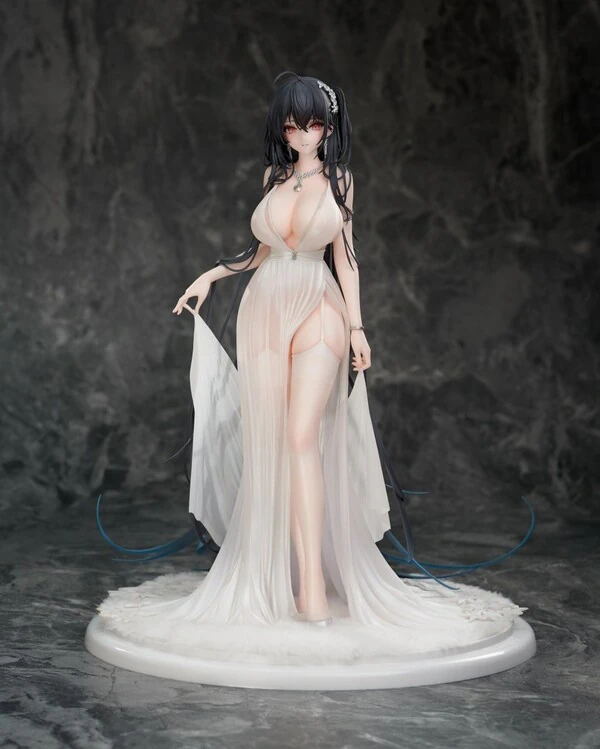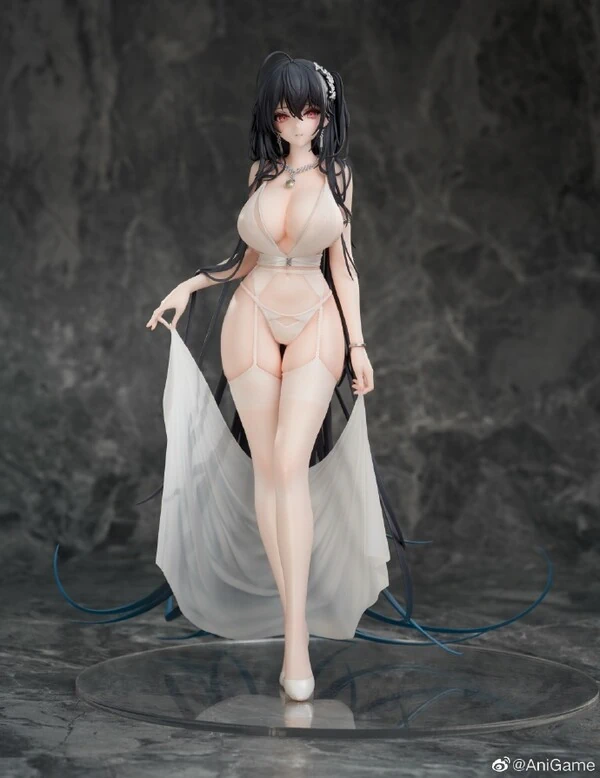 Sono Bisque Doll wa Koi wo Suru – Kitagawa Marin – 1/7 – Swimsuit Ver. (Good Smile Company)
Sometimes simple is best and this is as simple as it gets. It's just a basic swimsuit version figure with not a lot of bells and whistles. And the cherry on top is that is priced on the very low end. This is like 2017 levels of pricing on a good quality scale figure.
In terms of quality, you can expect the best since this is Good Smile Company we're talking about. The figure has that trademark Marin smile. The paint on her hair and face is top-tier. The sculpt is nothing but glorious. I am already looking forward to adding her to my swimsuit figure shelf.
Also, this pose is based on an actual scene in the anime/manga.
Should you preorder this? As a big Marin fan and after seeing that price tag, I can only say yes, yes, and yes.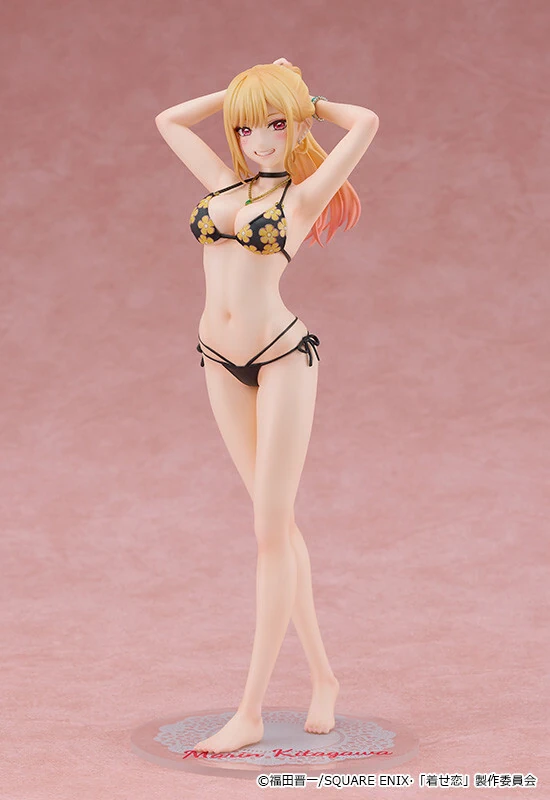 Ookami to Koushinryou – Holo – KDcolle – 1/7 (Kadokawa)
This is a welcome rerelease, especially considering the crazy prices she's been going for in the aftermarket. The good part is she's available for preorder at roughly the same price as her initial release back in 2018. Notably, I skipped the initial preorder for this because I already have the Holo scale figure from Revolve and also her Nendoroid. It was only much later that I realized I had to have her.
I've always thought of this Holo figure as a nude figure that isn't lewd. The nudity is tasteful especially if you are familiar with the source material. If you're not familiar with the source material, I suggest you consume it either in anime, manga or light novel form.
It was quite unexpected that Kadokawa would not change her price but I'm not complaining. Just a few months ago, I've always been complaining about Kadokawa's ridiculous pricing on their new preorders.
Should you preorder this? I recommend preordering this. The sad part is there really aren't a lot of options where you can preorder her. As of this writing, you can only preorder her on AmiAmi and the Good Smile Shop. I'm not sure if she'll be available in more stores. If for some particular reason, you don't like preordering from these stores, I'm afraid you don't have much choice in the matter.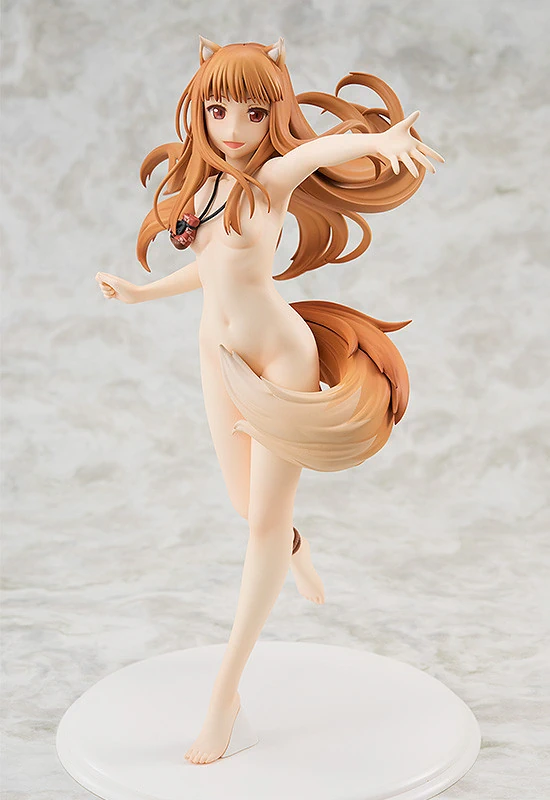 Genshin Impact – Kamisato Ayaka – 1/7 – Frostflake Heron Ver. (Apex Innovation)
This one already went to my preorder list. Ayaka is easily one of the more popular characters in Genshin Impact so I wanted to avoid paying the aftermarket price should it pick up. APEX is also of high quality so I do hope I made the right choice in preordering her. Either way, I have high hopes for this. It has a nice detailed base but I wish it had more cryo effects added to it since this is her pose while using her elemental skill. Whirling snow!
It's not worth it to jump hoops to get the bonus shikishi board from China release. The global release also gets a limited edition clear file of the same artwork.
Should you preorder this? I did. You probably should too.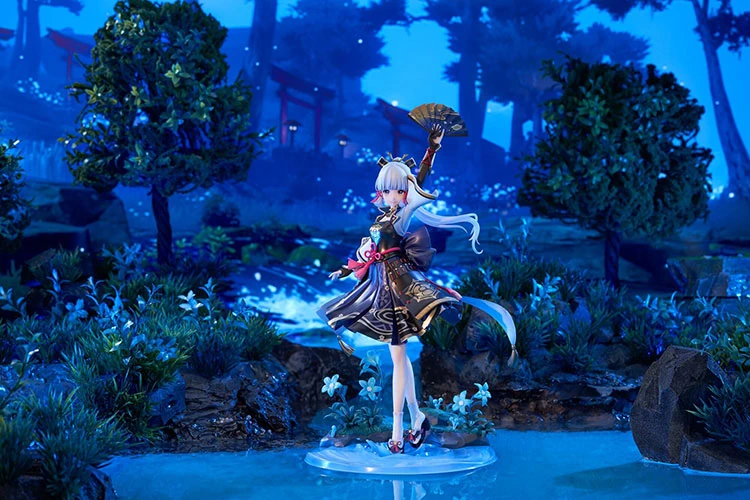 Darling in the FranXX – Zero Two – 1/7 (Kotobukiya)
I guess this is great for fans of Zero Two who don't want to pay the bloated after-market prices. It's not the best figure of Zero Two out there but it's also not a bad choice especially considering this is only around ¥10k.
Should you preorder this? Definitely worth preordering if you like Zero Two especially considering this is plenty cheap.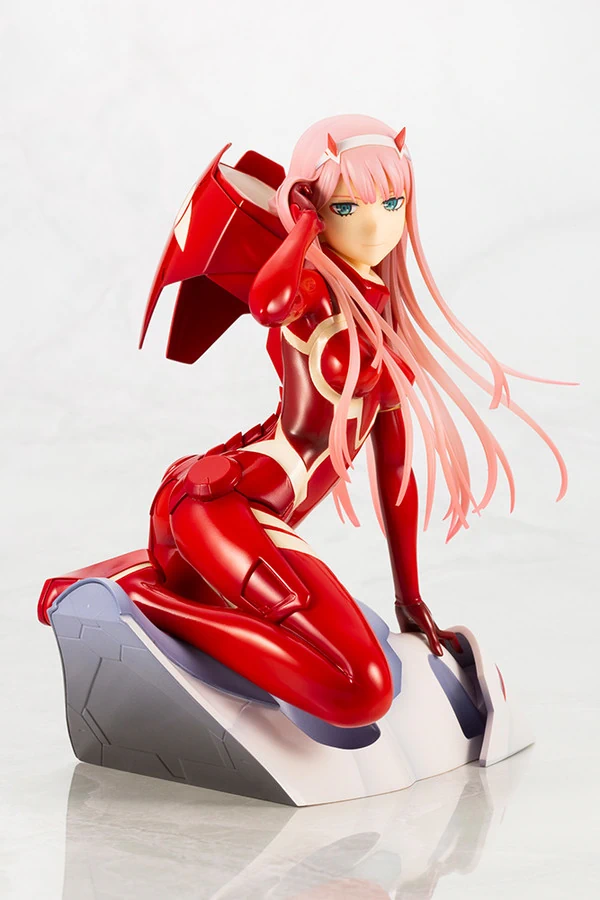 Saenai Heroine no Sodatekata fine – Kato Megumi (Phat Company)
I think I remember this being a scene in the movie where Megumi is talking with Tomoya. And I just realized this is a non-scale so that's weird. Usually, Phat Company does 1/7 scales.
Should you preorder this? While this figure does look great and I'm confident Phat Company will do a splendid job, I cannot recommend preordering it since the aftermarket price will most likely go down. Besides, there are plenty of other good and cheap figures of Megumi in the aftermarket.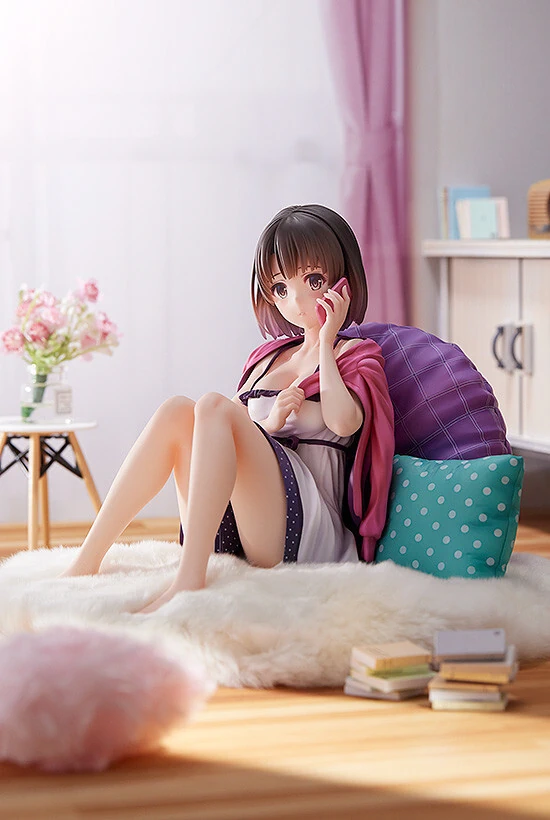 Gotoubun no Hanayome ∬ – Nakano Ichika – 1/7 – Wedding Ver. (Amakuni, AmiAmi)
This looks nice and Amakuni is a top-tier manufacturer. However, this is really pricey with a price tag of over ¥28,000. And I believe this is the last of the Wedding Version set of figures of the quintuplets from Amakuni.
Personally, I skipped this line because it is extremely overpriced. Also, you don't just buy one or two out of a set of five figures and be done with it. And frankly, paying over ¥140k for a set of five figures is unacceptable when I can get the 1/6 Date Style version set of five figures for less than half of that. The latter set is bigger at a 1/6 scale and should be of the same level of quality as Amakuni
Should you preorder this? Unless you really want the quintuplets in wedding dresses, I suggest just going with their Date Style figures. By the way, you can only preorder this on Amiami.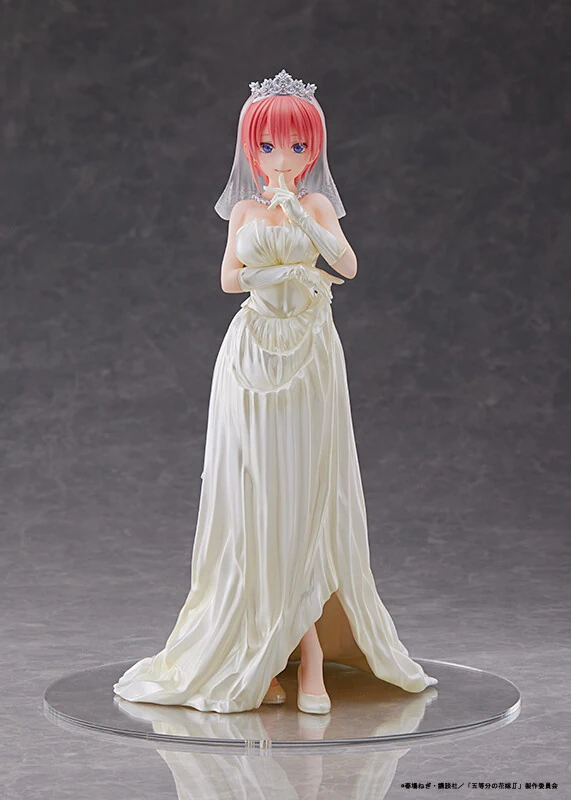 Yahari Ore no Seishun Love Comedy wa Machigatteiru. Kan – Yuigahama Yui – 1/8 (Kotobukiya)
If you just want a simple, cheap and high-quality scale figure, then Kotobukiya is your best friend. Though I'm wondering why this is even getting a rerelease when the aftermarket price has been pretty chill. Anyway, this is still good news for the people that just want a good Yui figure. It just sucks that this is only a 1/8 scale.
Also, why wait when you can get her pre-owned right now?
Should you preorder this? It's cheap and also good quality so why the hell not? If you're looking for a sexier Yui figure though, I can recommend the lingerie version from Revolve which is around the same price point.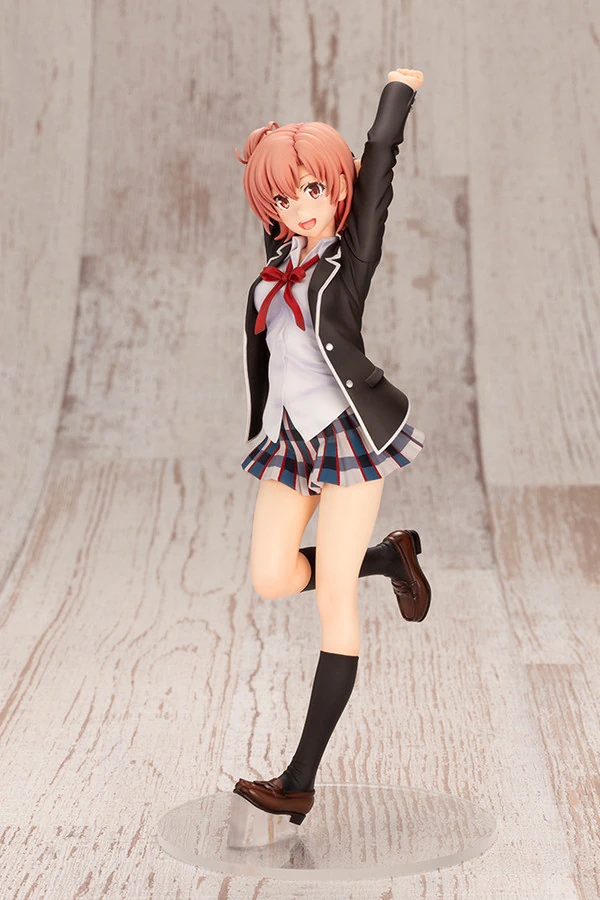 Fate/kaleid liner Prisma☆Illya: Prisma☆Phantasm – Illyasviel von Einzbern – 1/7 – Roomwear Ver. (Claynel)
The pastel colors seem a little dull. The color scheme for this figure seems to lack contrast so it doesn't really stand out. At least they didn't lewd Illya this time. Also, Claynel is a new company but it seems Claynel is related to Revolve which mostly does good-quality figures so maybe they're okay.
Should you preorder this? It's mighty pricey so you might want to check out some cheaper figures of Illya in the aftermarket. I prefer to get Chloe (below) but displaying them together would still be better.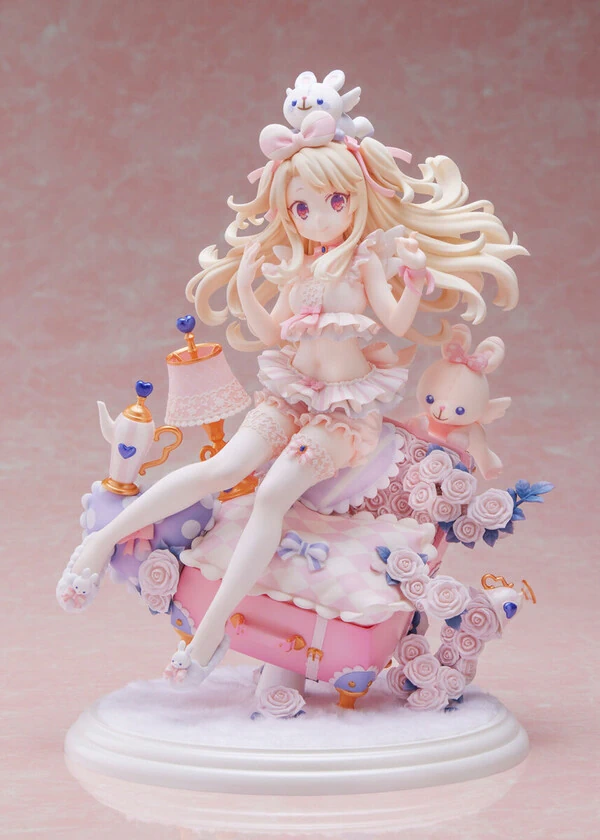 Fate/kaleid liner Prisma☆Illya: Prisma☆Phantasm – Chloe von Einzbern – 1/7 – Roomwear Ver. (Claynel)
Chloe looks better than Illya since the pastel colors provide more contrast with her skin color so she pops out more. She'll put a dent in your wallet though.
Should you preorder this? It might be a good idea to check the aftermarket for a cheaper figure of Chloe. If you think you still want this one, I wouldn't fault you since this is really quite cute.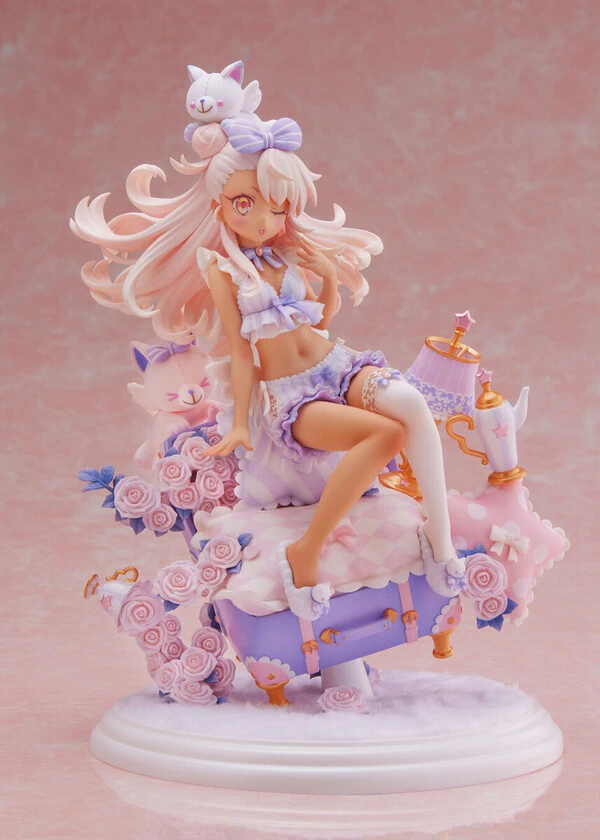 Kaguya-sama wa Kokurasetai: First Kiss wa Owaranai – Hayasaka Ai – 1/7 – Maid Swimsuit Ver. (Aniplex, Claynel)
I think I want to order her because the first Hayasaka figure I ordered was canceled beyond my control. I still could have gotten that one but I chose to give Wallet-kun a breather. Honestly, this one looks really nice but the asking price is pretty high compared to the level of detail we're getting so maybe getting this in the aftermarket is the way to go.
Should you preorder this? I'm waiting for the aftermarket to see if she becomes cheaper and then I'll get her there. If you decide you want her at all costs, then go ahead and preorder.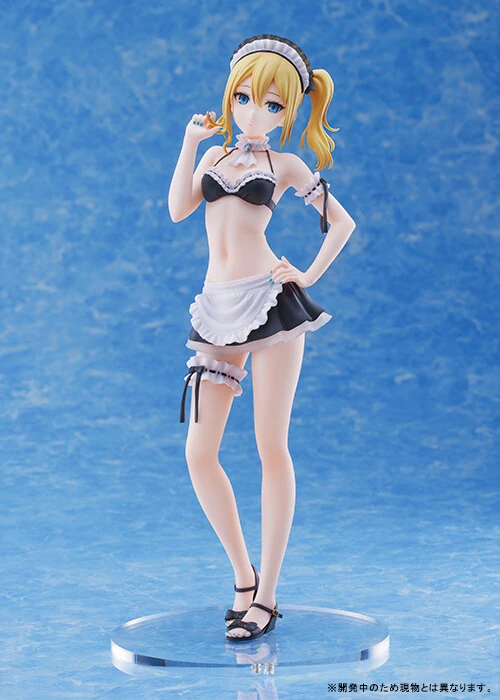 Arknights – Surtr – 1/7 – Colorful Wonderland CW03 (Myethos)
Currently, this swimsuit figure is only the second figure of Surtr. This is on the expensive end but considering the level of detail on this figure, I'd say it's worth it. As far as I know, this is the first scale figure of any character that has a hammock. I think you can even use this figure's base for your other swimsuit figures.
Or maybe you prefer her Magma Version figure which you can still grab from Amazon JP at an affordable price as of this writing. Be quick before someone beats you to it. If it's too late, then just get this one. Both figures are done by Myethos so the quality should be good.
Should you preorder this? When you consider that most Arknights scale figures balloon in the aftermarket, preordering this is a no-brainer.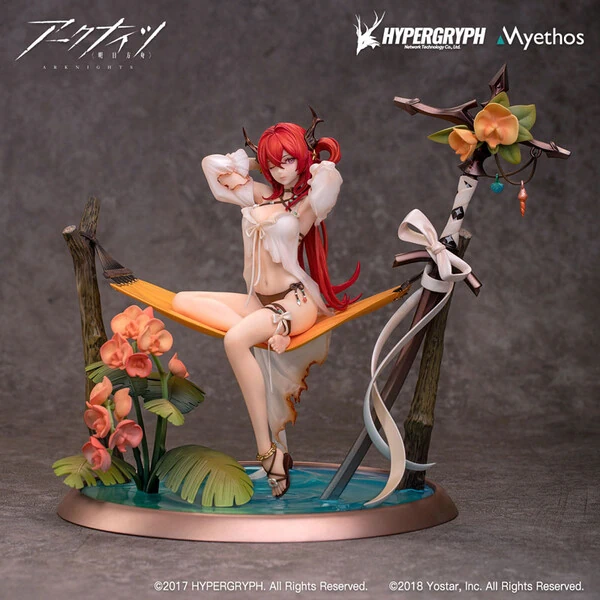 Azur Lane – Dunkerque – Summer Sucré (Wing)
This is easily one of my favorite skins in the game and Wing did a great job in converting this figure from a lying-down pose to a sitting pose. I think it's good they made this change. Does anyone really like figures that are lying down facing upright? It's going to be difficult to display that kind of figure. If you are going to make it work, the positioning needs to be below eye level.
Should you preorder this? Wing is a quality manufacturer and I'd really like to recommend preordering this. However, with a price tag of ¥27k, it's just a little too much. If it was maybe ¥5,000 cheaper, I would have considered it more. I don't think her price will go down in the aftermarket so if you really must have her, then preordering might be the way to go.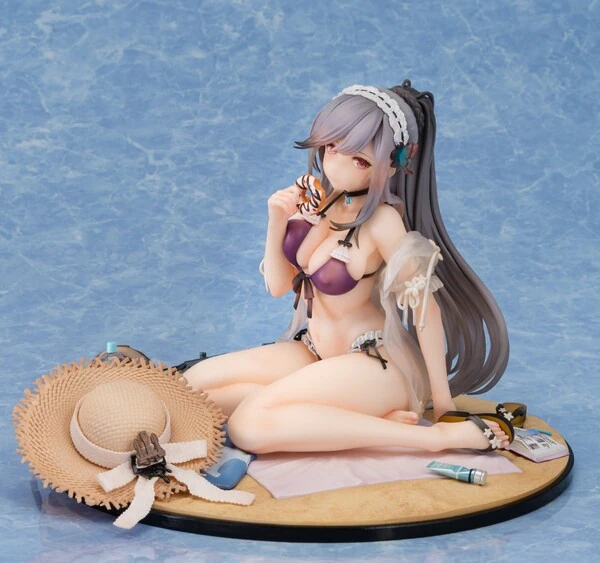 Azur Lane – Sirius – Dream Tech – 1/7 – White Rose (Wave)
I've been waiting patiently for this figure of Sirius to go on preorder and that time has come! Before we talk about this figure, let's look a bit into her first two figures. The first one is by Wanderer which has proven to be a questionable manufacturer as their quality has not been up to par. Wanderer's take is for Sirius' default skin which is available in a lightweight version and a standard version. The standard version comes with her rigging which is more expensive.
Her second figure is from an Alter which should easily be her best figure. However, I skipped this as it was very pricey and a little too lewd for my tastes. It will most likely raise my wife's eyebrows.
As such, I decided I'll wait for her White Rose figure by Wave. So here we are now. Sirius is just looking very elegant in this figure. When you turn the figure around, you'll get a nice little surprise complete with butt dimples. Also, it looks like we're getting an extra faceplate with a worried expression. Still, I prefer the default expression and I wished the extra faceplate was instead of a cheery expression. If they can shave a thousand or two off the price with no extra faceplate that would have been preferable.
Should you preorder this? The price is a little on the steep end but Wave should be of excellent quality. Since Sirius is easily one of the most popular characters in Azur Lane, I'd definitely recommend preordering.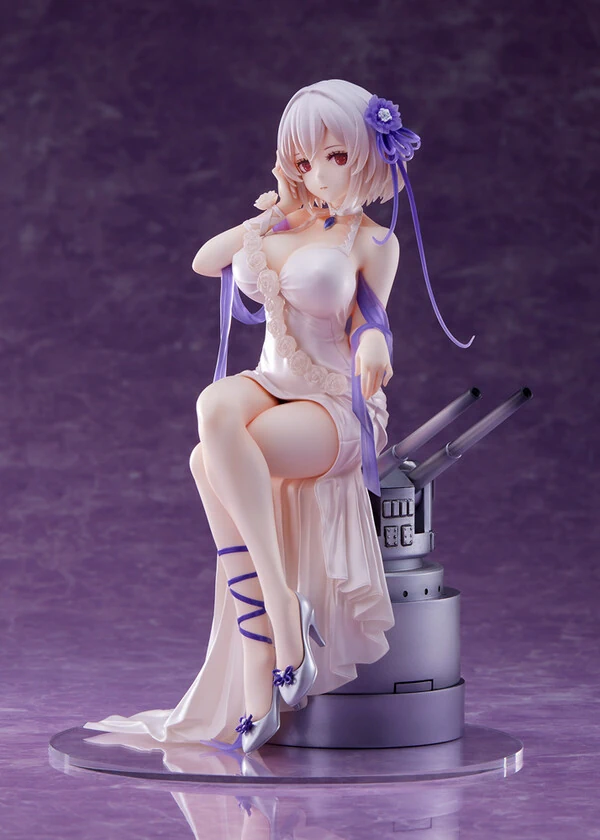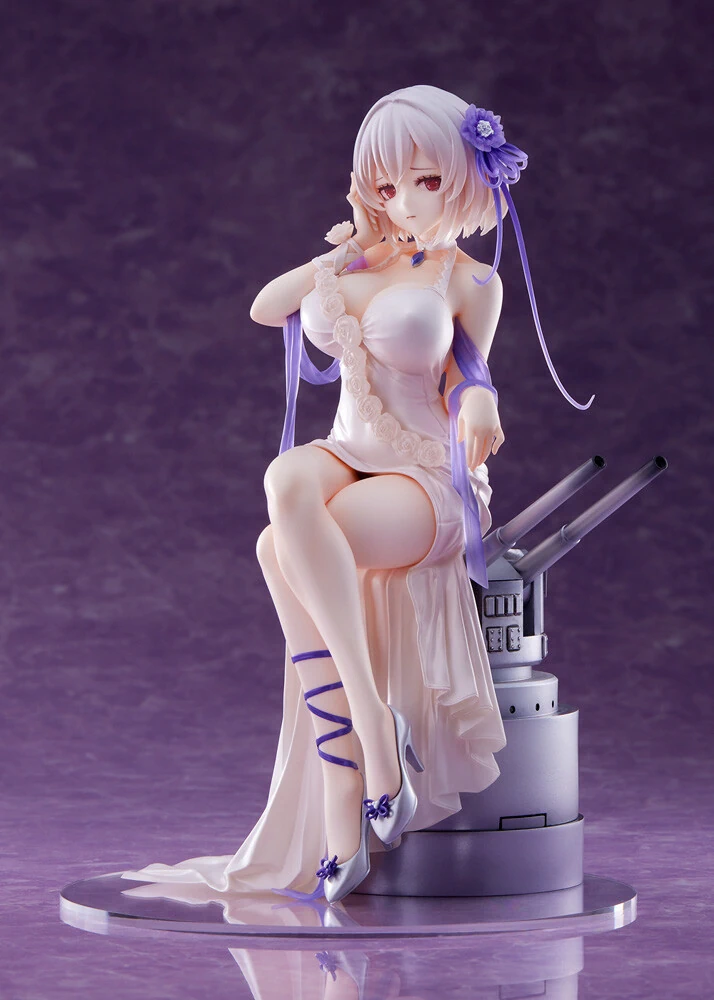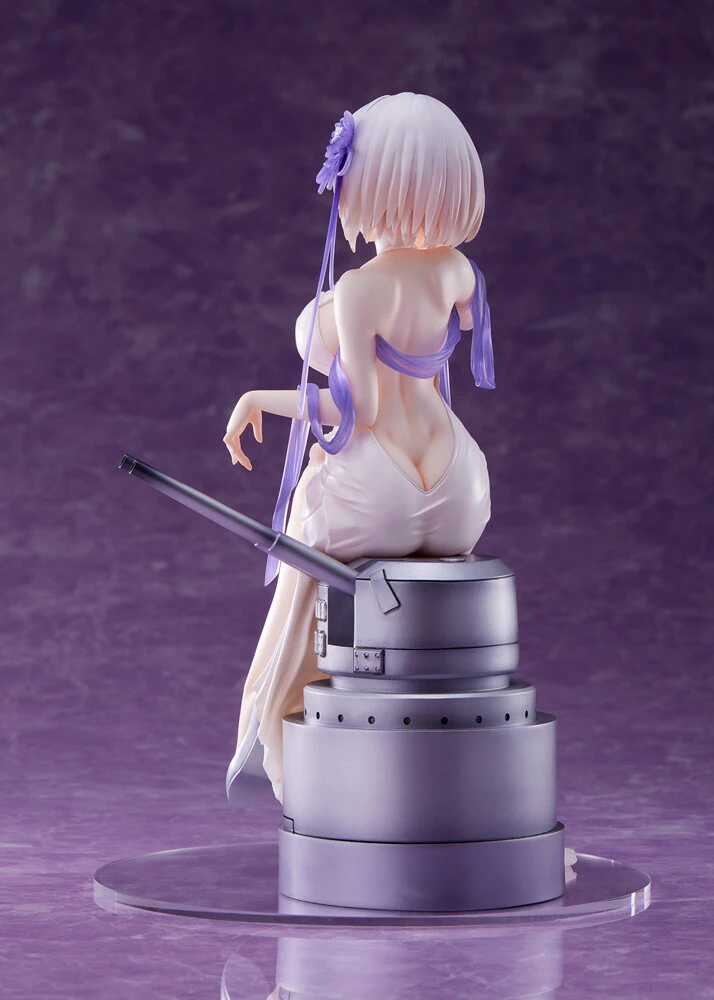 GOOD SMILE Racing – Hatsune Miku – 1/7 – Racing 2022, Tropical Ver. (Max Factory)
I'm not really a big Miku fan but even if I was, I don't think this figure is something to write home about. Don't get me wrong. I'm not saying this is a poor-quality figure. It's the opposite actually. Max Factory can only be compared to the level of quality that Good Smile Company and Alter produces. In short, Max Factory is good.
Should you preorder this? Given that price tag and the literal hundreds of good quality Hatsune Miku figures in the market, I'd rather take my pick from the aftermarket.
Sword Art Online: Alicization – War of Underworld – Asuna – 1/7 – The Goddess of Creation Stacia (Emontoys)
There are already so many Asuna figures that have been released so what makes this specific Asuna figure special? Nothing really. Not to mention, the price is broken.
I guess if you're looking for an Asuna figure with a cool pose, this works. But then again, there are already plenty of other cooler Asuna figures. There are even different variations of Asuna figures with different outfits from swimsuits, yukatas, kimonos, school uniforms, China dresses, sleepwear, etc. If they can make an Asuna figure in a maid costume, I think that's something that hasn't been done yet. Also, if they can make an Asuna figure in her bath scene, that would definitely be a holy grail.
Should you preorder this? Cool figure but if it's your first Asuna figure, I would recommend checking the aftermarket if there is something better and cheaper that catches your fancy.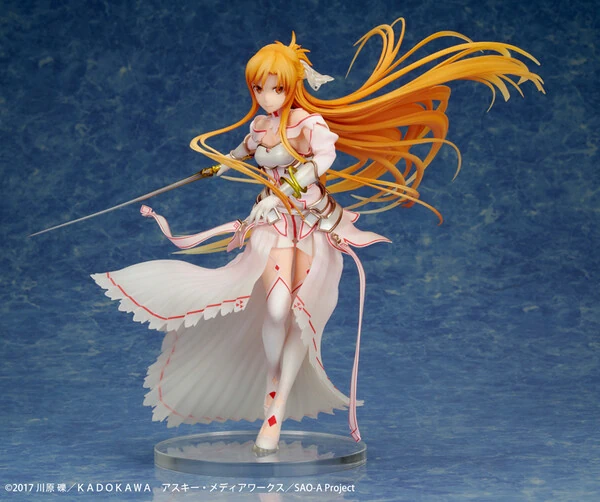 Fairy Tail – Lucy Heartfilia – 1/6 – Leopard Cat Gravure_Style (Orca Toys)
The next three figures are variations of the Black Cat and White Cat Gravure Style figures from Orca Toys which were released back in 2016. These repaints are looking much better this time around so this sucks for all the other collectors who already own the Black Cat and White Cat versions.
As you can see, each recolor has different colors from the ears to the tights.
Should you preorder this? It's rare to see a downward trend in prices when it comes to Lucy's figures so just preorder if you don't want to risk paying bloated aftermarket prices.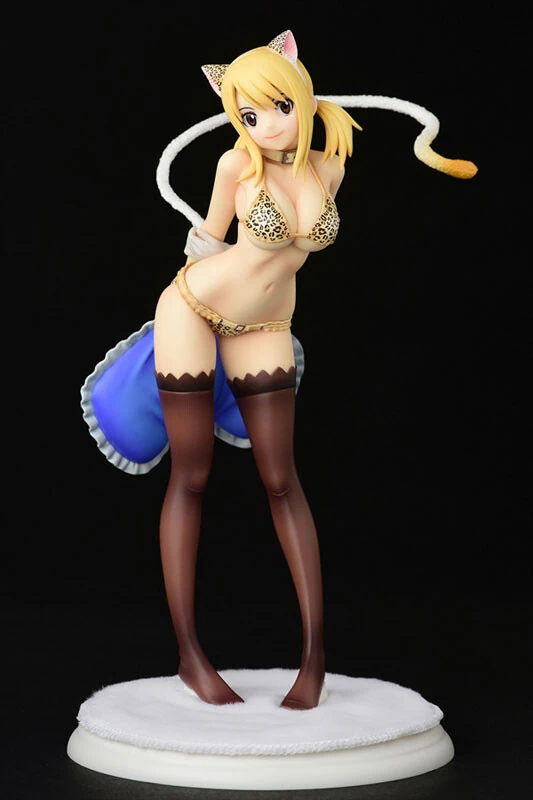 Fairy Tail – Lucy Heartfilia – 1/6 – Sakura Cat Gravure_Style (Orca Toys)
This might be my favorite. Pink just looks too good on Lucy.
Should you preorder this? Her price dropping in the aftermarket is uncertain so it would be best to preorder.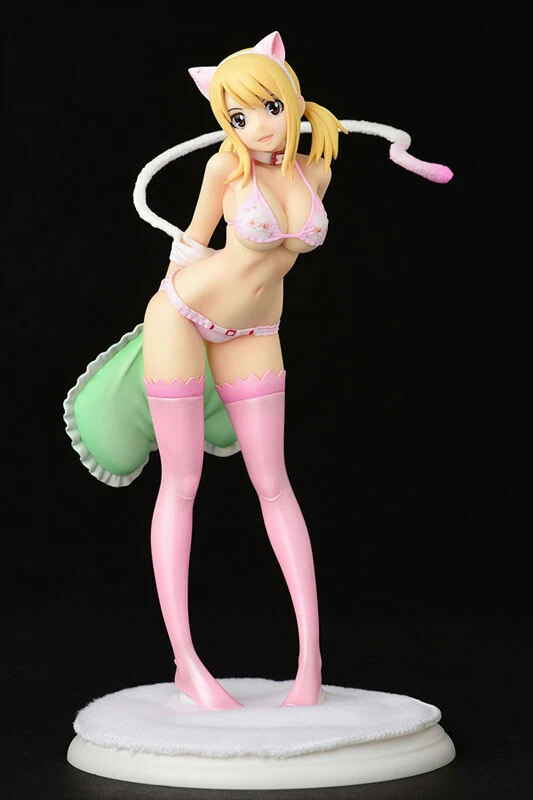 Fairy Tail – Lucy Heartfilia – 1/6 – Halloween Cat Gravure_Style (Orca Toys)
She's set to release in November so she'll probably arrive at your doorstep before Christmas (depending on your shipping method of choice). It'd be a nice Christmas present for yourself but it's too late for Halloween.
Should you preorder this? Preordering might be the way to go here.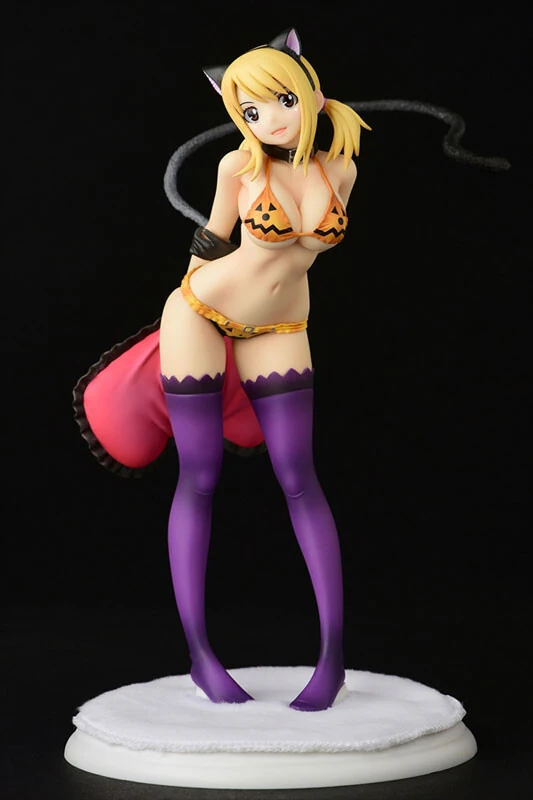 Persona 5 The Royal – Okumura Haru – 1/7 – Kaitou Ver. (Amakuni, Hobby Japan)
In my head, there's an ongoing internal debate about whether this rerelease is better than MegaHouse's Haru figure. I think the latter has a better and more dynamic pose. The former can be positioned easier in front of your display since she is sitting down but she takes up more horizontal space. I think Amakuni has a slight edge if we're talking about quality. Amakuni's Haru is also a tad cheaper. I guess in the end it will all boil down to your personal preferences. If you missed the MegaHouse preorder, you have to play the waiting game since she is not yet released. Unless you can find someone giving up their preorder slot, you're out of luck.
Should you preorder this? In the end, I think this one has a slight edge over MegaHouse. The price seems fair considering the amount of accessories you're getting. This has an extra head part that lets you display her without her mask and hat.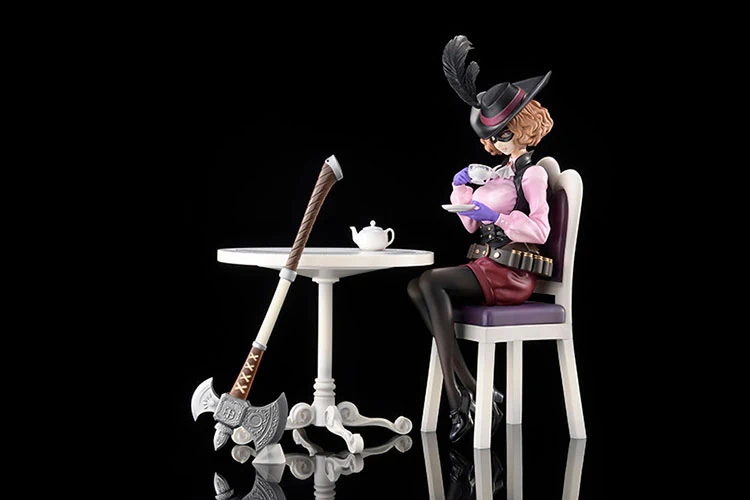 THE iDOLM@STER: Shiny Colors – Sakuragi Mano – 1/7 – Hanakaze Smiley (Reverse Studio)
I'm not very familiar with characters from many idol shows so the first time I saw this, I didn't think it was from Idolmaster. This figure's design looks really elegant and the price seems just right. Ideally, I think it can be a tad cheaper.
Should you preorder this? Since most idol figures go in the bargain bin, it might be worth waiting for her aftermarket price. Even if she doesn't bin, I don't think she'll be more expensive than her preorder price.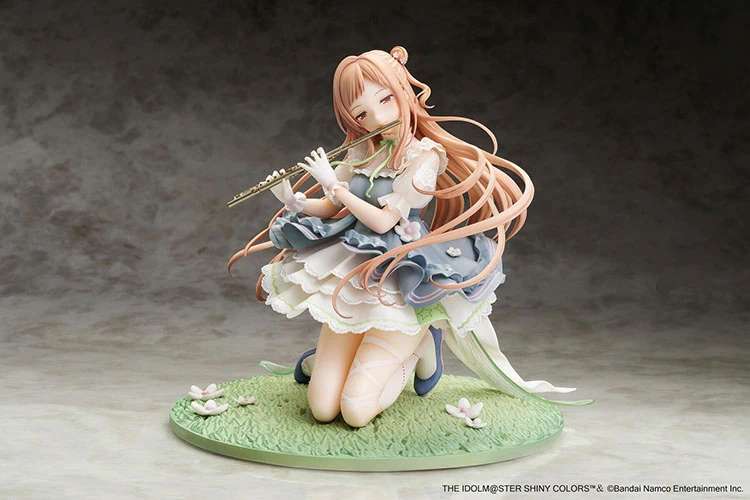 To LOVEru Darkness – Mikado Ryouko – B-style – 1/4 – Bunny Ver. (FREEing)
Why this is priced at around ¥38,000 baffles me especially when the recent bare-leg bunnies from ToLOVEru are priced at around ¥25,000. Are the fishnet stockings really worth over ¥13k? Unfortunately, if you want a figure of the sultry school nurse, this is your best bet. You can go for Union Creative's Darkness version which is currently overpriced right now but I wouldn't really recommend it. Hopefully, the release of this bunny figure can bring down the price of the Darkness version figure.
Should you preorder this? If you had to pick between this bunny figure and the Darkness version figure from Union Creative, this bunny figure wins by a huge margin.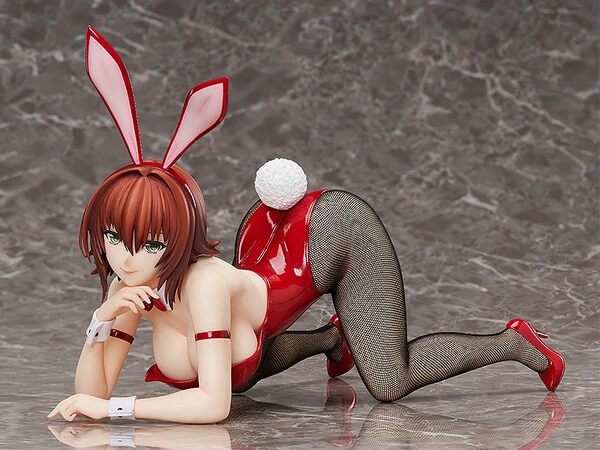 To LOVEru Darkness – Tearju Lunatique – B-style – 1/4 – Bunny Ver. (FREEing)
It's a shame Mikado and Tearju had to be priced this high when these 1/4 scales are their best figures thus far. Sure, you can go for her Darkness version figure which is a tad less expensive. However, considering the price-to-quality ratio between the two, I think this bunny figure would still win.
Should you preorder this? Same with the Mikado bunny figure. If you had to pick between this bunny figure and the Darkness version figure from Union Creative, this wins.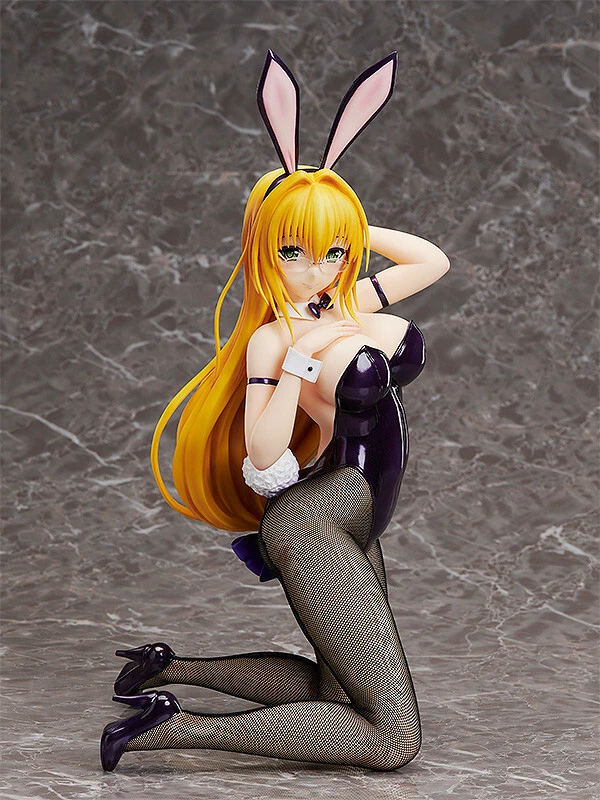 Isekai Meikyuu de Harem o – Roxanne – B-style – 1/4 – Bunny Ver. (FREEing)
I don't collect 1/4 scale bunnies but I still wish this was a cast-off. Actually, creating a non-cast-off figure of any character from this series should be a crime. If you're not familiar with the source material, it's one of those anime where you ask, why is this not hentai?
Should you preorder this? If you like the series then you'll definitely regret not preordering this. I'm sure the price would balloon.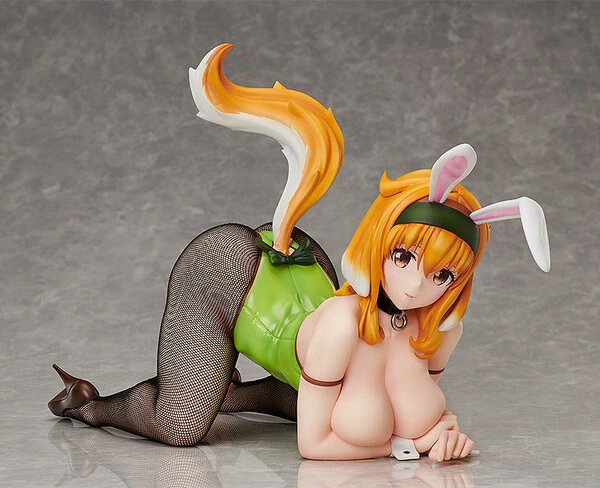 Urusei Yatsura – Lum – B-style – 1/4 (FREEing)
Who would've thought the Urusei Yatsura anime would get a modern remake? And then Lum gets new figures.
Should you preorder this? Seeing as this is priced on the extremely high end, you might want to consider getting her Kotobukiya figure instead.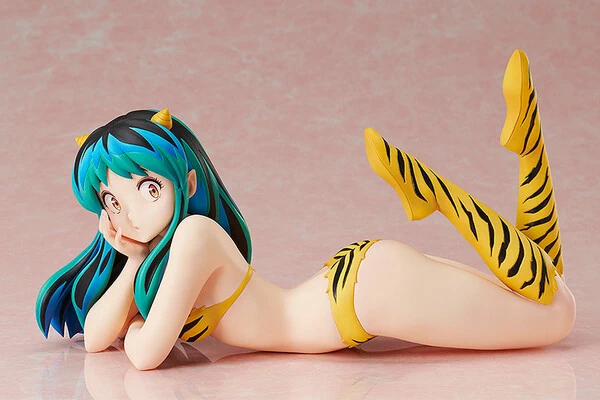 Girls Frontline – QBZ-95 – 1/7 – Kite Flyer in Spring Ver. (Apex Innovation)
If I'm being honest, this figure isn't really anything special. It looks okay but it has not generated any sort of hype. Even if APEX is a really good manufacturer, this will most likely go to the bargain bin.
Should you preorder this? Since this is going to the bargain bin, I'd recommend you instead browse the many other Girl's Frontline figures in the aftermarket.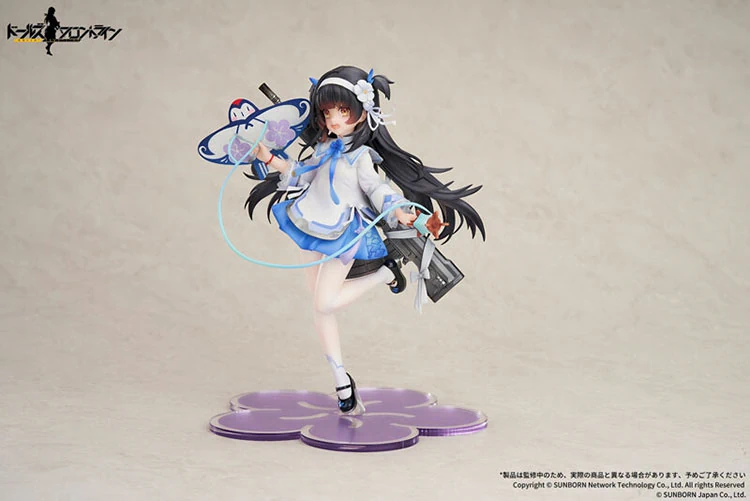 X-Men – Rogue – Bishoujo Statue – Marvel x Bishoujo – 1/7 – Rebirth (Kotobukiya)
Rogue has always been one of my favorite X-Men characters so it'd be really nice if she got her own movie under the Marvel Cinematic Universe. But Rogue getting her own movie would most likely mean Captain Marvel (Carol Danvers) would be out of commission.
In any case, this figure shows the time when Rogue absorbed Wolverine's bone claws (minus the adamantium). I didn't like some of the faces of the figures in Kotobukiya's bishoujo statue line but this one is looking really good. In fact, I really like it. The price is a tad pricier than what I expected but it is still within the reasonable range.
Should you preorder this? It looks like many Marvel Bishoujo figures go up in value in the aftermarket so preordering is the way to go.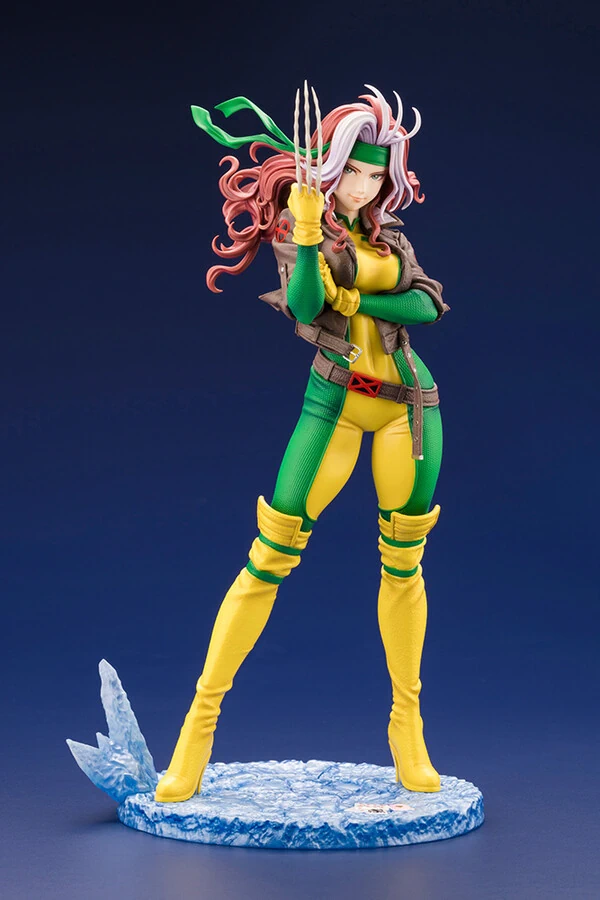 It (2017) – Pennywise – Bishoujo Statue – Horror Bishoujo – 1/7 – Monochrome Ver. (Kotobukiya)
Pennywise is the stuff of nightmares for many millennial kids. Who would've thought "It" can have a cute side?
Do note that this Monochrome version is a recolor. If you want the original color version, you can get it in the aftermarket. I did notice that the boat in this Monochrome has blood splatters which the original version did not have.
Should you preorder this? It's fairly cheap and the original color version's price popped in the aftermarket. If you want to avoid paying higher than the preorder price then it's best to preorder now.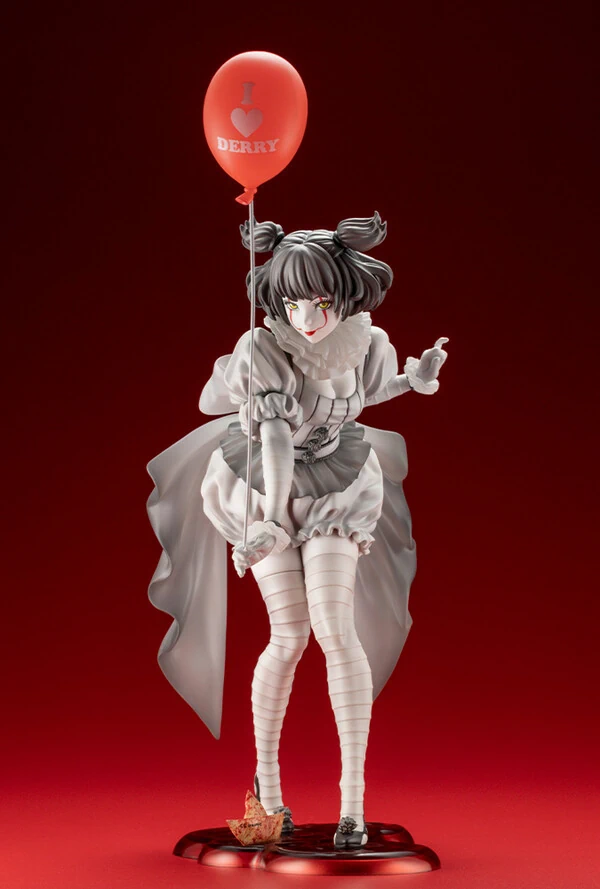 Kuma Kuma Kuma Bear Punch! – Yuna – KDcolle – 1/7 (Kadokawa, Wonderful Works)
I guess this is an okay figure. The details look good. The bear suit actually looks like fluffy material. For comparison, the prices on her other figures are either down or just stayed the same in the aftermarket.
Should you preorder this? I don't think you need to pressure yourself into preordering this now. It might be a better idea to see how her price fares in the aftermarket. If my predictions are right, the price will most likely go down. In the worst case, the price won't move at all.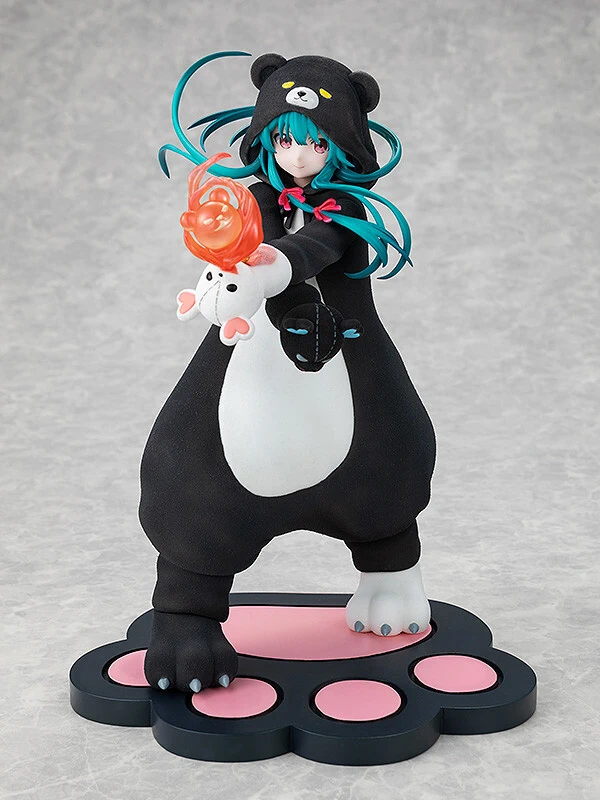 Majo no Tabitabi – Elaina – F:Nex – 1/7 – Knit One-Piece ver. (FuRyu)
There are already so many figures of Elaina that were released and there are so many more in the works. There is no reason to chase a figure from a mediocre manufacturer like FuRyu.
Personally, I am waiting for Spiritale's figure of Elaina. If the price on this one turns out okay, then this might be the Elaina figure that will be going to my collection.
Should you preorder this? I would recommend checking out the aftermarket before hitting the preorder button on this one.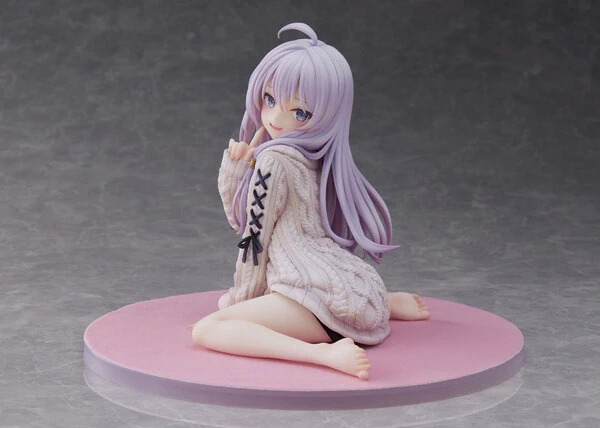 Fate/Samurai Remnant – Miyamoto Musashi – KT Model+ – 1/7 – Berserker (Koei Tecmo Games, Wonderful Works)
This isn't Koei Tecmo's first rodeo as they manufactured a few figures from the Atelier franchise around a decade ago. Since Wonderful Works is producing this one, I believe they should be able to influence the level of quality of the final product so this should be a good figure.
It's not something that I would be preordering for myself since I am not familiar with nor am I interested in the game. All I know is this is part of the Fate universe by TYPE MOON. I am also not a fan of Koei Tecmo's business model of filling their games with a ton of cash-grab DLCs so I doubt this game would be any different.
Should you preorder this? The price is bonkers but If money is no object go ahead and preorder.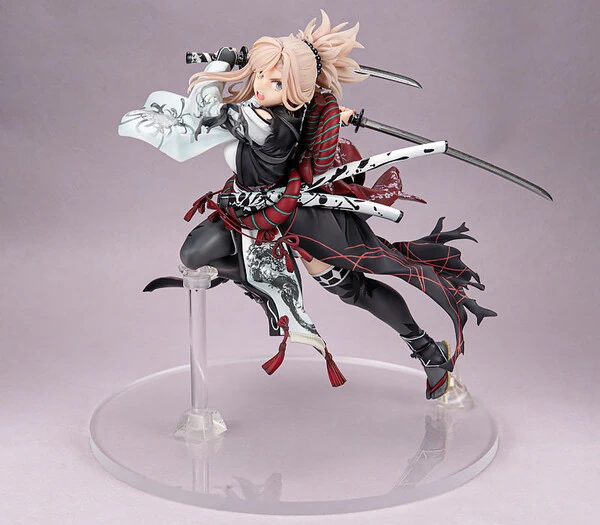 Ijuu Senki Series – Tactician Mianji – 1/7 (QIANQIU)
I've been trying to figure out the source material for this but I cannot find any information about it. Also, QIANQIU also appears to be a new Chinese company. If you have more information about this, please let me know in the comments section.
This is a cast-off figure and the price is on the steep end. However, if you consider the details of the figure and that this comes with alternate parts for the cast-off, I think we can make a justification for the expensive price. However, I am not sure if QIANQIU will deliver a quality product as I cannot find any information about the company.
Should you preorder this? It's an unknown character from an unknown company. The prototype looks to be of decent quality at least but we can't be sure if the final product would reflect that level of quality so preorder at your own risk.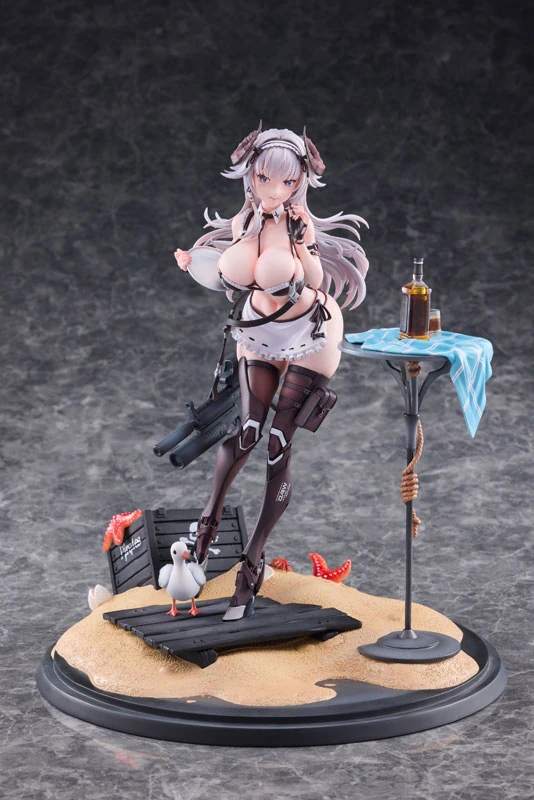 Ijuu Senki Series – Sniper Karihime – 1/7 (QIANQIU)
Same as the one above.
I did notice one thing though. Typically, when anthropomorphic ears are depicted on a character, they are positioned in a way that hides the usual spot where ears are located, preventing any oddness in their appearance. As humans, we may perceive individuals without conventional ears as abnormal. However, if we cover the customary ear area with hair and replace it with animal ears on a character, they appear acceptable. Let's call it Schrodinger's Ears. In this situation, the character displays both normal human ears and animal ears simultaneously, resulting in an unusual perception. But then again, you can also just think of those as headband ears and then maybe it seems fine.
Still, this isn't the first time we've seen figures with four ears. Just check out Atago and Atago with Takao.
Should you preorder this? If you can get over the issue of having four ears then this might be worthwhile. Do note however that preordering this is a gamble since we do not know if this company will actually deliver good quality.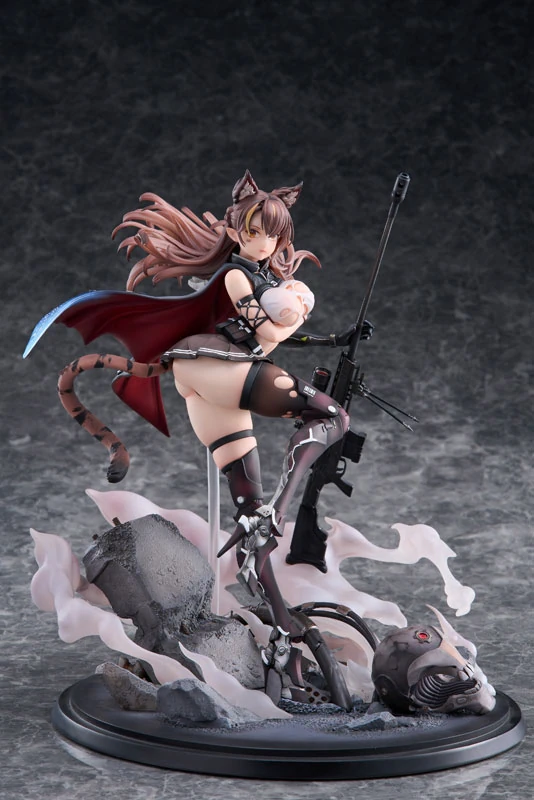 Code Geass – Hangyaku no Lelouch – C.C. – Swimsuit Ver. (Union Creative International Ltd)
I'm wondering why this is even getting a rerelease when it was deemed as a low-quality figure that generated very little interest especially because there are better options for a good figure of C.C. You can check out all the promotional photos on MFC to see just how poor the quality control on this one is. If they didn't even put effort into the prototype, how much worse can the final product be? This is pretty much what you can expect from any figure delivered by Union Creative.
Should you preorder this? If you really want this one, you can get her cheaper in the aftermarket. For better alternatives, check out her 1/4 scale bunny which has a similar pose, or this one and this one both from MegaHouse. Her figure by Emontoys is also a decent option.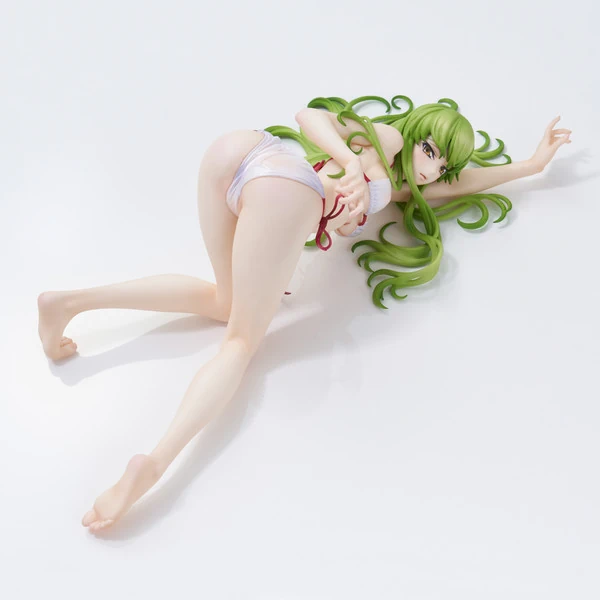 Re:Zero kara Hajimeru Isekai Seikatsu – Elsa Granhiert – 1/7 – Beautiful Bowel Hunter (Helios)
Helios is turning out to be one of the worst figure manufacturers out there. I think they may be in the running to replace Pulchra and FOTS Japan. I just remember Helios as that company that made that crappy Wiz figure.
I mean, this just looks so horrendous and they have the gall to charge ¥20k for this crap? Heck, I think even those crap figures from Square Enix's Arts line of figures are better than this.
Should you preorder this? Hell no. If you really just want a figure of Elsa, just get her prize figure from Bandai Spirits for the price of a meal at McDonalds or Burger King.
No preorder links for this one.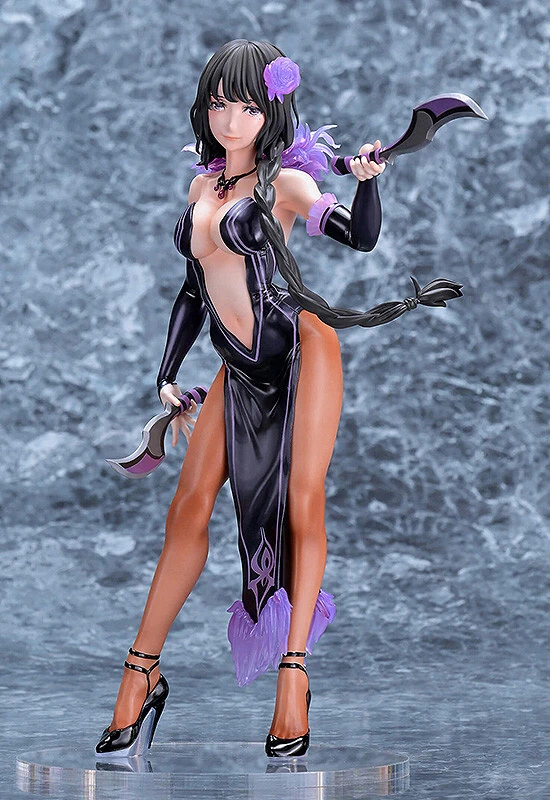 Original – End of Summer JK Girl – 1/6 (MaxCute)
If you're a figure manufacturer and you're going to tease this level of lewd, then you might as well go all out and make it a cast-off.
…is what I want to say but I guess there's no helping it if the artist does not create the artwork. Just really feels like a lost opportunity.
Should you preorder this? The price is on the steep end so just like most figures nowadays, the aftermarket is the way to go.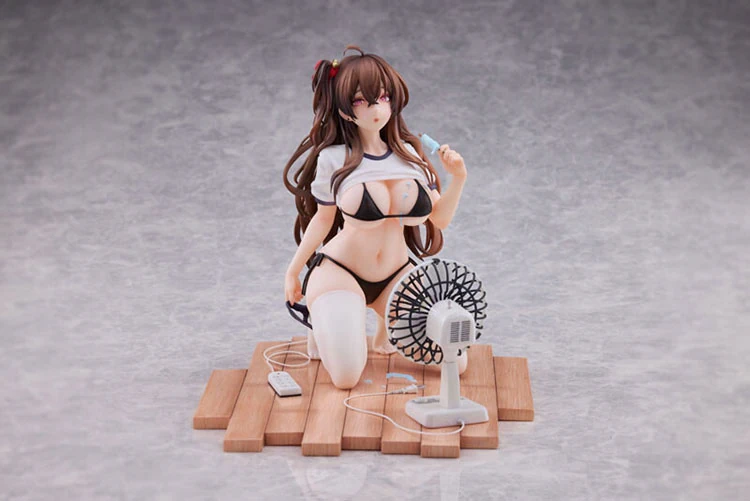 Kinshi no Ane – Date-chan – Swimsuit Ver. (Union Creative International Ltd)
This is another original character from 92M. Love their work but am not a fan of Union Creative. Hence, I cannot recommend this preorder because Union Creative does not meet my criteria for a good-quality figure. It has a special limited edition version with a winking kiss gesture but it's not like the quality will be much better so, meh.
Should you preorder this? If you really want her, this will most definitely go to the bargain bin as with most other Union Creative figures. If you want to preorder her anyway, the preorder links are below. You can get the limited version here.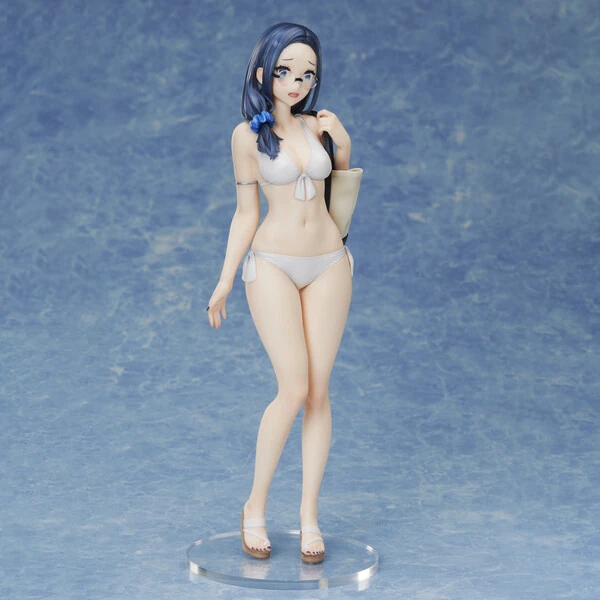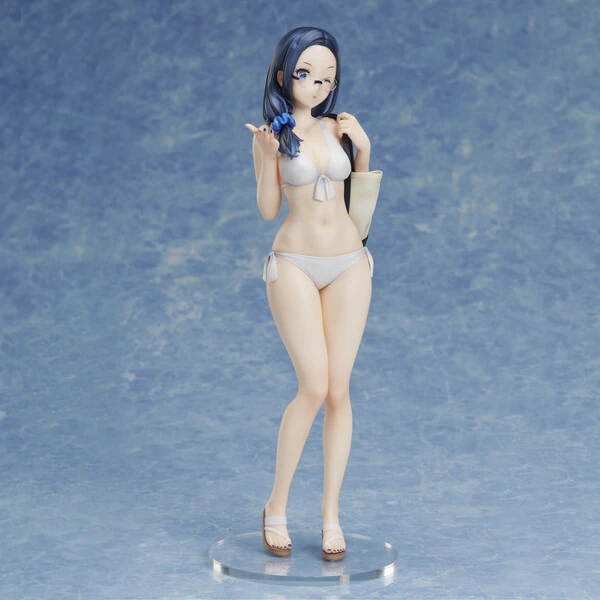 Original – Sutora – 1/7 (Omaha)
This is an original character by Kedama and is a full cast-off. This figure looks great but we don't know much else beyond what we can see from the promotional photos as Omaha's first figure has yet to be released as of this writing. Another gripe I have with this figure is that it is in a lying-down pose which means she can be quite difficult to display. The 1/7 scale bed is a nice accessory though but it looks like it's a little too small. If she stretched her arms and legs I don't think she'd fit in the bed.
The price however is something I would say is on the cheap end considering this comes with several extra parts for the cast-off.
Should you preorder this? If you think she's worth it, then go for it.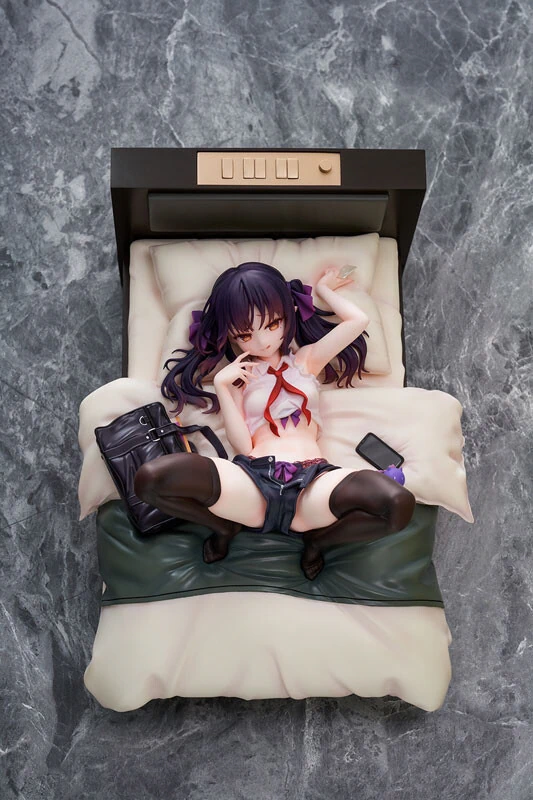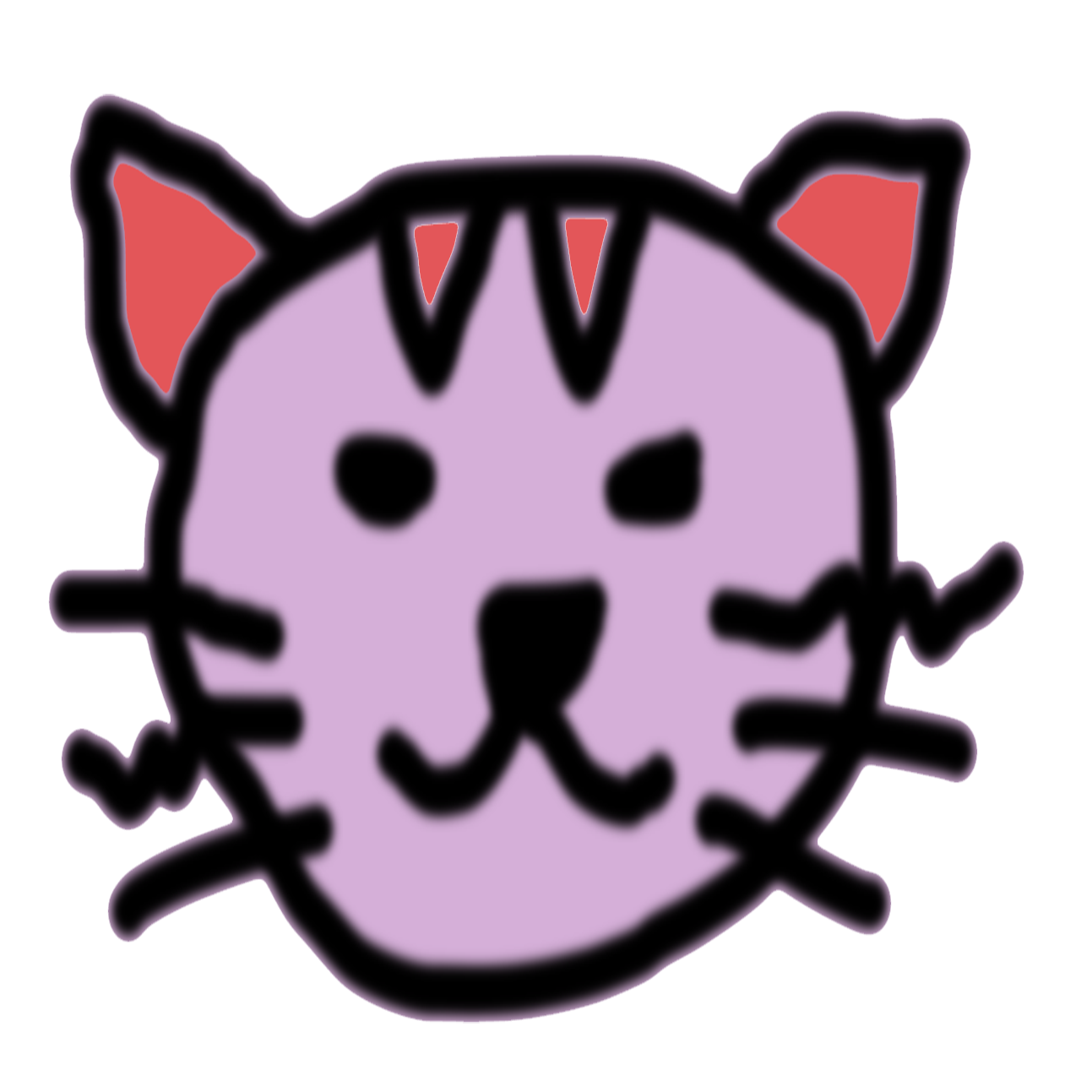 I started the NekoFigs blog in January 2021, 5 years after I've started collecting anime figures. It all started with one humble prize figure of Saber Lily which was bought on a whim. Now, I face the big problem of how to deal with over 200 empty boxes.