If you've been an avid anime figure collector for years now, it is likely that you've had to fix a broken anime figure. If you haven't experienced this yet, then good for you. If you are here for advice on how to glue a broken anime figure, read on ahead.
My Klee Figure from APEX Broke
A broken anime figure — it's the stuff of nightmares. Maybe you brought out a figure out of the detolf for a while and your cat knocks it over and it drops to the floor. It breaks off into a few pieces but it is not beyond saving. This is exactly what happened to me recently. The unfortunate accident happened to the Klee figure from APEX which I did an unboxing for.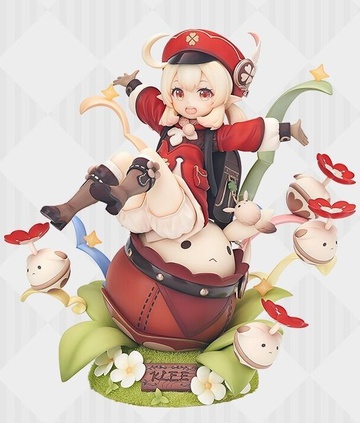 Klee was displayed in the bedroom where my cats had no access to but I brought her down one day and placed her on my desk. I let her sit above the printer beside my PC. I thought to myself, it should be relatively safe here. Even if the cat did jump on the table and onto the printer, it is not likely that the figure will drop since it is fairly heavy. I just let it be for the entire day and I forgot about it. It was dawn and I was working on my PC. I got tired and laid down on the couch for a while. I was on the verge of falling asleep when…. crash. A few meters from where I was lying down, Klee was now on the floor in 4 separate pieces and my black cat was racing to the kitchen.
What came next was a deafening silence. I just sat there for a good 30 seconds looking at the Klee figure on the floor. The Klee figure had a few parts that you attach to it. I say to myself, I think it's fine. I hope it's fine. It wasn't.
I stand up to pick up the pieces on the floor. Two of the parts that attach to the main figure came off. That wasn't a problem. I just simply reattached them. Then I saw another broken part. This bomb thingy called a Jumpty-Dumpty took the brunt of the fall and the part holding it snapped at an awkward spot. I looked at it and I was devastated. I wasn't sure if it would glue on properly. And if I do manage to glue it properly, I am not sure it will hold for long. Because it broke off in a tiny section, I can't put much glue to hold it together firmly. And the weight on top is much heavier so it will strain the glued part.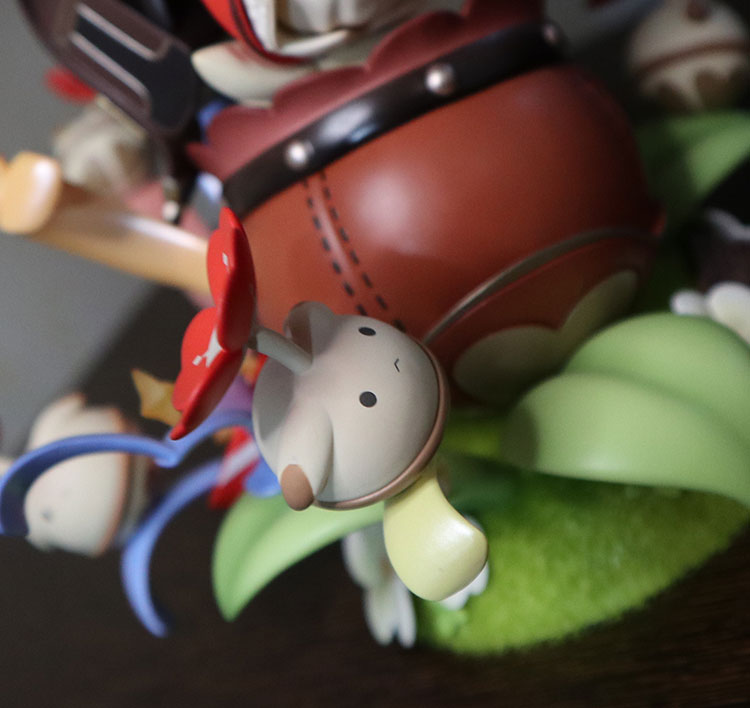 It was such a harrowing experience that I did not even bother taking a picture of the broken parts. At that time, I did not have any superglue in the house. It got me depressed for a while and I just hid the figure in a cabinet along with the broken pieces. A few days went by until I finally had the drive to try and fix it.
Now, this isn't the first time I had to glue an anime figure but this was the most problematic one. Just look at the pictures below. Thankfully, it glued properly and looks like it will hold the weight. I'm hopeful the fix will last. Only time will tell. So far, it's only been a week and the glue is holding on.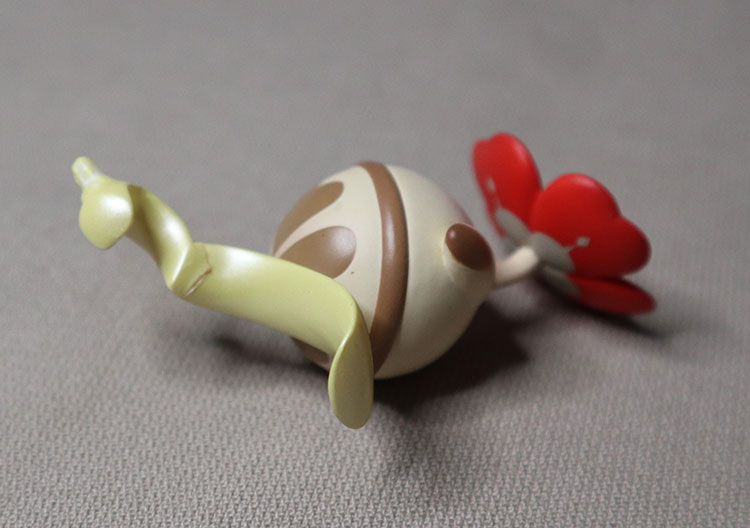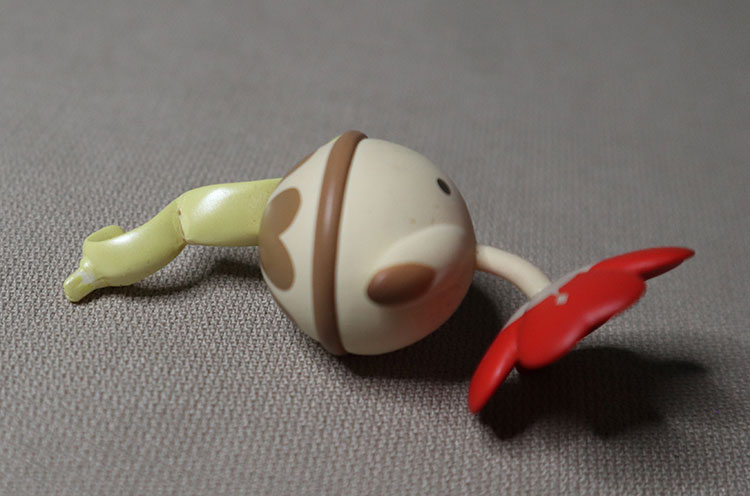 When I think about it today, it is still lucky that, given how many protruding parts this figure has and the height that it fell from, the damage was still minimal. Apart from the single piece that broke, it had no other broken parts. It did not sustain any paint chips or scratches from the fall. She almost looks good as new.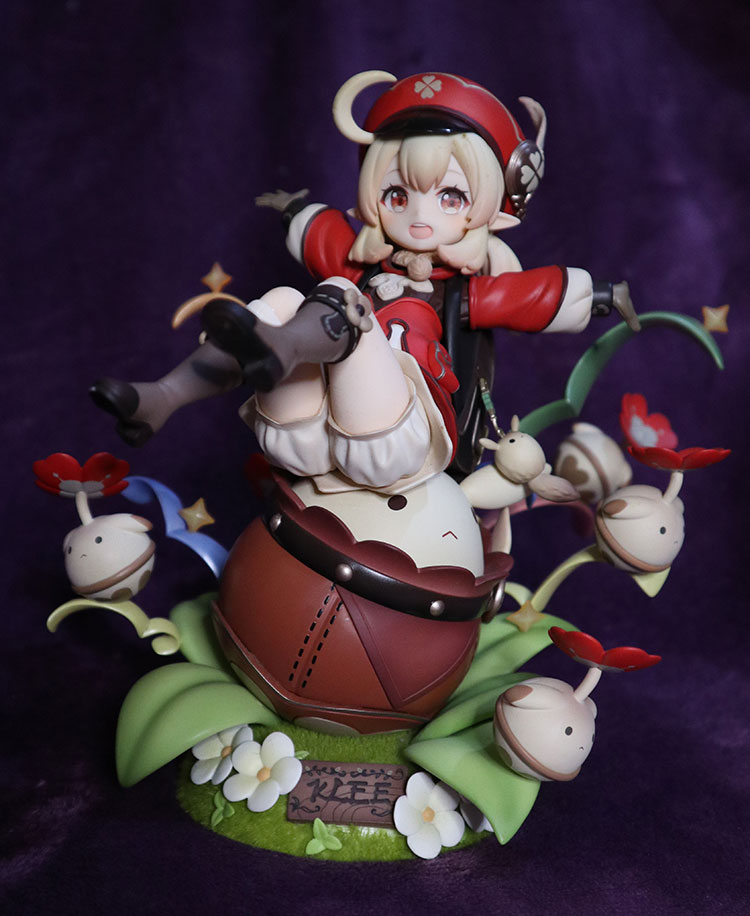 What Kind of Glue to Use for Anime Figures?
I've already tried a few types of glues for fixing anime figures. For quick fixes, your most trusted friend would be super glue. It's available in most households and even if you don't have it at home, a quick trip to the convenience store will have you set. However, you have to take extra caution when using super glue.
Pros and Cons of Using Superglue to Fix Anime Figures
There are advantages and disadvantages to using super glue to fix anime figures.
Pros
It dries fast. Like I said above, super glue is great for quick fixes
It bonds strong.
You only need a tiny amount of super glue to fix a broken figure.
Cons
It dries fast. Too fast. If you make a mistake, it may already be too late.
Super glue can melt and peel off paint.
When you open the super glue tube, you probably won't be able to use it again. No matter how securely you seal it or even if you put it in the freezer as recommended, it just dries up for some reason. Best to buy superglue that is available in single-use tubes.
How to Glue an Anime Figure?
There are steps to follow to make sure you don't mess up fixing your anime figure using super glue.
Clean the figure. Make sure the parts you are gluing are free of dust and debris.
Plan ahead. Simulate how you are going to hold the figure in place while you attach the broken part. Even while super glue dries fast, you still need to hold it firmly in place for about 30 seconds for the two parts to bond firmly. You'll need to find a comfortable position where you can hold the two parts together for 30 seconds. If you don't plan ahead, the super glue could dry up before you figure out how to do the fix you want. Also, some anime figures can have fragile parts. If you don't plan and you apply pressure at the wrong spot, you might end up breaking off a different part of the figure.
Use an applicator. Don't spread the glue straight from the nozzle. You can put some glue on a piece of cardboard or plastic then you can use a toothpick or a cotton swab as an applicator.
Apply just the right amount of glue. When you hold the two parts you are trying to bond together, excess glue would spill to the sides when you press them together and that might leave a nasty mark. Even manufacturers make this mistake as you can sometimes get figures that have glue stains.
Quickly hold the two parts you are trying to bond together. Apply pressure on it for about 30 seconds to ensure a strong bond.
Don't put any strain on the glued parts for at least 24 hours. While it only takes a few seconds for superglue to bond things together, it will take around 24 hours for the glue to fully cure. If necessary, let the figure lie flat on a surface or put support on the glued part.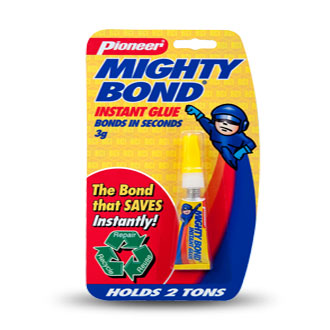 What Brand of Superglue Can You Use?
You can use any brand of superglue available to you though I would stray away from very cheap brands. Super glue isn't that expensive so don't be a cheapskate. Don't buy the bargain bin brand super glue. I tried to use that before and it stopped off some paint on the figure I was trying to fix. The one I normally use is the most popular super glue brand available to me and it claims it can hold up to two tons. I'm sure that's an exaggeration though.
Zap-a-Gap and Gorilla Super Glue appear to be popular choices.
What About Other Kinds of Glues?
There are many kinds and brands of glue out there and knowing which one to use for your figure will help a lot. Some kinds of glue can strip off paint so be careful with those.
Five-Minute Epoxy
Five-minute epoxy comes in two tubes that you combine to create a strong adhesive. It is much stronger than super glue. It is not as runny as super glue. However, it takes a while to dry. It is basically called five-minute epoxy because it dries up in five minutes. Compare it to super glue which dries up in seconds. That can either be good or bad depending on the kind of fix you need.
You'll have to go to a hardware store to find five-minute epoxy. I have not tried using this on a figure but I hear some people saying that it is promising. Might give it a try next time I have a broken figure. Frankly, I'd rather not have to. I have tried using regular epoxy to glue some other household stuff and for sure, it bonds much stronger than super glue.
The really great thing about epoxy is that it has a very long shelf life. This is because the epoxy will not bond or dry up until after you mix the resin and the curing agent.
Contact Cement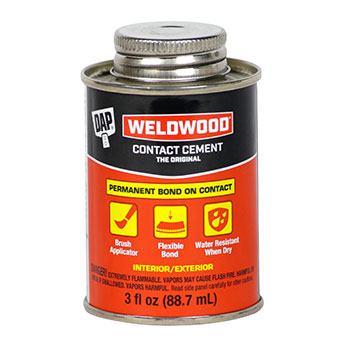 Contact cement is useful for bonding most stuff except polystyrene. Polystyrene melts when it comes into contact with contact cement. I have tried this several times on figures and it does not melt PVC and it does not peel off paint. The thing about contact cement is it takes a long time to dry and bond. Depending on the break you are trying to bond, that can be either good or bad.
When using contact cement, even if you make a mistake, you can just rub off the contact cement from the figure and it'll just come right off without leaving any residue. Also, you can only use contact cement when the area you are trying to glue together has a large point of contact.
To use contact cement, you can apply it liberally on the two points that will make contact, then let it stand for about 20 minutes. You have to actually let it dry a bit. After waiting it out, press the point of contact firmly together and just let it sit for 24 hours. If any contact cement oozes out from the sides, you can just rub it off with your fingers.
Tamiya Extra-Thin Cement Glue
This seems like the ideal glue for fixing anime figures. I have no first-hand experience with this product so I am basing this on what I researched. Supposedly, it only works well on styrene which is the material used for model kits. Not sure how well it would work on PVC plastic and ABS which are the main materials used on anime figures but I do hear some collectors recommending it.
This type of glue uses capillary action to spread itself over the surface and in between cracks of the pieces you want to glue. It comes with a special applicator so you can apply the glue with extreme precision. This will be helpful in gluing really small parts together.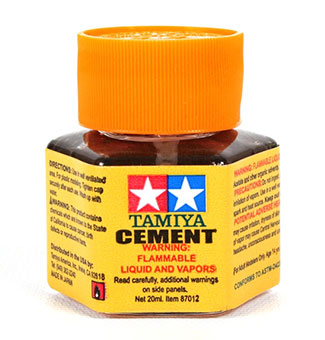 Apparently, this glue melts the top layer of the part you are trying to fix so that it will bond as a single piece. It is quick-drying and leaves no residue. You can think of it as super glue specialized for hobbyists. It has several variations including regular Tamiya Cement, Extra-Thin and Extra-Thin Quick Setting which dries much faster.
Hot Glue
I see some people in forums mention using hot glue to fix figures. However, it is not something I would recommend mainly because hot glue is well, hot. If it doesn't work, it could deform the point of contact on the figure that you need to fix. Also, any figure enthusiast knows it is not good to expose figures to heat.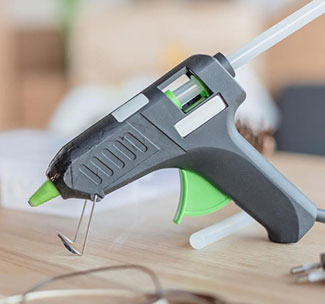 Craft Glue
I guess craft glue would work for minor fixes where gravity is not working against you. If you had to insert a broken part into a predefined slot, adding a bit of craft glue to reinforce it would not do any harm. Even if you mess up, you can simply wipe off craft glue. However, if you are working against gravity, craft glue is not your best option.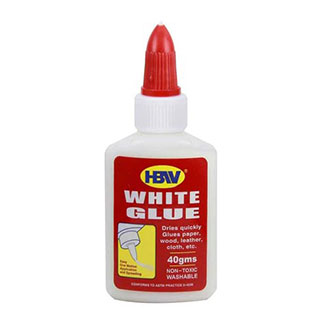 Hope this article helps you out. If you have suggestions or have experience with using other types of glue to fix anime figures, you can let me know in the comments and I'll add them to the list.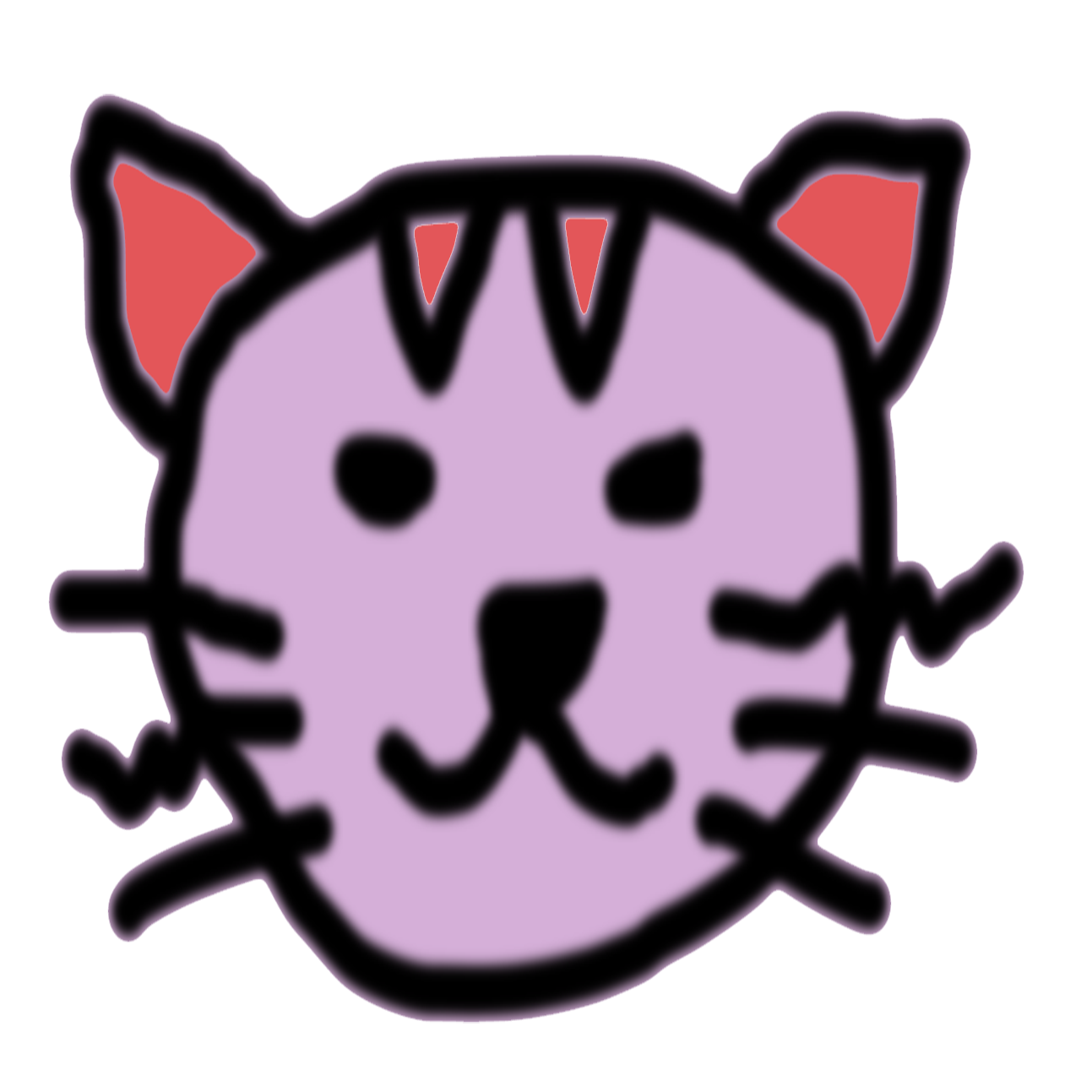 I started the NekoFigs blog in January 2021, 5 years after I've started collecting anime figures. It all started with one humble prize figure of Saber Lily which was bought on a whim. Now, I face the big problem of how to deal with over 200 empty boxes.