Hana Uzaki's mom was an unexpected one. We also have a bunch of To LOVEru girls going up for pre-order. And after a few years, we finally get Yui's lingerie version to join Yukino who is also getting a rerelease.
Uzaki-chan wa Asobitai! – Uzaki Tsuki – Dream Tech – 1/7 – Ushigara Bikini (Wave)
This was rather unexpected. I saw the name was Uzaki and she doesn't quite look like Hana. Then it hit me. She's the mom. In a bovine-themed bikini no less.
If you are pre-ordering her, don't expect she'd be as tall as your other 1/7 scales. The character is pretty short but what she lacks in height, she makes up for in the chest area. At 8.86 inches (220cm), she'd be about an inch shorter than most 1/7 scales.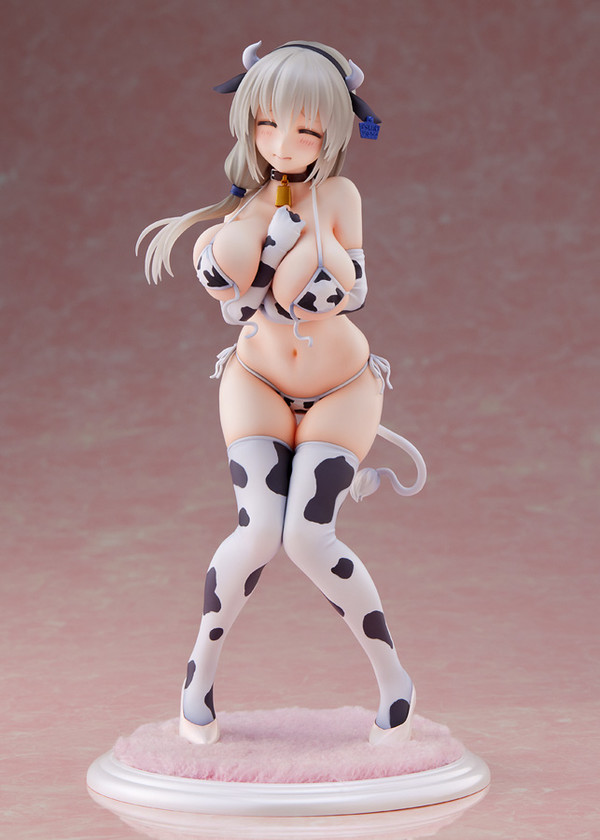 Girls Frontline – Vector – 1/7 (Wanderer)
I don't have much to say about GFL as I am not familiar with their characters. The figure looks okayish. The positioning of the hands looks weird though. I'm not so sure about the biting thing on that necklace. If they nail the sculpt and the paint on that, I think it'd be nice.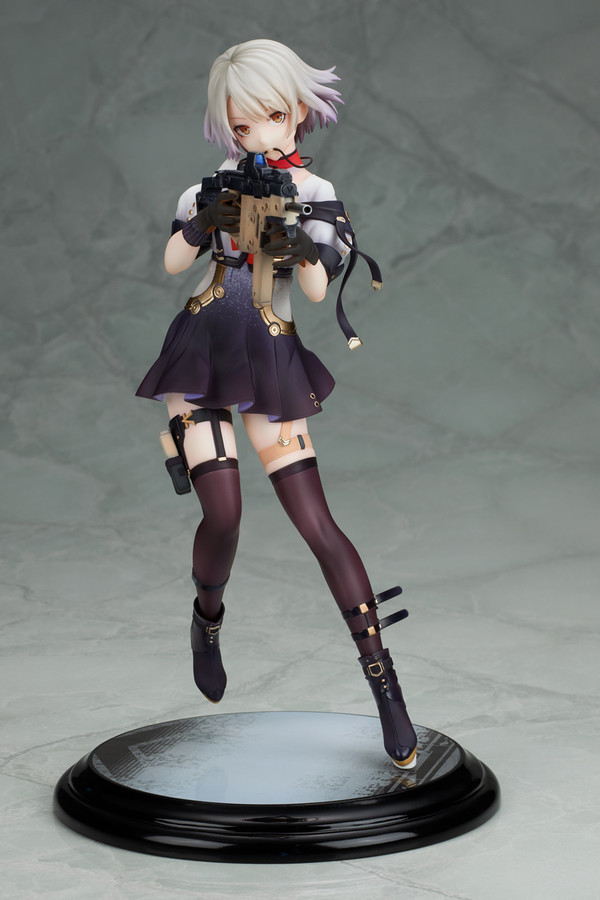 Genshin Impact – Ganyu – 1/7 – Follow the Moon Ver. (APEX-Toy)
APEX Toy has been at it with the Genshin Impact figures and it's really making a dent on my wallet. Ganyu is a sure pre-order for me. Now, I don't really any experience with the quality of APEX. My first figure of them which is Klee is set to arrive next week so I guess I'll see for myself soon. I did my research however and I've only ever seen people singing high praises for their Yae Sakura figure.
The details on this Ganyu figure look really well done. The paint on the hair looks to be really well done. You can see the patterns on the horns and the legging. I am curious about the cryo sphere she's holding. Is it touching her hand or not? What's holding it in place? The promotional photos don't provide any clue.
If you don't have Ganyu in the game and want a rerun of her banner, you can at least be assured you can get her in all her PVC glory. No gacha involved.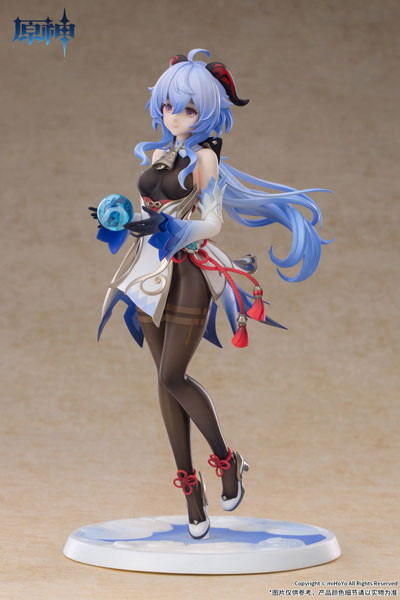 Sword Art Online: Alicization – War of Underworld – Asuna – 1/7 – The Goddess of Creation Stacia (Good Smile Company)
We've been getting a bunch of Stacia figures of Asuna that it's become difficult to choose which one is best. What I do know is Good Smile Companyis the safest bet. And it's cheaper too. So if you are still looking for a Stacia figure of Asuna, then I can highly recommend pre-ordering this.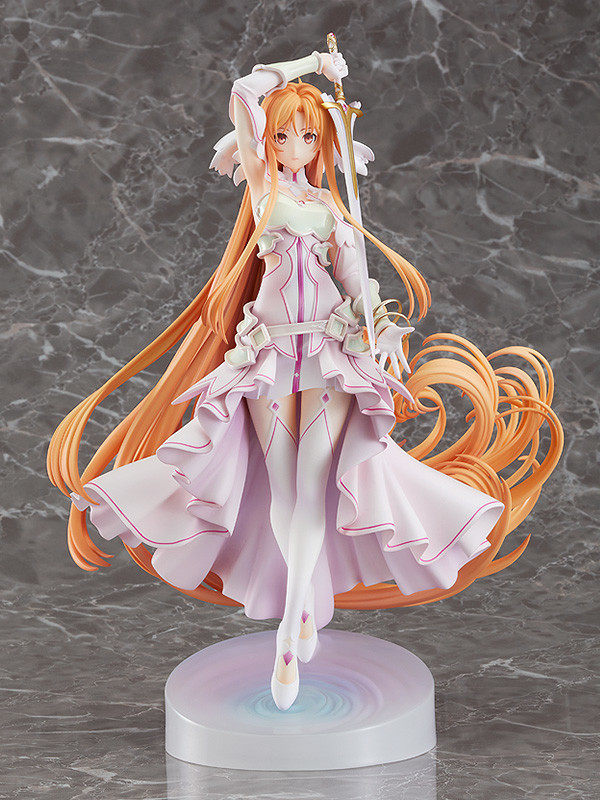 Koukaku Kidoutai: SAC_2045 – Kusanagi Motoko – Gals Series – Ver.2 (MegaHouse)
I normally choose the full-body photo to feature on pre-order roundup posts. However, I thought I'd post a close-up view of this one as the full-body photo doesn't give it much justice. This figure looks really good. The hair looks okay but it could benefit from some shading or gradients.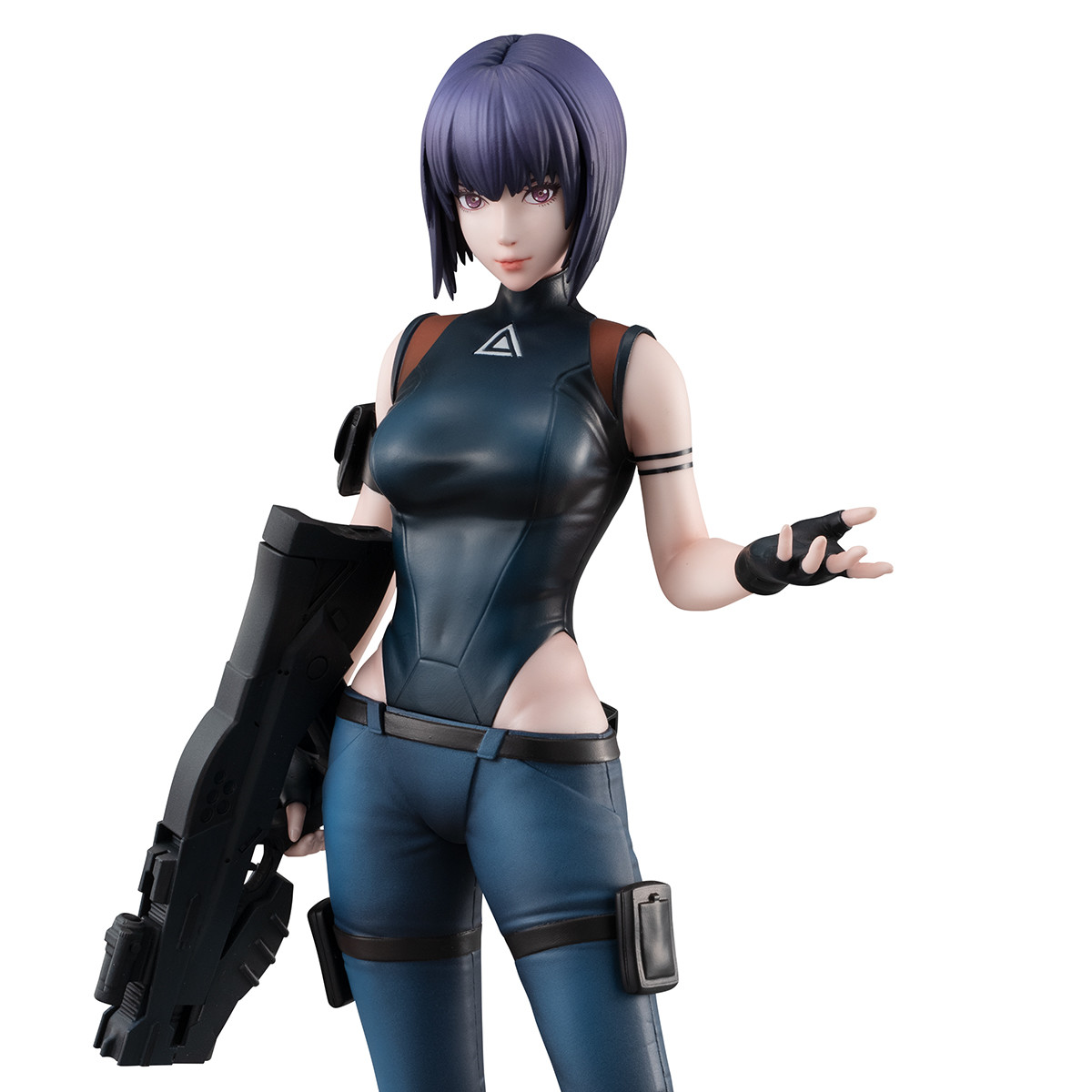 Mahou no Tenshi Creamy Mami – Creamy Mami – B-style – 1/4 (FREEing)
The original show from 1983 must have been really popular if it's still getting a figure now. I wouldn't know. I wasn't even born yet. Heck, they even decided to make it a 1/4 scale. I think it would have been great if it was an actual bunny to be in the B-style line but this is still a win for fans of the anime.
The figure looks really pretty. The character doesn't really look dated. The dress looks really nice and flowy. I think the designers for this figure may have actually given it a modern touch to make it more appealing to the current generation.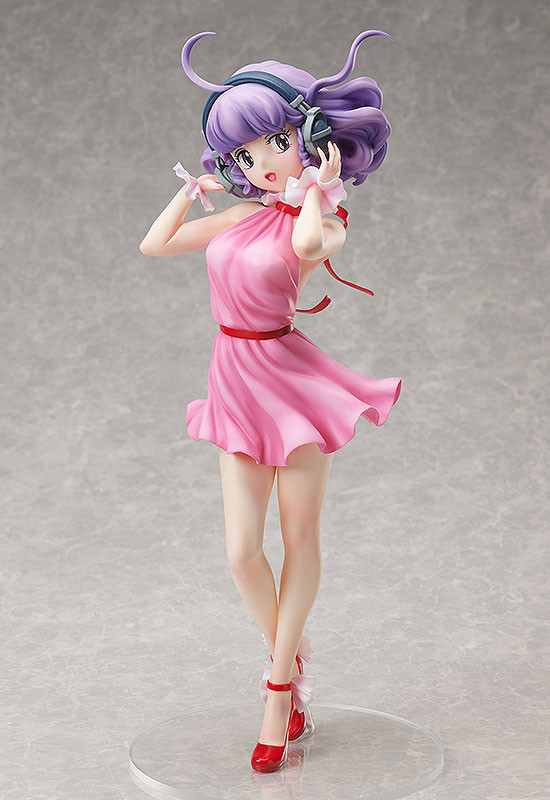 To LOVEru Darkness – Konjiki no Yami – CA Works – Breezy Seaside Ver. (Chara-Ani)
I'm still on the fence on this one. Has Chara-Ani's quality improved? I know they have a history of delivering subpar quality but they appear to be working with Good Smile Company now. Has GSC's penchant for delivering excellent quality figures rubbed off on them? This particular figure does not have GSC name attached to it though.
The sailor costume really works on Yami but I don't think I'm ready to ride the Chara-Ani train.
Also, this figure reminds me of Kancolle's Shimakaze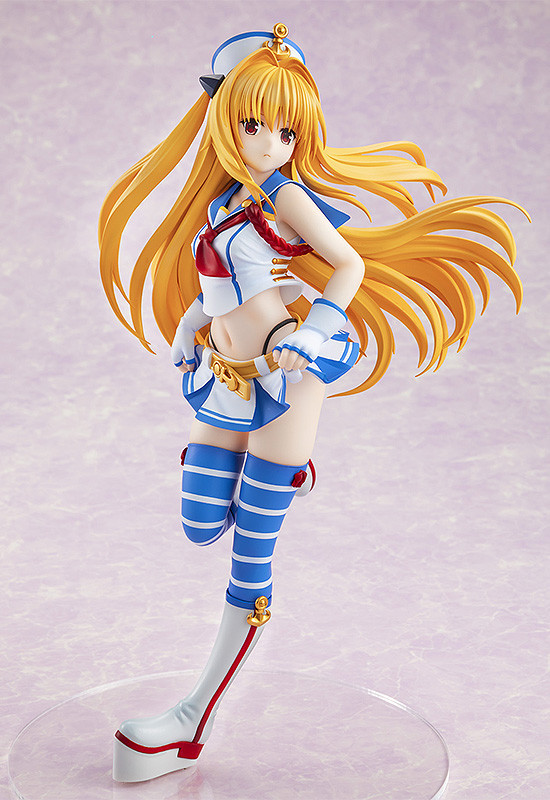 Punishing Gray Raven – Lucia – RIBOSE
RIBOSE's first figure was just released a few days ago so people are waiting with bated breath as to how their quality turns out to be. I'd recommend waiting for word on that before biting on this preorder. It's already hard to judge the quality of a figure based on promotional photos alone. It's so much harder when there is little information about the company and you don't have good-quality images. The images available for this one are really small so you can't see the finer details.
From what we can see, the paint looks great and it's not often you get a figure with that many tan lines. Do note that this is a non-scale. With it standing at 23cm, I'd say it's close to 1/8 scale though.
This only costs a little over ¥6,000 though so it's very cheap. But that also makes it doubtful as the quality might not be very good.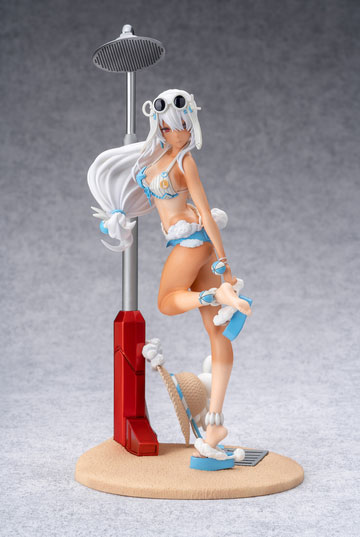 To LOVEru Darkness – Kotegawa Yui – 1/6 – Darkness ver. (Union Creative International Ltd)
I recently got news from my local figure retailer that my pre-order for Nana didn't push through because they did not meet the minimum order quantity required. I guess that's just the sign that I am waiting for to drop this line from a company that I have come to detest. I already have Momo, Mea, Tearju, Mikan and Nemesis from Union Creative's Darkness version line but I have always been debating internally whether I should continue or drop this line. The quality of their To LOVEru figures seem acceptable. I have only unboxed Momo though so I can't say for sure about the rest.
Passing up on Yui is not a very hard choice for me as I already have two other figures of her.
To LOVEru Darkness – Sairenji Haruna – 1/6 – Darkness ver. (Union Creative International Ltd)
I already decided that I am dropping this line. So even as I'm still in the market for a figure of Haruna, I'll have to pass. The real kicker here is that aren't a lot of choices for a good Haruna figure. And I think the face on this one is the best. The limited version where she lets her hair down looks really good too so I can't blame you if decide to you pre-order.
Preorder here. The limited-edition is here.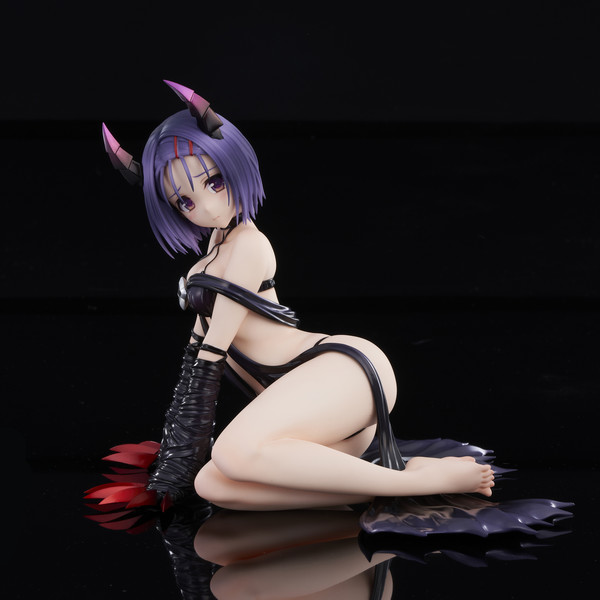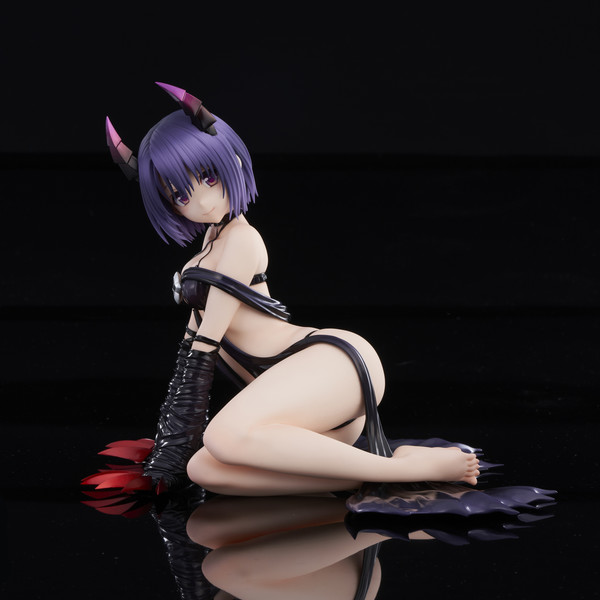 Fate/Grand Order – Shuten Douji – 1/7 – Eirei Matsuri (Ques Q)
Aren't her sleeves a bit trypophobia-inducing? That aside, this figure has a lot of colors. It's not necessarily a bad thing. The details look really well done although the price is on the steep end.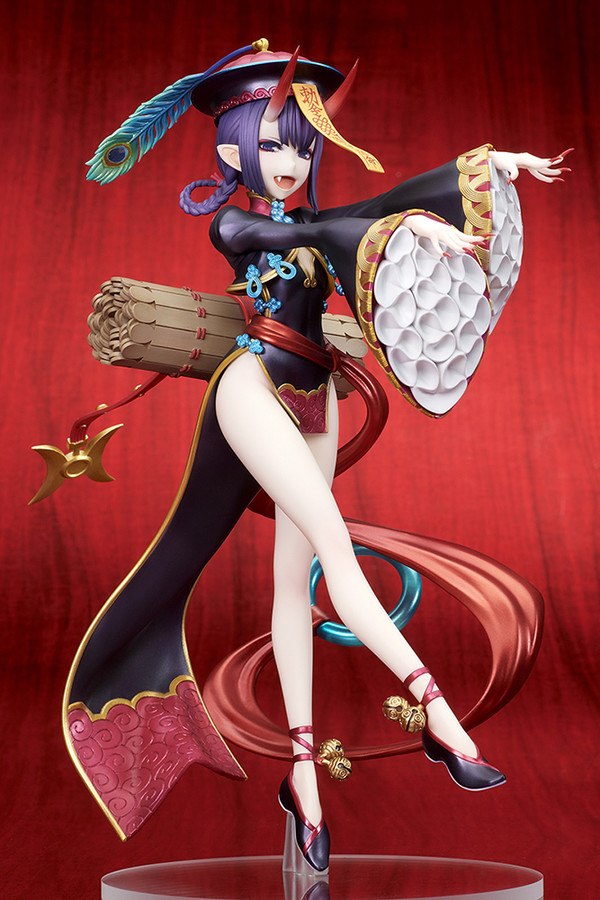 Walkure Romanze More & More – Ryuuzouji Akane – 1/6 – ver.Finest (Orca Toys)
It's a little too pricey even for a 1/6 scale. Unless you're a big fan of the franchise, I can't really justify dropping money on this. The figure looks good and Orca Toys does good quality. If you think not pre-ordering will make you regret it later, then just go for it.
You can actually buy her pre-owned right now because this is a rerelease. The regular edition is here and the limited edition is here.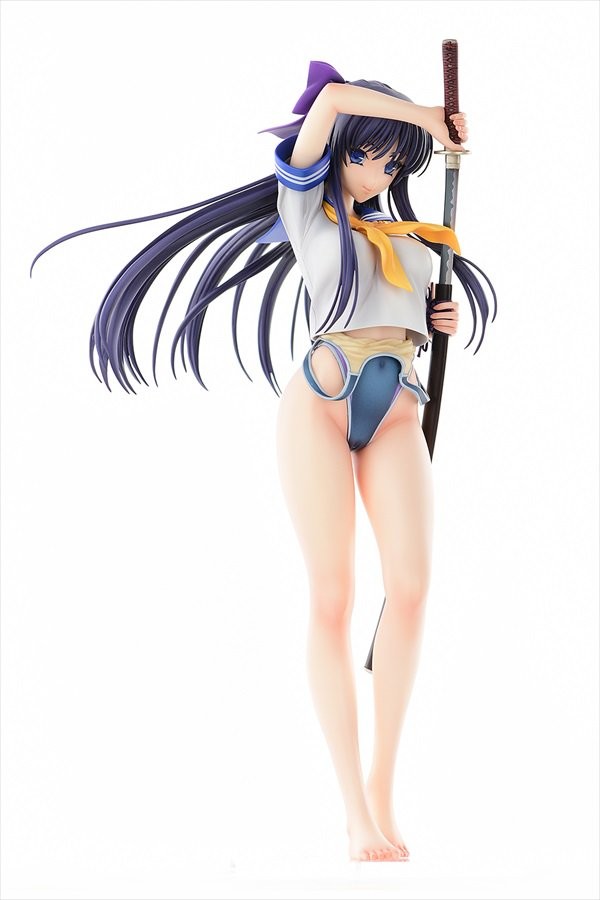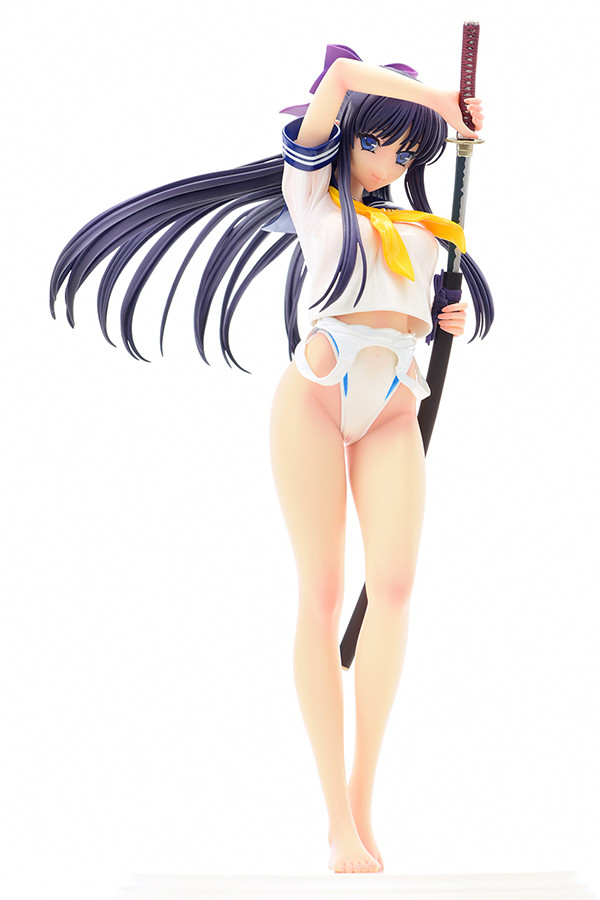 Blue Archive – Sorasaki Hina – 1/7 (B'full)
Just no. Especially at that outrageous price. Also, B'full is garbage. Doesn't even matter even if you say this a PVC figure and not 3D-printed garbage. B'full is still garbage.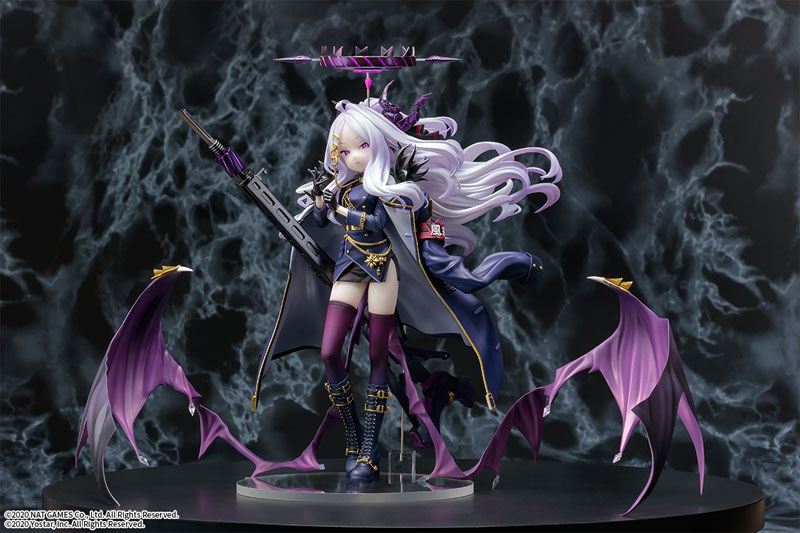 Original Character – Lirin (Union Creative International Ltd)
Perhaps the only other thing commendable about Union Creative is that they pay attention to illustrators and turn their 2D creations into 3D figures. This particular figure is based on an original character by Bae.C. Preorder if you want to support the artists but fair warning, Union Creative's quality is not very good.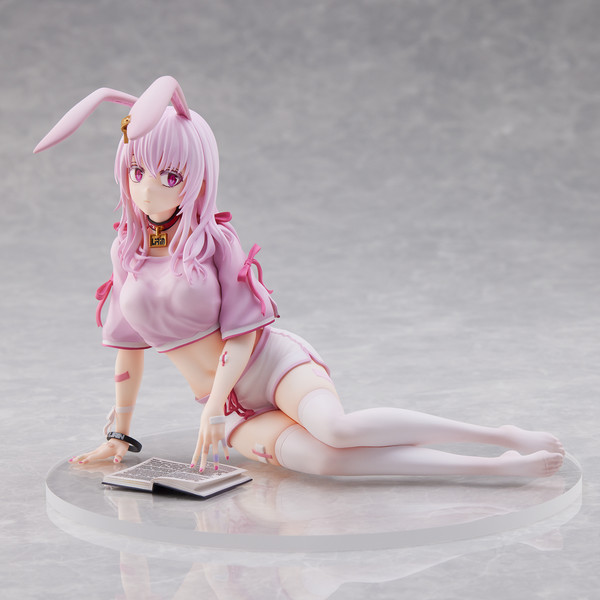 Senkan Shoujo R – Saratoga – 1/7 – Night Flower Ver. (APEX-Toy)
This one looks really good so I had to look up the game where this is from. Apparently, the global version is dead but the Japanese server is a thing. You can download it with QooApp. The Night Flower wedding thee looks nice. The figure has good contrast with her blonde hair and dark-themed dress. The bottom layer of the dress adds a nice touch. It's like looking at the clear night sky. The flowers also look like they're sculpted to perfection. You can see some nice gradients on the bow. The face and the hair look though. These are initial impressions only though but I do trust APEX would deliver excellent quality.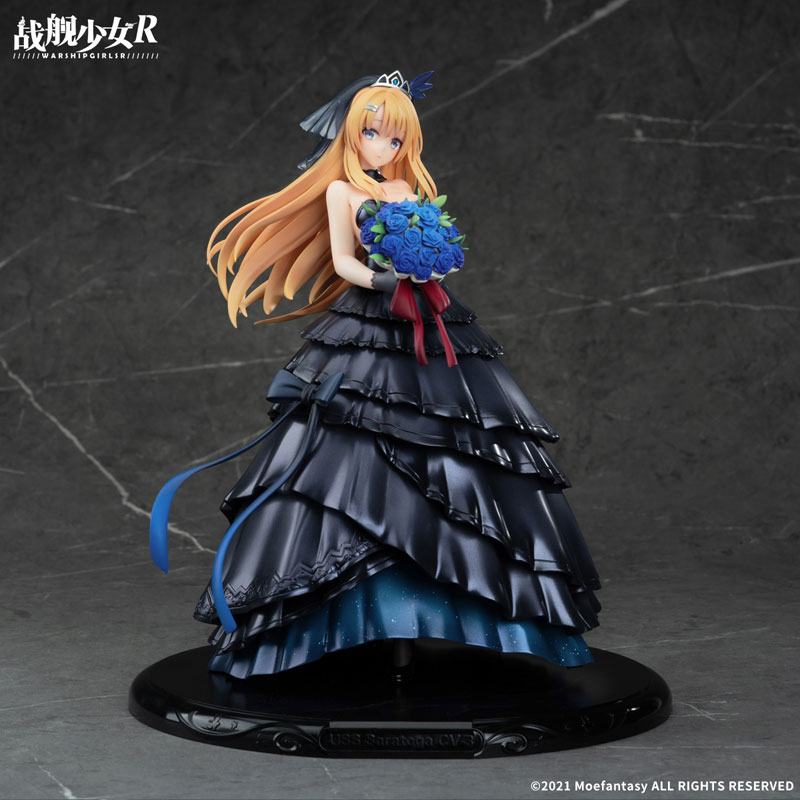 Arknights – Nian – 1/7 – Unfettered Freedom Ver. (AniGame)
I could not find any information about AniGame so preordering this one is a shot in the dark.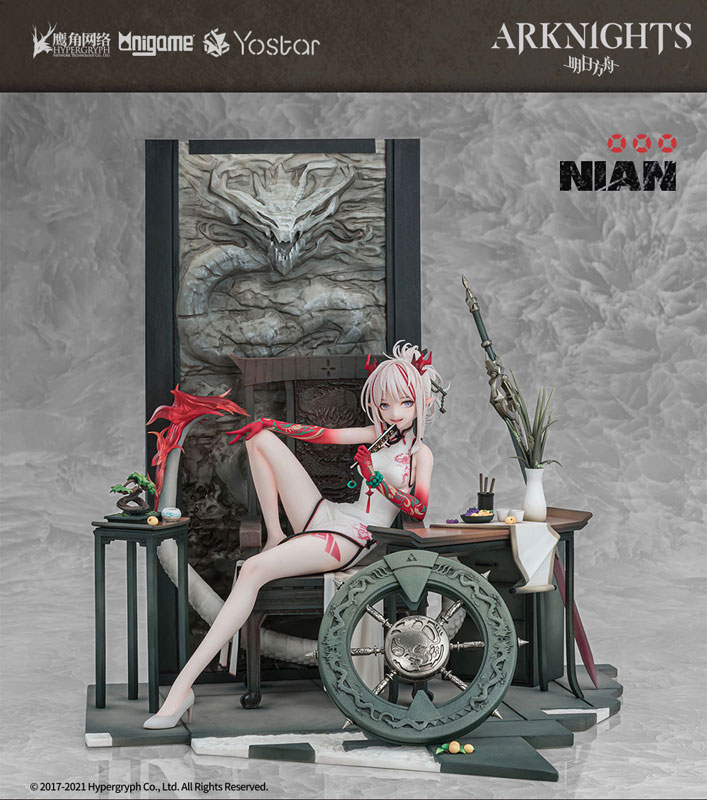 Otome Game no Hametsu Flag shika nai Akuyaku Reijou ni Tensei shiteshimatta… – Alexander – Katarina Claes – F:Nex – 1/7 (FuRyu)
She first got a Nendoroid and is now getting her first scale. Too bad it's FuRyu though. Still, it ain't so bad. At least it's not Pulchra or B'Full.
Magia Record Mahou Shoujo Madoka ☆ Magica Gaiden – Alina Gray – 1/8 (Wing)
I'm finding it really hard to keep track of everything. There's just so much media to consume these days and everyone wants a market share in the figure industry. So please forgive me if I am not familiar with some characters especially the new ones.
For Alina Gray, this is her first scale figure. The details look good and I think the face is well done. Also, Wing is a great company that produces quality scales.
Hige wo Soru. Soshite Joshikousei wo Hirou. – Ogiwara Sayu (Good Smile Company
Finally, this goes on preorder. You can all now cancel your Union Creative preorder for their Sayu. This will definitely be better quality and it's also much cheaper. Union Creative's Sayu will most likely look like an oversized scale figure with a boring paint job.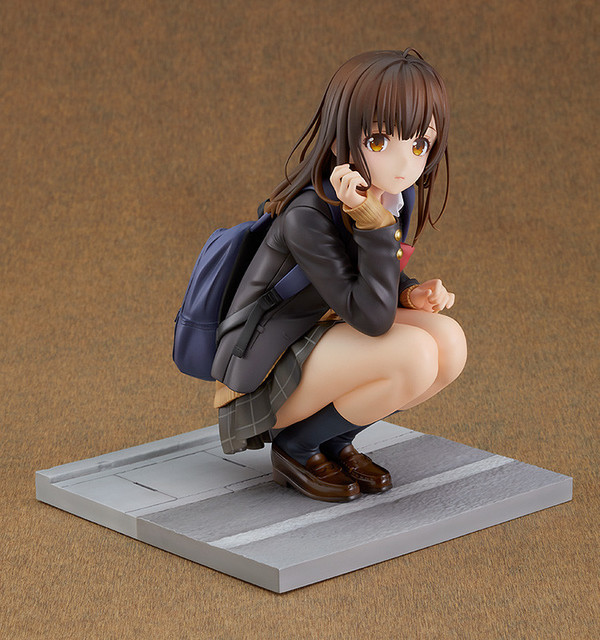 Shadows House – Emilico – 1/6 (Phat Company)
I should really get started on watching this already. I'm just wondering why the mop head is on top of the push brush. The price is on the steep side but it's made by Phat Company and a 1/6 scale to boot. If you think her price is worth it, go ahead. Can't go wrong with a reputable manufacturer.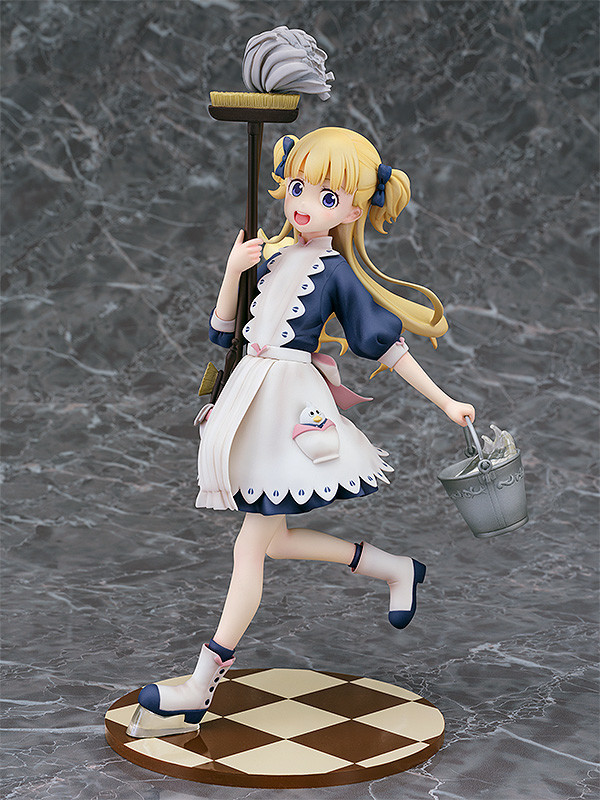 Original Character – B-style – Reika – 1/4 – Bunny Ver. (FREEing)
This is an original character by Hisasi. I recognized some of his artworks have made it to the loading pages of Azur Lane.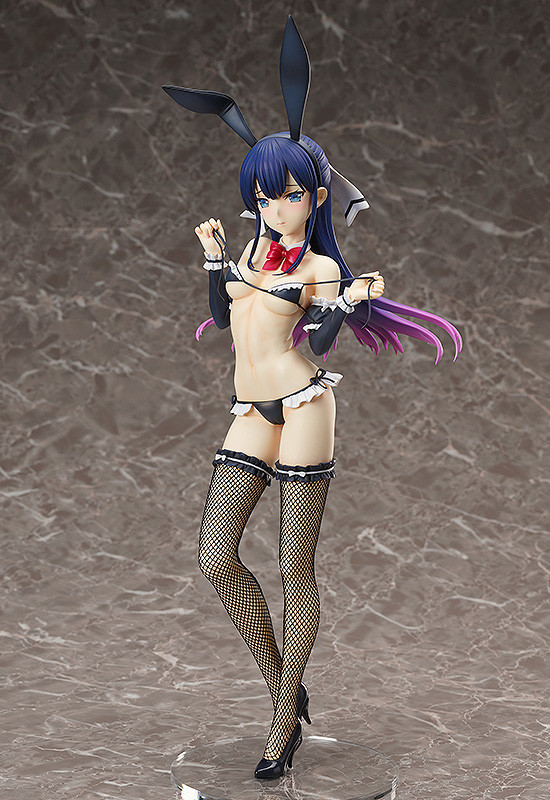 Original Character – B-style – Mitsuka – 1/4 – Bunny Ver. (FREEing)
If you're getting Reika, the bunny above this entry, you might as well get this one too. They were created by the same artist and brought to life by FREEing.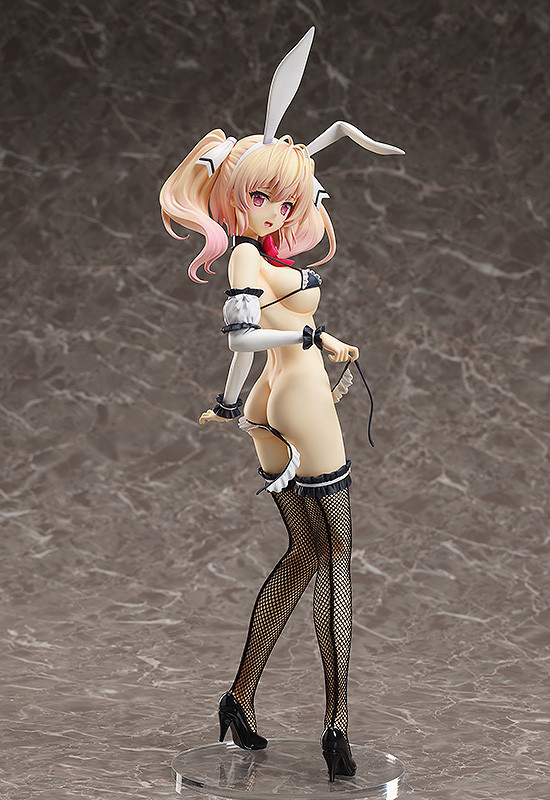 Date A Bullet – Tokisaki Kurumi – Shibuya Scramble Figure – 1/7 – Pigeon Blood Ruby Dress Ver. (Alpha Satellite, eStream)
Here we go again with eStream. I have to agree that their figures do look great overall but it is not something I can say is worth the price. Kotobukiya, even Good Smile Company and Alter, can make a figure similar to this for much less. You can't even appreciate the background because her skirt is covering most of it.
The transparent material looks like cheap plastic though I do have to give props to the face.
A regular 1/7 scale figure would normally cost ¥13,000 to ¥20,000. Let's assume for example this Kurumi figure would go for a whopping ¥20,000 which is on the expensive end — just the figure and the base. Are you telling me those adornments actually cost more than the figure? Because stores price this at around ¥42,000 to ¥46,000? If you can still say that that is appropriate pricing and not a cash grab, then maybe you're a rich kid who never had to work an actual 9 to 5 job and had all the privilege handed to you on a silver platter.
If you agree that this is a cash grab but still want to preorder, the preorder link is below.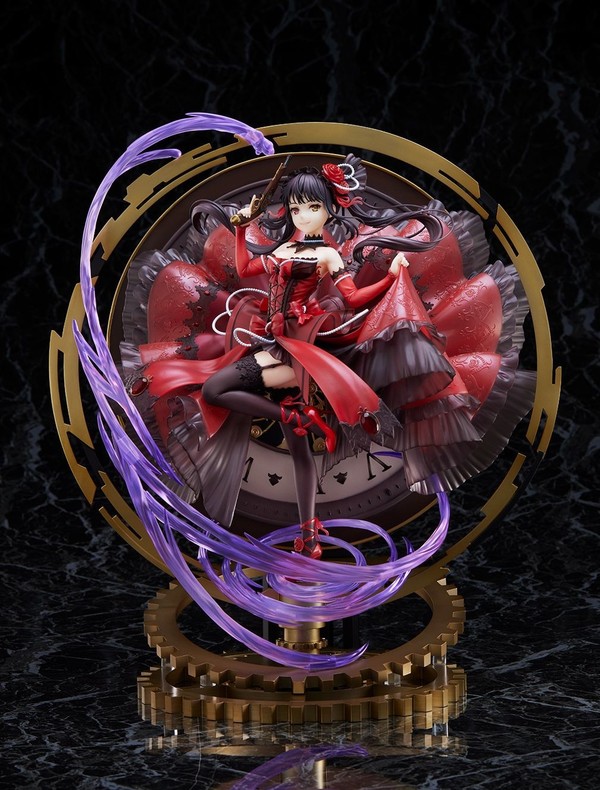 Yahari Ore no Seishun Love Comedy wa Machigatteiru. Zoku – Yuigahama Yui – 1/7 – Lingerie ver. (Revolve)
Yukino has waited too long. And now Yui is finally coming to life in this lingerie version. She will come with dog ears to complement Yukino's cat ears. The colors are bright which is a reflection of her bright personality. The details on the lingerie really pop. The patterns almost look like there embossed.
And since we're getting a figure of Hana Uzaki's mom, I'm wondering if we'll ever get a figure of Yuigaha-mom?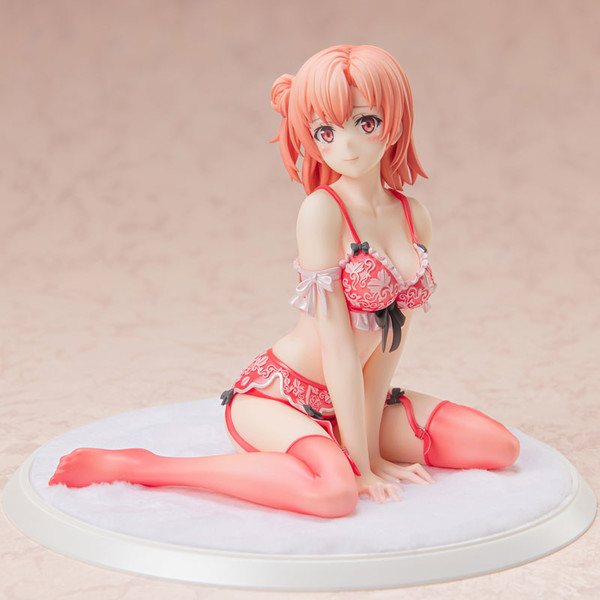 Yahari Ore no Seishun Love Comedy wa Machigatteiru. Zoku – Yukinoshita Yukino – 1/7 – Lingerie ver. (Revolve)
Yukino gets a rerelease so those who missed her initial can get her with Yui to complete the set (at least until they announce an Iroha lingerie version). I already got Yukino during the initial release so I'll do a review on that soon.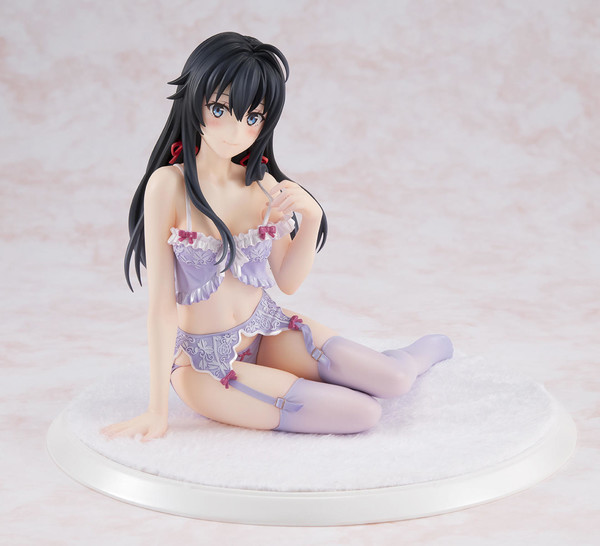 Original Character – Cat Girl Kuroneko-chan – 1/6 (Daiki Kougyou)
Matarou is killing it. He's getting another figure and it's a full cast-off.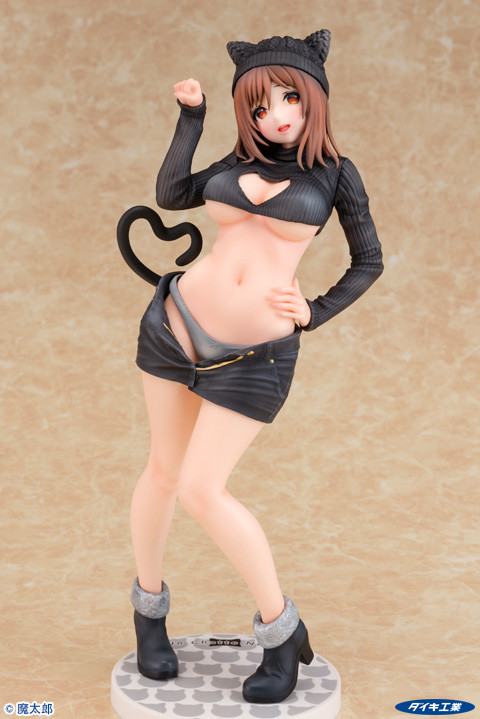 Persona 5 The Royal – Kawakami Sadayo – 1/7 (Amakuni, Hobby Japan)
Some people say they don't like the face. I can agree. The face looks awkward because she is biting her lower lip. And the eyes just look weird. People are hoping she'll look better in real life especially when it's not likely she'll be getting any other figure. The pose looks pretty awkward too.
I like the face on the exclusive bonus much better though.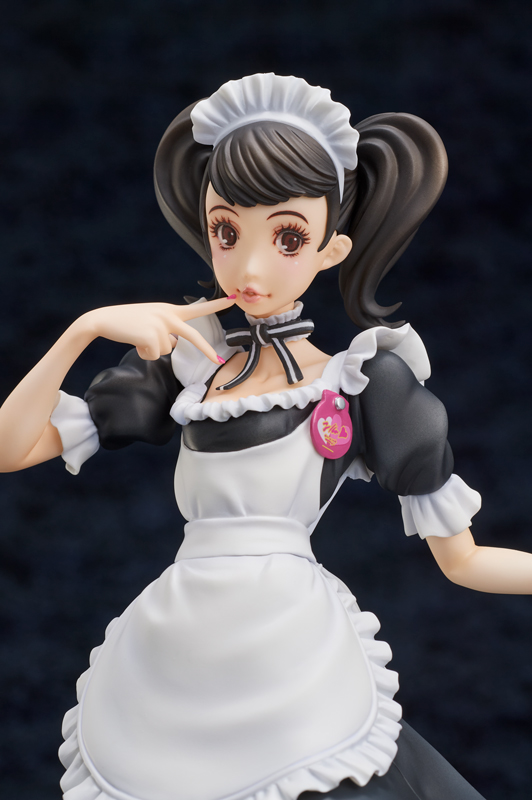 Azur Lane – Laffey – F:Nex – 1/7 – UsaUsa Bride (FuRyu)
We finally get an alternative Laffey figure to the piece of crap that B'Full is offering. And while FuRyu isn't the best, I'll sing them praises any day when they're the alternative over B'Full or Pulchra. You can now cancel your preorder of Laffey's B'Full figure.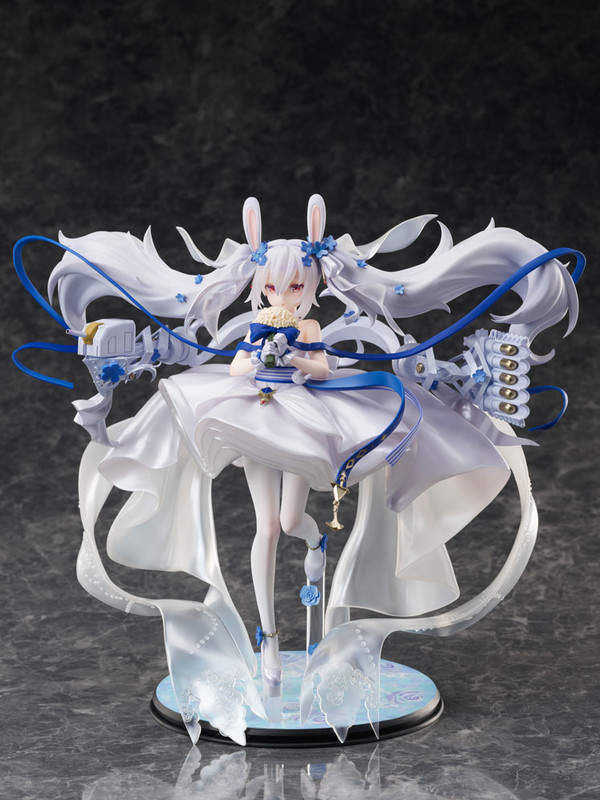 Shiroi Suna no Aquatope – Misakino Kukuru and Miyazawa Fuuka – F:Nex – 1/7 (FuRyu)
This is actually a set of two figures and I don't think you can buy them individually if you don't want them both. I don't have much faith in FuRyu but I still do give them passing marks.
The concept of the figure is also nice. You can display Miyazawa upside if you're getting the set. Now I'm kinda wondering if PVC figures would be okay to put in an aquarium.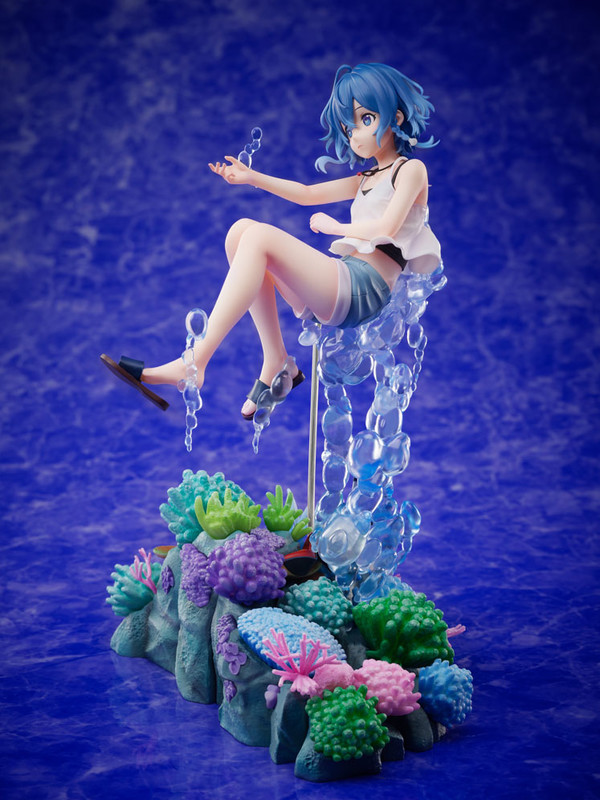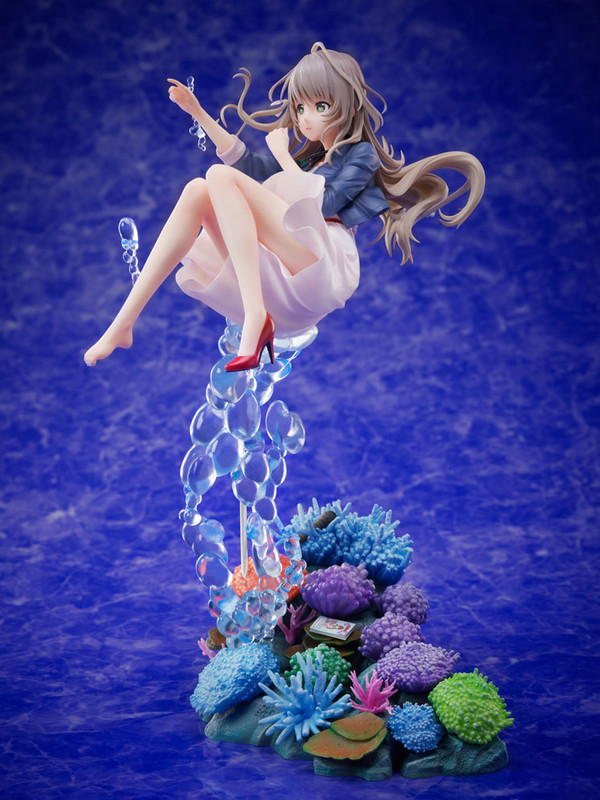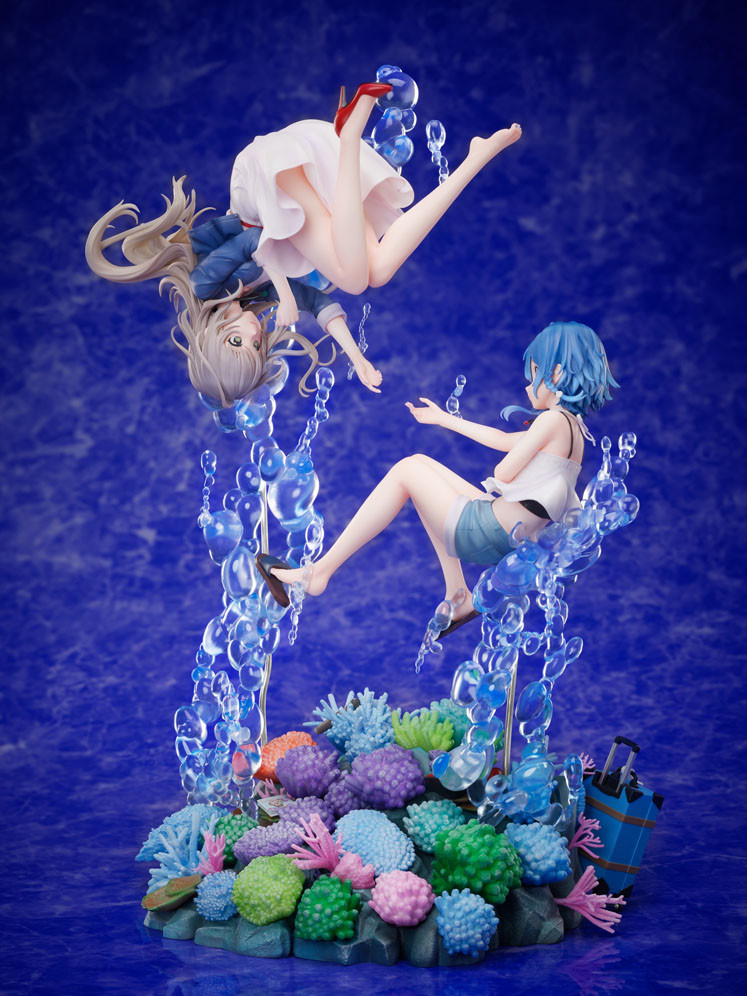 Maitetsu -Pure Station- – Hachiroku – 1/6 (Ques Q)
This is a cast-off. Something for the degenerates out there.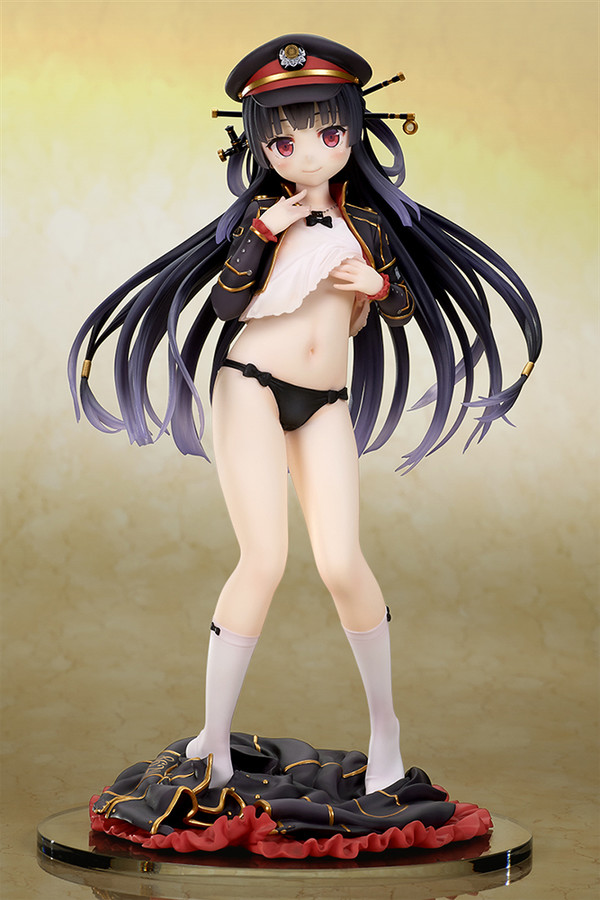 Piapro Characters – Hatsune Miku – F:Nex – 1/7 – Magical Mirai 2021 Ver. (FuRyu)
It's Miku in her outfit for the 2021 Magical Mirai concert. Looks like FuRyu really captured her look. Let's just hope they deliver a perfect product. The price however is a real turn-off. Unless you're a really big fan of Miku, I cannot justify spending over ¥30,000 on this one. You aren't event guaranteed a perfect product because FuRyu quality control is not very good.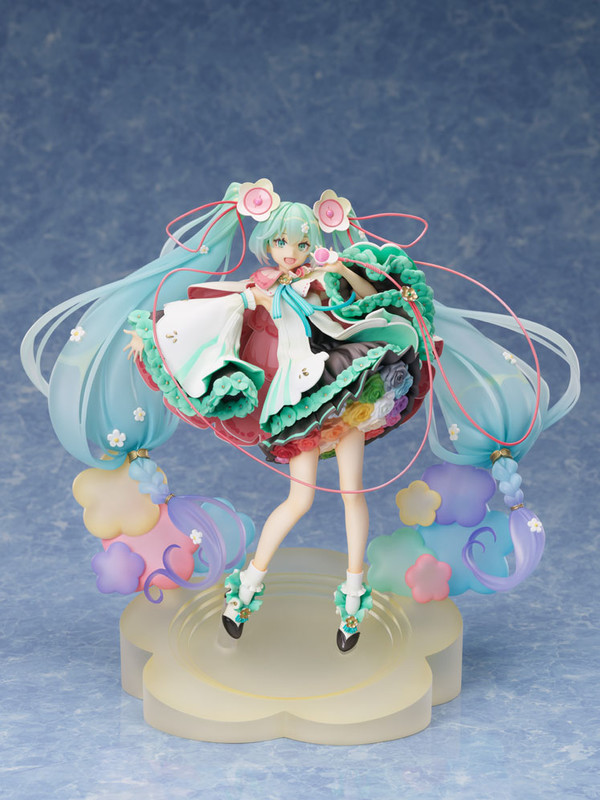 Teacher Teacher – Maeda Shiori (Union Creative International Ltd)
This is a rerelease. The artwork is gorgeous. She was illustrated by Hanahanamaki from TwinBox. Now, if only this wasn't done by Union Creative, I would have considered preordering it.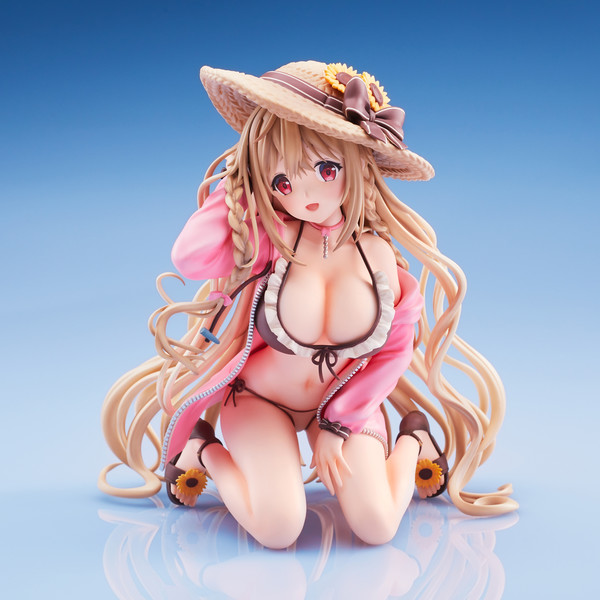 No Game No Life – Shiro – B-style – 1/4 – Cat Ver. (FREEing)
They basically rescaled the S-Style 1/12 scale figure of Shiro. I initially thought it was also recolored but it seems like it was just a difference in the lighting of the promotional photos for the two figures. The price of the 1/12 scale exploded as with all other figures of No Game No Life characters. Personally, I'm not a fan of the show. I don't get what's so great about it. If you don't want to pay for exorbitant market prices for this one. Make sure you don't miss this preorder.
This might spark some debate about buying or displaying lewd loli figures. And while I personally don't display lewd lolis, I am also of the opinion that those who do should not be judged. Owning or displaying depictions of underaged characters in the nude does not necessarily make one a criminal. You do not arrest someone for having criminal thoughts. One becomes a criminal for acting on those criminal thoughts.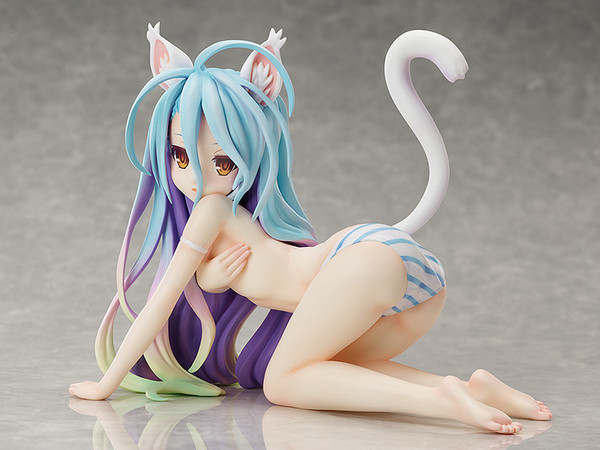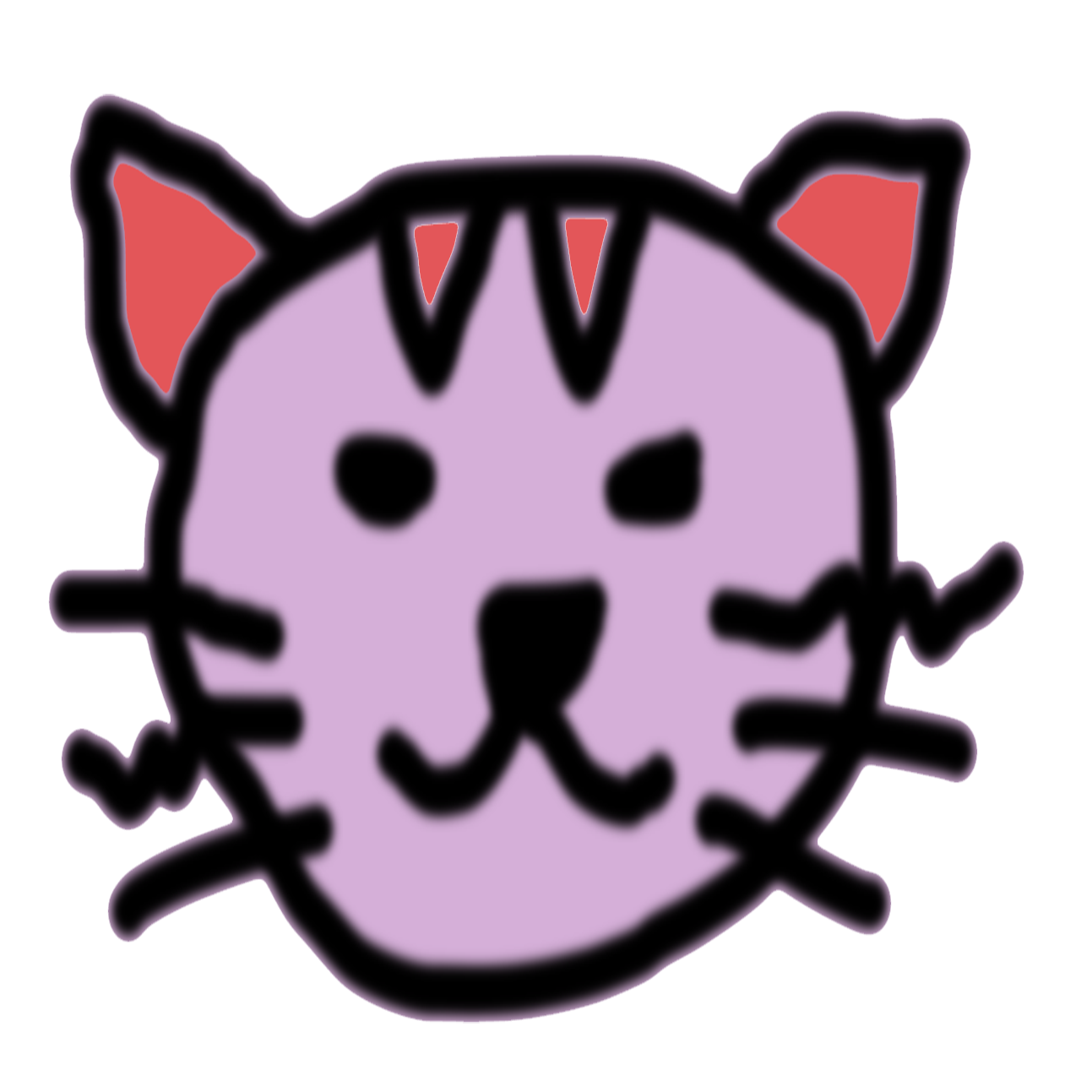 I started the NekoFigs blog in January 2021, 5 years after I've started collecting anime figures. It all started with one humble prize figure of Saber Lily which was bought on a whim. Now, I face the big problem of how to deal with over 200 empty boxes.