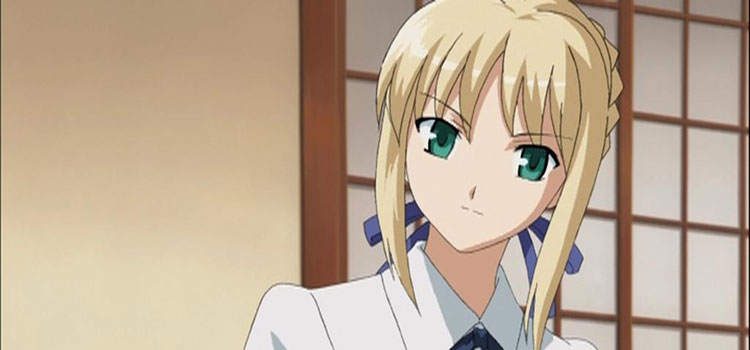 Saber is quite easily one of the most popular anime characters and this makes her one of the most sought-after when it comes to anime figure hunting. Thankfully, there are plenty of figures of Saber to choose from and this begs the question: What is the best figure of Saber? That's what we'll attempt to answer.
Do note however that these figures are not chosen using any metric except my knowledge of these figures, the companies behind them, and my personal preferences. Just because I like or prefer these figures does not necessarily mean they are the best — they are just the best based on my standards. Also, this list only includes figures of the original Saber-face which is Saber Arthur and her iterations. This includes Saber Alter and Saber Lily. This does not include Nero, Okita, Altera, Mordred, Musashi and any other Saber classes introduced in Fate/Grand Order.
On that note, let's get started.
Fate/Stay Night – Altria Pendragon – 1/7 – Saber, Triumphant Excalibur (Good Smile Company)
This used to be the premiere Saber figure back when I just started collecting. Every Saber fan was looking for this figure. As a result, the price became bonkers. If you had this figure, you were one of the cool kids (or cool otakus). A few years have passed and two rereleases later, the hype for this particular figure has died down but it still remains to be a great figure. Her price has also recovered and she is now more fairly priced. In fact, you can get her new now for cheaper than most preorder prices these days.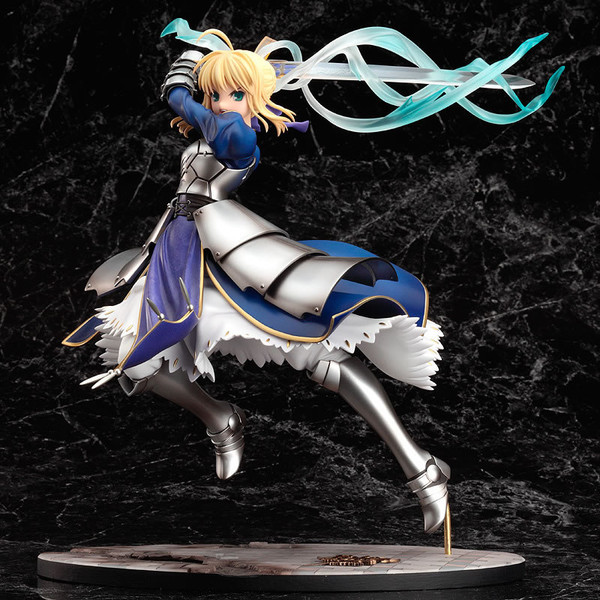 Fate/Unlimited Codes – Altria Pendragon – 1/7 – Saber Lily, Distant Avalon (Good Smile Coompany)
This was also one of the more popular Saber figures a few years ago. Just the same, the hype died down after two rereleases (RIP scalpers). But again, this is still a quality figure that you can get for cheaper than most preorder prices without skimping on quality.
Saber Lily looks great in this figure. The dress is extremely detailed. The pose is dynamic and the base is unique. Also, any figure made by Good Smile Company is guaranteed to be good. You can take my word for it.
Fate/Zero – Altria Pendragon – 1/8 – Saber, Motored Cuirassier (Good Smile Company)
This was (and is still probably) the coolest figure of Saber. It's not often you get a figure of any character riding a motorcycle. The figure just looks really good from any angle. You got this blonde ahoge-donning heroine wearing an all-black suit strutting a silver motorcycle. How can anything be cooler than that? And as I already mentioned, anything made by Good Smile Company is guaranteed to be good.
Fate/Grand Order – Altria Pendragon – 1/8 – Saber, (Alter), & Cuirassier Noir (Good Smile Company)
Saber again on a motorcycle. I know we have two on this list but motorcycles really are a rarity for figures. This time around is the Alter version of Motored Cuirassier. Cuirassier Noir is all black with shades of silver and accents of red. Saber Alter in this figure shows a bit more skin compared to Saber Arthur wearing a suit. The icing on the cake here is Saber Alter wielding Excalibur Morgan. Motorcycle-riding anime chick wielding a sword — that's hard to top.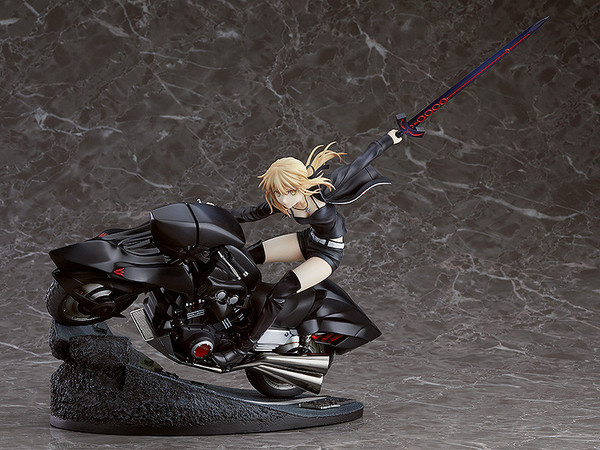 Fate/Grand Order – Altria Pendragon – 1/7 – Saber, (Lily) (Aquamarine)
The avid Saber collector is probably more accustomed to seeing their favorite heroine striking gallant poses. This is one of those figures of Saber that you appreciate because she just looks gorgeous. By all standards, this is not a simple figure. The pose is great. Saber Lily is depicted prancing around a lily flower. Excalibur is also extremely detailed. The face also looks good.
If you like this figure, go ahead and get it. The after-market price, however, is on the steep end. You don't really have much choice on the matter unless you find someone willing to part with her for cheap. It is very unlikely that this figure will get a rerelease as Aquamarine already kicked the bucket. It's a sad state of affairs when a good company like Aquamarine goes bankrupt while crappy companies like Pulchra and FOTS Japan continue to thrive.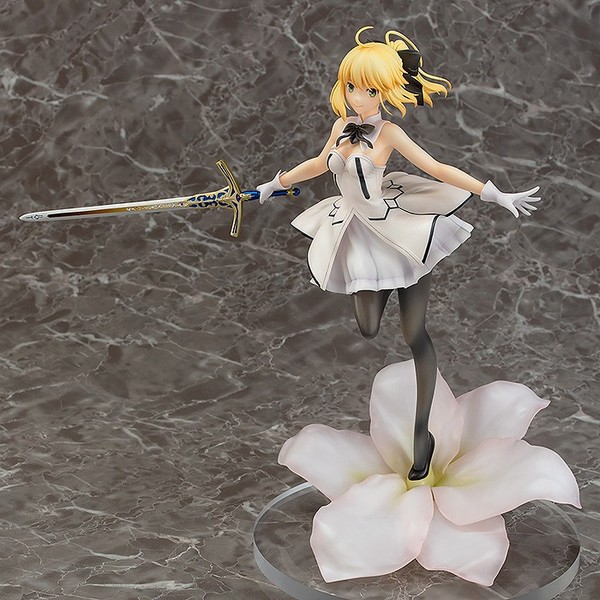 Fate/Stay Night Unlimited Blade Works – Altria Pendragon – 1/7 – Saber, Type-Moon Racing ver. (Plusone, Stronger)
This one has got to be the most cheerful-looking figure of Saber out there. That earns this figure a lot of points. Having this figure in your living room really brighten up your day. I know not everyone is a fan of non-canon costumes but sometimes, it's a breath of fresh air and lets us enjoy scenes that you won't otherwise see in a serious anime like the Fate series. And personally, I always prefer figures that show a smile. And boy, is Saber wearing a big smile!
This figure also isn't lacking detail. It's cute how Excalibur suddenly becomes an umbrella. Her pose looks so natural and shows just a smidge of sexiness. The creases on her vest and boots add a nice touch of realism. Definitely a great figure.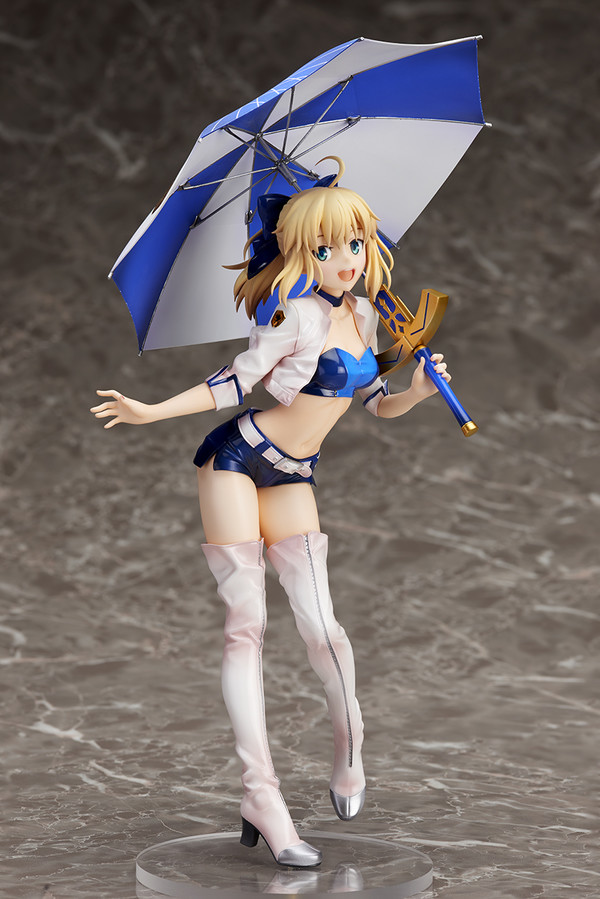 Fate/Grand Order – Altria Pendragon – 1/7 – Saber, (Alter), Dress ver. (Alter)
I wasn't quite invested in figure collecting during her first release so I missed the preorder but I wanted her so badly. The insane after-market prices filled me with a lot of regrets. I am now a proud owner of this figure and I got her during the first rerelease. One more rerelease later, the price has calmed down but it still has a hefty price tag.
What's so great about this figure is that she comes with so many alternate parts. You can display her as shown below. You can display her without the dress sleeves. You can display her with alternate hand parts that let her hold on to Excalibur Morgan. You can just mix and match the alternate parts based on your preferences.
In-person, this figure just looks so elegant and I can never see myself parting with this figure. Also, any figure that Alter dishes out almost always turns out to be a masterpiece.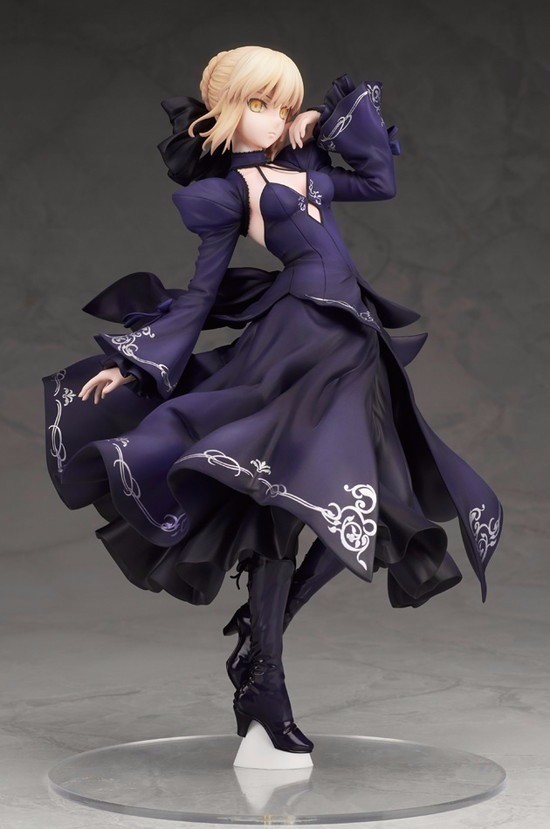 Gekijouban Fate/stay Night Heaven's Feel ~ II. Lost Butterfly – Altria Pendragon – 1/7 – Saber Alter (Aniplex, Stronger)
This feels like one of the more iconic poses of Saber Alter. The face on this figure of Saber Alter can be displayed in three ways. You can display her with her mask, the alternate damaged mask and without the mask (as shown below). There are no alternate parts for the body and that's fine. This pose looks very good as is and I wouldn't have it any other way. She is meant to be displayed with the Lost Butterfly figure of Matou Sakura. So if you want this Saber Alter, you might want to consider buying them both.
Of all the figures of Saber Alter that have been released, this one appears to have the most ominous theme. If I have this figure, I can imagine myself building a diorama and placing a lot of rubble and flames around her with some maroon lighting accomplished by putting dark red cellophane over a light source.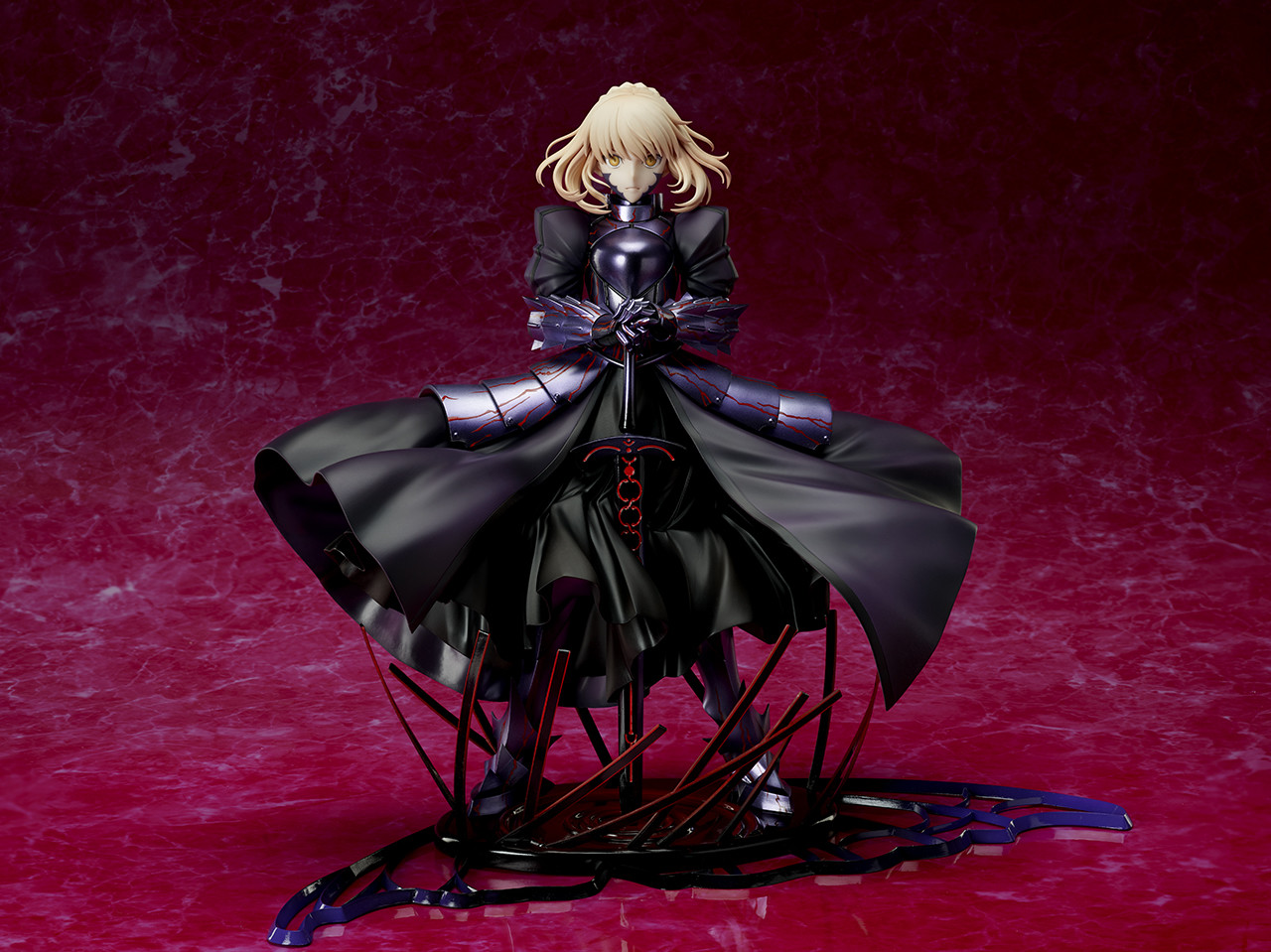 Gekijouban Fate/stay Night Heaven's Feel – Altria Pendragon – KDcolle – 1/7 – Saber Alter, Kimono Ver. (Kadokawa, Revolve)
To balance things out, here's a Saber Alter figure that's more on the elegant side (Japanese-wise). Kimono figures are special. In fact, I have an entire shelf dedicated to only kimono-clad anime figures. Saber Alter doesn't lose her patented cold stare in this figure.
The after-market price for her is insane but you're in luck because I just found out literally minutes ago that she is getting a rerelease and preorders start today. Given that I am writing this at 4AM, stores should have preorders open later today. But if you can't wait, you can just buy her pre-owned though you have to pay a premium.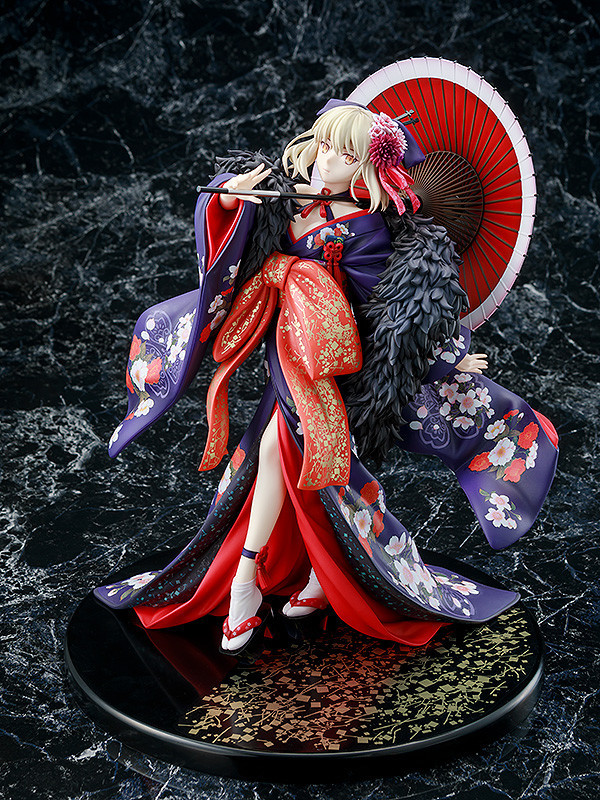 Fate/Stay Night – Altria Pendragon – 1/7 – Saber, Kimono Dress Ver. (Alter)
My top pick — this, I believe is the best figure of Saber. It is beautiful and elegant. Saber is shown with a smile on her face. Alter also is easily one of the best figure manufacturers out there. The only companies that can compete with Alter are Good Smile Company and Max Factory.
The patterns and prints on her kimono, obi, and headdress are all extremely detailed. Her skin looks soft and smooth and her smile is glowing.
One could easily mistake this figure for Nero (because of the red ornaments) but this is actually Saber Arthur. Excalibur here is made of transparent material and it actually lights up with an LED. Initially, I had thought that Alter only Photoshopped the official images to show that Excalibur glow but I later came to know that it actually lights up. Just to be clear, I am not putting this figure on top of my list just because it has LEDs. I'm not that shallow. Sure, it's a cool feature but the figure will hold its own against other Saber figures just fine even without the LEDs.
If you look at more pictures of this figure, you can actually see that it also looks good from behind. Her kimono has a lot of intricate details that could easily warrant a higher price tag. Personally, I am a bit surprised that her after-market price isn't much higher.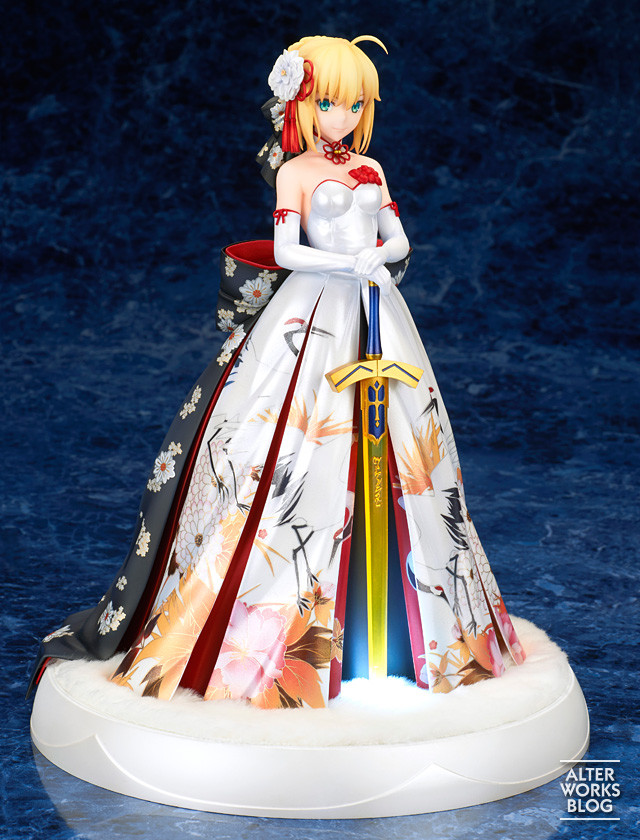 Which Saber figure is your favorite?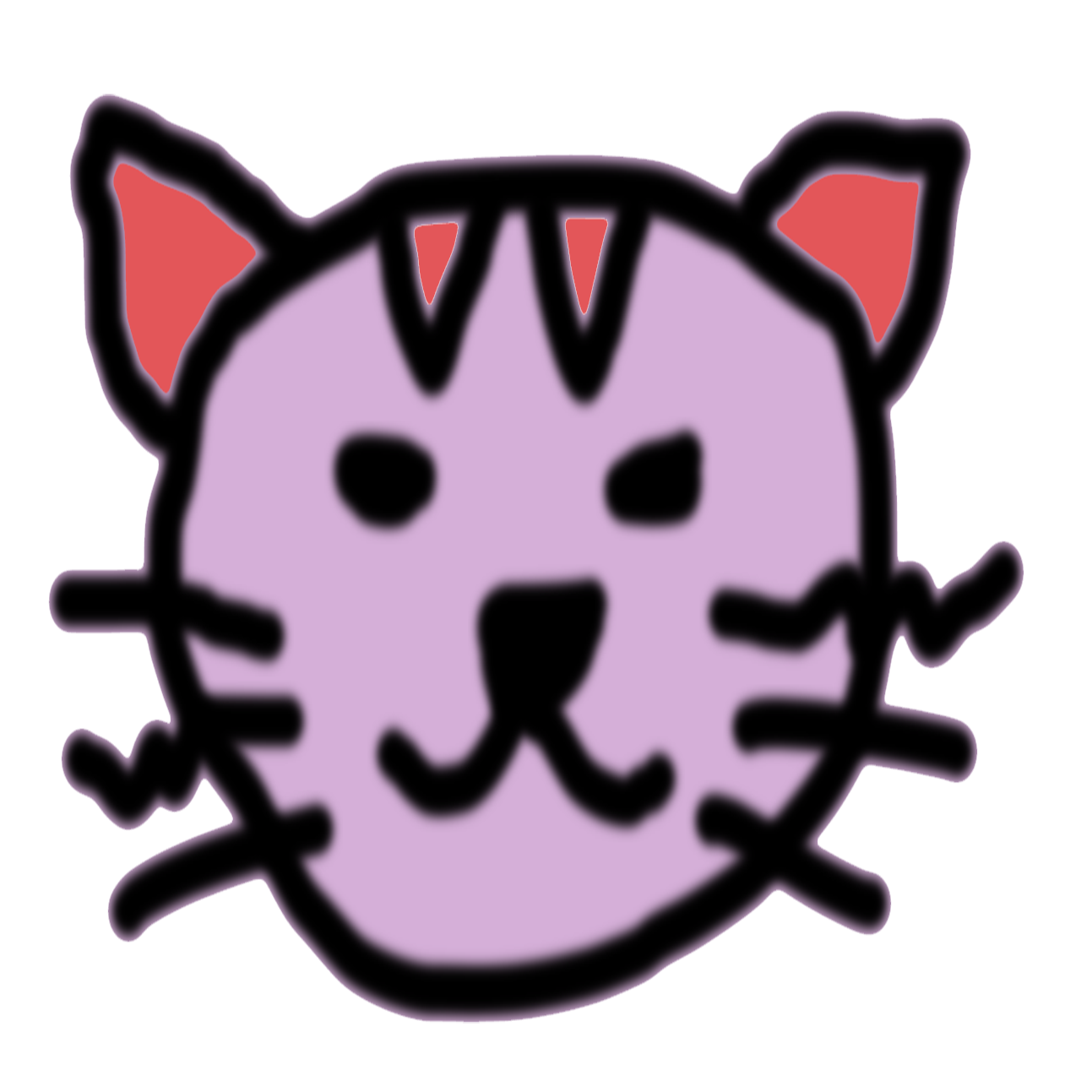 I started the NekoFigs blog in January 2021, 5 years after I've started collecting anime figures. It all started with one humble prize figure of Saber Lily which was bought on a whim. Now, I face the big problem of how to deal with over 200 empty boxes.