For anyone who collects anime figures, one of the most important things is making sure that your display looks amazing. And part of having an amazing display is using the right materials – like fur! Using faux fur has so many benefits despite being cheap. It's easily one of the best purchases I made to complement my figure collection.
What is Faux Fur?
Faux fur is a textile made to resemble animal fur. It is usually made from polyester fibers that are processed to resemble the feel and look of real animal fur. Faux fur has been used in fashion for the most part but its popularity has grown steadily. Today, it is used in a wide variety of garments, including coats, jackets, vests, hats, blankets, and even footwear. You can also usually see faux fur being used in display cases in stores as it gives off an elegant vibe. In addition, photographers also use faux fur for product photography.
Is Faux Fur Safe to Use on Anime Figures?
Faux fur can also be used in your anime figure display. And yes, it is safe to use for displaying anime figures. It is relatively cheap and you can find plenty on Amazon or your local textile shop. One piece of advice though…
Use Only White Faux Fur for Anime Figures
There isn't really a lot you need to know when using faux fur for your anime figure display apart from this. If you use any other color of faux fur, the colors can bleed into the surface of the figure especially because figures would stay on the faux fur for extended periods (months or even years). When this happens, this stain can be very difficult (almost impossible) to remove.
Notably, there are some figures that come with colored cloth bases. One example is the Lingerie version figure of Tokisaki Kurumi made by Kotobukiya. This figure comes with a red cloth base and in my case, the red color bled to her elbows and thighs. I've tried using alcohol to remove the stain, but no dice. It's been a few years since and the figure still has that red tint on her elbows. Thankfully, the red tint is not visible unless you flip her over.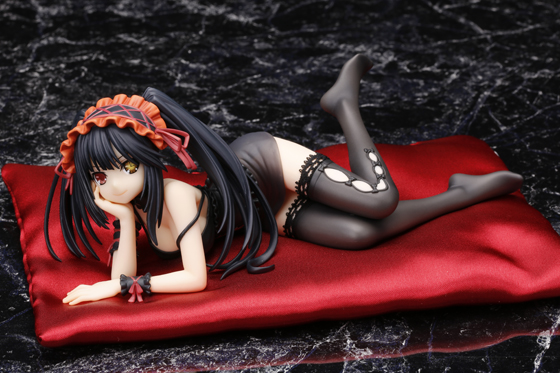 This incident is actually what urged me to fit my display with faux fur and it's one of the best decisions I've made.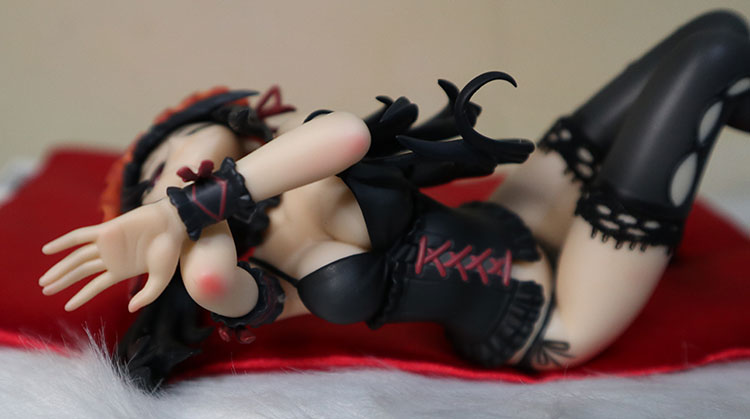 Below are a few snaps of Kurumi on faux fur. I can easily make a case for this being better than the default red cloth base.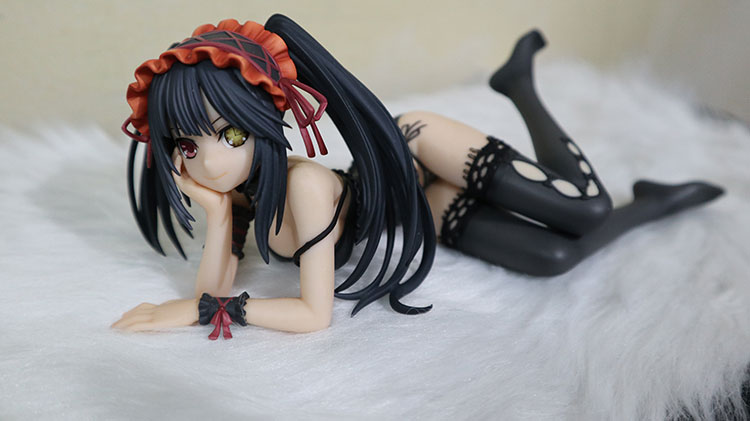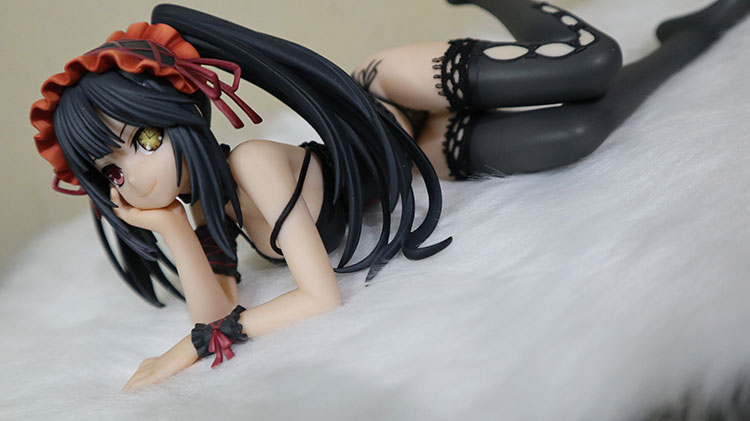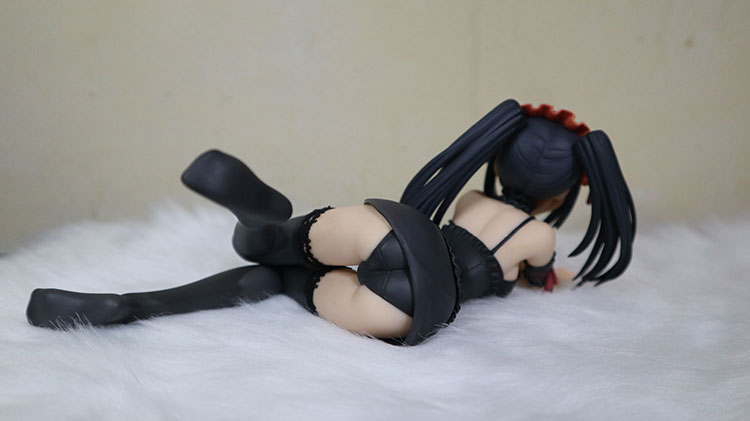 How to Set Up Faux Fur on Your Display Case
Setting up your faux fur is very simple. You'll need a tape measure and scissors. Just measure the space you need covered and cut the faux fur to the right size. That's it. You don't even need to glue it or anything. The weight of the figures you put on top of it will hold it in place.
Below I took some pictures of one shelf I had fitted with faux fur. Ignore the dust on the glass. I tried to wipe it off but they just stick to the glass.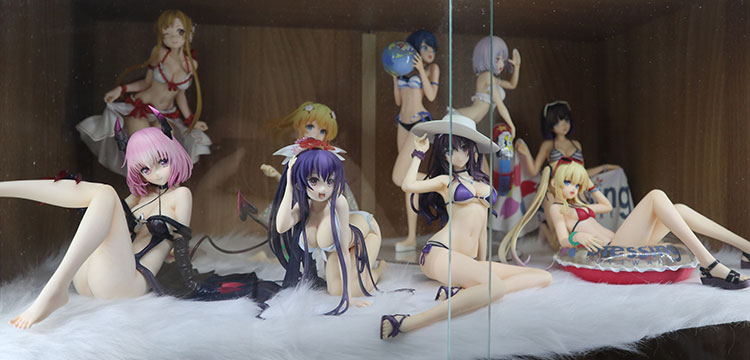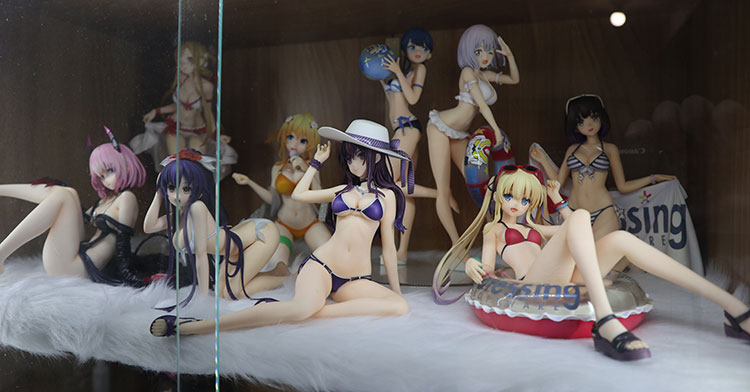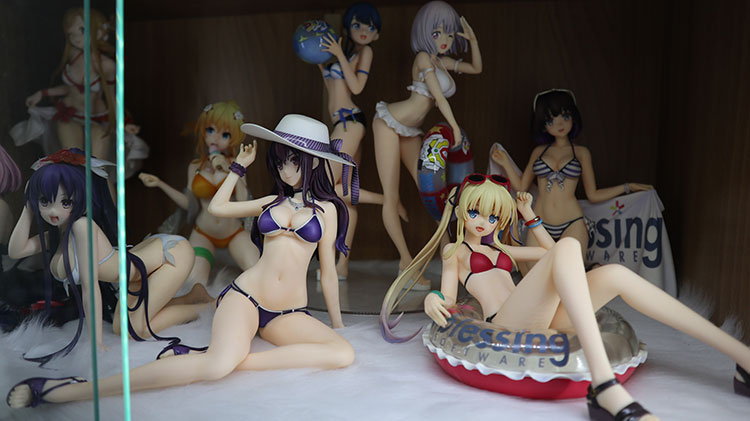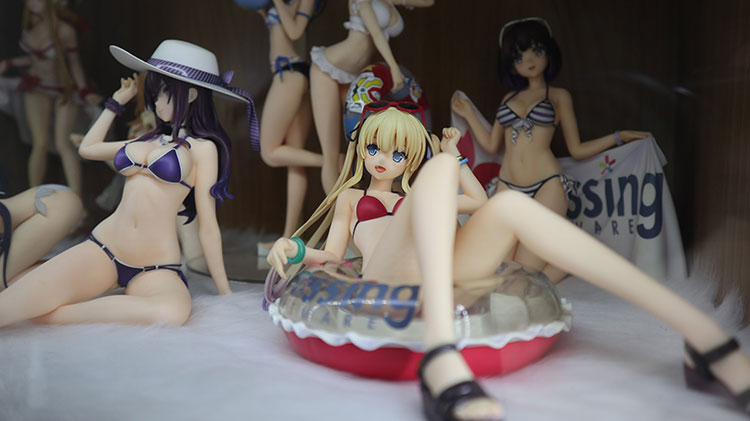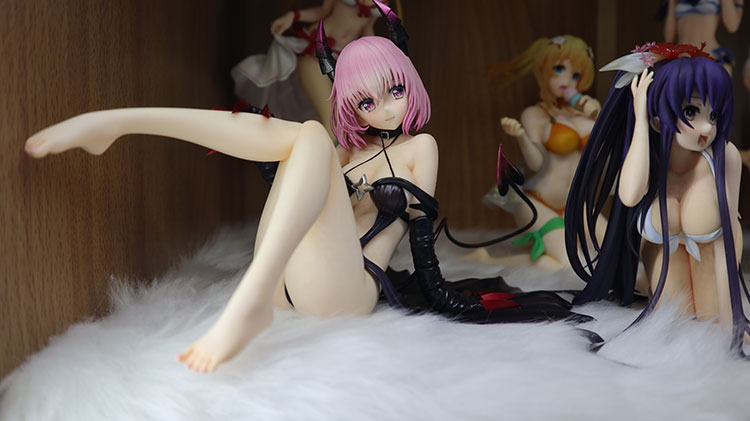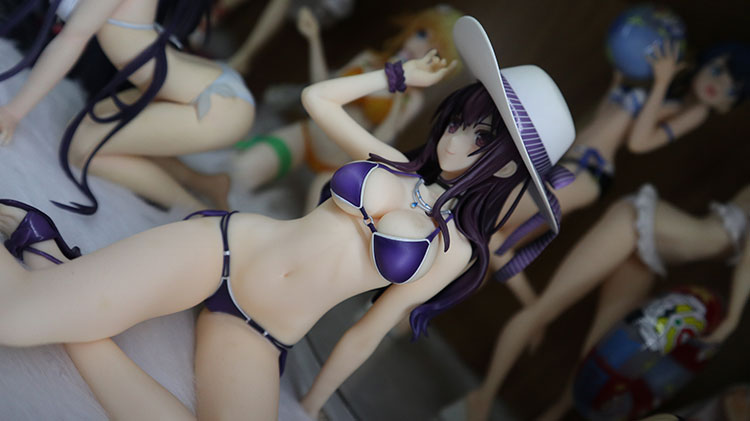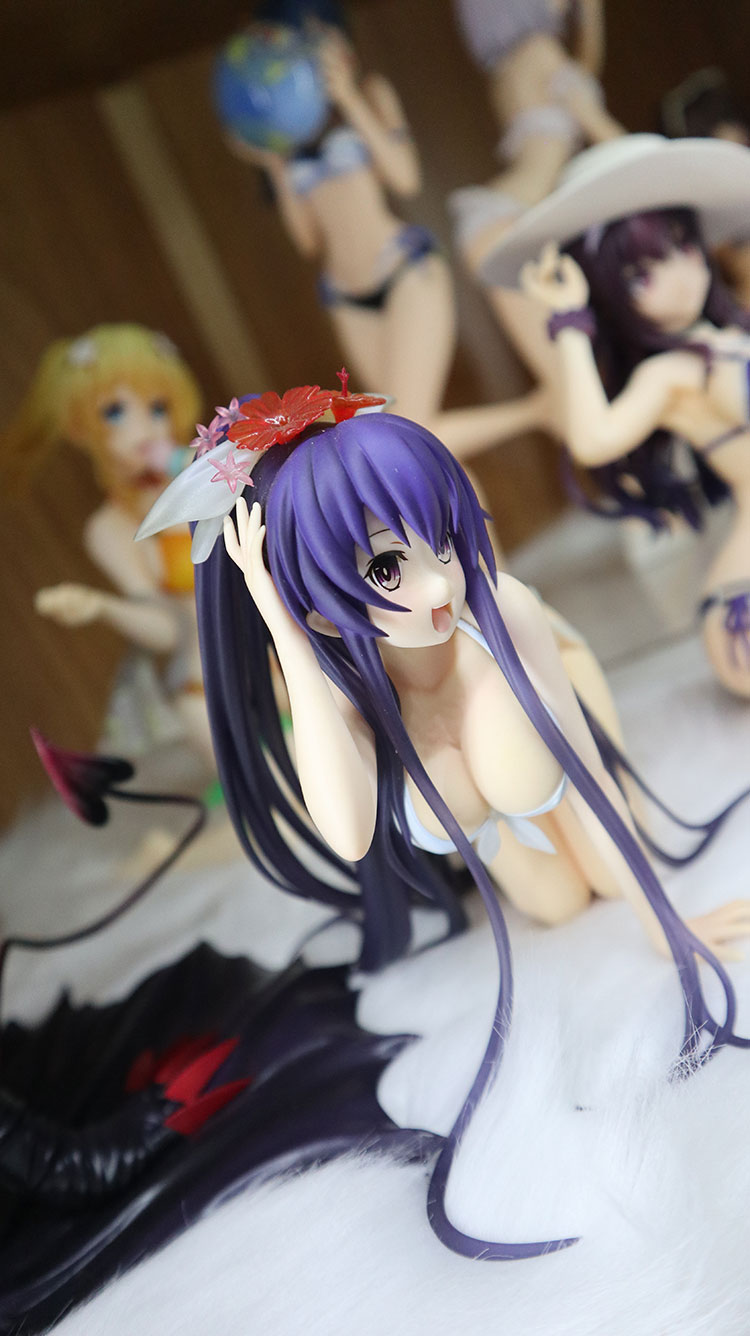 6 Reasons to Use Faux Fur for Your Figure Display
If you still need convincing, there are plenty of reasons why you should use faux fur on your display.
It's Inexpensive
It is an affordable alternative to real animal fur. Collecting anime figures is already an expensive hobby. You don't need to drive the cost further up by using real animal fur which, on top of being expensive, is actually an ethical and environmental issue.
It's Pretty and Elegant
Faux fur is realistic-looking and elegant. It will give your display that extra flair. For these reasons, faux fur makes for a great choice for showing off your most prized anime figures and even your grails. It looks so good that figure manufacturers actually use faux fur fitted to the standard ABS bases of some figures.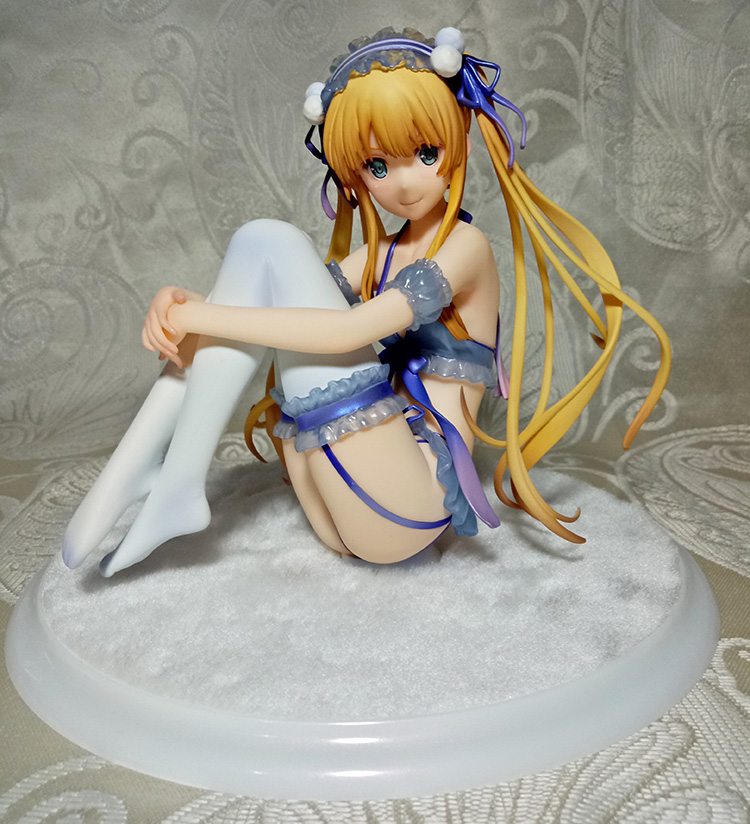 It Can Prevent Scratches
Faux fur is nice and soft, so it won't scratch up your anime figures the way some other materials might. There are some figures that don't come with bases so faux fur can be really handy for displaying these figures while also protecting them from being damaged by surface friction.
It Can Help Save Space
Using faux fur can help save precious display space. One of my pet peeves with anime figures is that some figures sometimes have needlessly large bases. This means they can sometimes take up more space than you expected. When figures can do without their bases, you have more freedom on how to display them. You can display them more closely together. Essentially, displaying them on a shelf fitted with faux fur improves the aesthetics, protects the figure from scratches, and saves space.
Makes for a Good Background in Figure Photography
If you like doing figure photography every now and then and you're looking for a simple background that does not offer any distractions, faux fur would be a good choice. It looks good but it also does not take away from the beauty of your figure.
Faux Fur is Environmentally-Friendly
Faux fur is also environmentally friendly, as it is made from synthetic materials that do not require the slaughter of animals. This makes it a great choice for those who are looking to be more eco-conscious in their purchases.
Cons of Using Faux Fur
There are not a lot of downsides to using faux fur. The only reason I can think of is that it doesn't look quite as nice when used on a detolf especially on a high shelf because you can see the underside of the cloth which doesn't look as nice as the fur side.
How to Clean Faux Fur
If you use faux fur in a dust-proof display, you don't have to worry about cleaning it. Should it become dusty, you can just shake off the dust. I've had my display fitted with faux fur for several years now and I've only ever had to clean it twice. Should faux fur become too dirty, you can wash it with detergent. After drying it, you can brush the fur to make it soft again.
If you're looking for an environmentally friendly and stylish way to display your anime figures, consider using faux fur. Faux fur is a great alternative to real fur because it doesn't require any animals to be harmed in the production process. Plus, it's just as soft and fluffy as real fur, so your figures will look great nestled in a sea of faux fur. So next time you're thinking about how to spruce up your figure display, remember that faux fur is an option worth considering.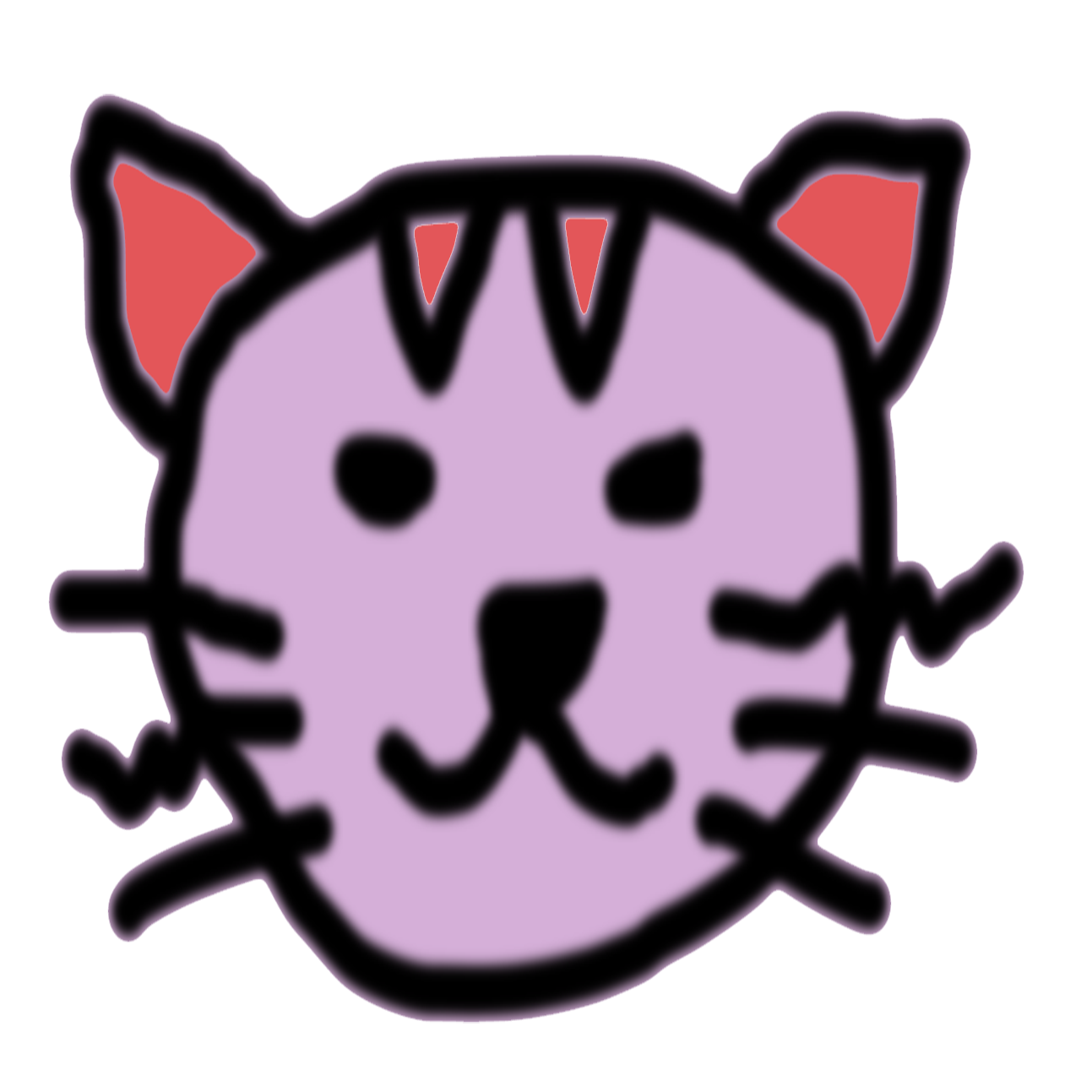 I started the NekoFigs blog in January 2021, 5 years after I've started collecting anime figures. It all started with one humble prize figure of Saber Lily which was bought on a whim. Now, I face the big problem of how to deal with over 200 empty boxes.